Robert Frost Home
Introduction
One of America's greatest poets, Robert Frost (1874-1963), lived in this house from 1900-1911. It was in here that Frost began to seriously follow poetry, his true passion. The farm and its surrounding New England landscape served as inspiration for his work. Many of the poems he wrote during these years would be compiled in books published after in the coming years. Frost would go on to receive four Pulitzer Prize awards and worldwide recognition as one of the world's foremost poets. Visitors to the house can go on tours and view displays about Frost's life and work. The home is listed on the National Register of Historic Places and declared a National Historic Landmark in 1968.
Images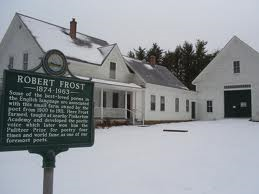 Robert Frost in his younger years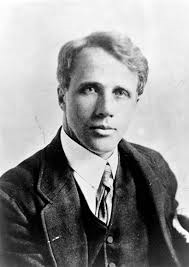 Backstory and Context
The house was built by Nathaniel G. Head in 1884. Due to mental anguish and depression caused by the death of his son, Elliot, Frost and his wife moved to New Hampshire to start a new life. However, Frost was an unsuccessful farmer and as a result was forced to work as an English teacher at Pinkerton Academy. Unable to ignore the calling of poetry, he sold the farm and used the money to take his family on a three year tour of Europe. Afterwards the property was owned by a few others before becoming an automobile graveyard in the 1950s and early 1960s.

Upon returning to the property in 1938 to scatter the ashes of his first wife, Elinor, Frost was very disturbed at the poor state of the house. He returned again the early 1950s and was distressed to see that the property was now a junkyard. He urged his old friend John Pillsbury to buy it. Sadly, Frost died before the sale of the property moved forward, which finally occurred in 1965 when the state bought it. It opened to the public in 1975.

Sources
"History of the Property." Robert Frost Home. Accessed July 29, 2016. http://robertfrostfarm.org/historyproperty.html. Rettig, Polly. "Robert Frost Homestead." National Park Service, National Register of Historic Places. May 23, 1968.
Additional Information