Fort Lernoult
Introduction
Fort Lernoult, also known as Fort Detroit and Fort Shelby, was the second fort built to guard the frontier settlement of Detroit. Established by British soldiers in 1778, the fort replaced Fort Pontchartrain, a French garrison that had been established in 1701 and had fallen into disrepair. Fort Lernoult was the first place where the American flag was flown over Detroit when the U.S. took control in 1796, and it was the only structure to survive the fire of 1805 that destroyed the village. The fort was recaptured by the British during the War of 1812. When the Americans again took control the next year, they renamed it Fort Shelby. As the village rebuilt and the threat of invasion became more remote, city leaders decided to raze the fort in 1827. The destruction of the fort is symbolic of Detroit's transition from a frontier outpost to an important commercial city in the early 19th century.
Images
A diagram of Fort Lernoult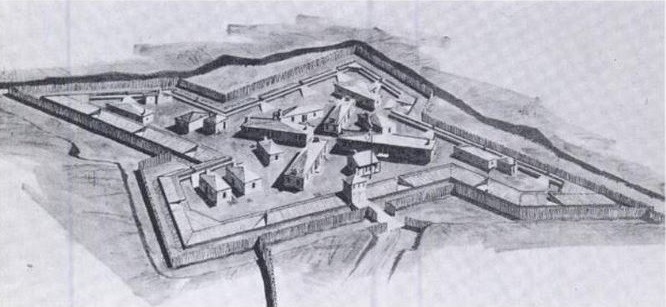 A drawing of Fort Lernoult based on Captain Henry Bird's description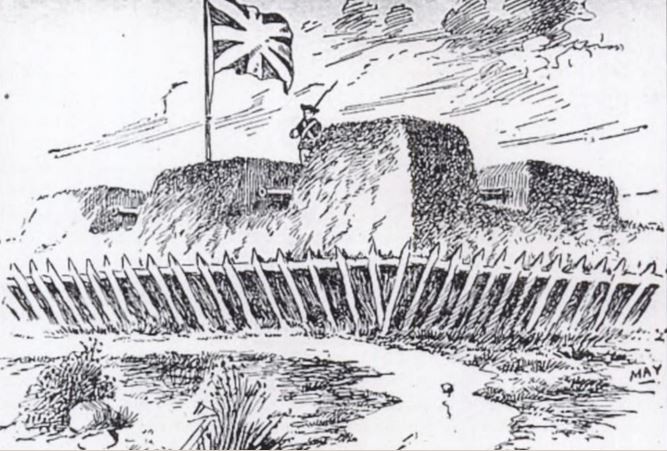 An illustration depicting British troops in front of Fort Lernoult preparing to leave to raid American forces in Ohio during the American Revolution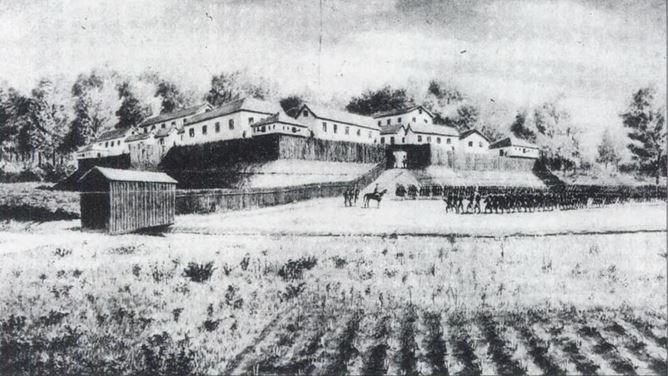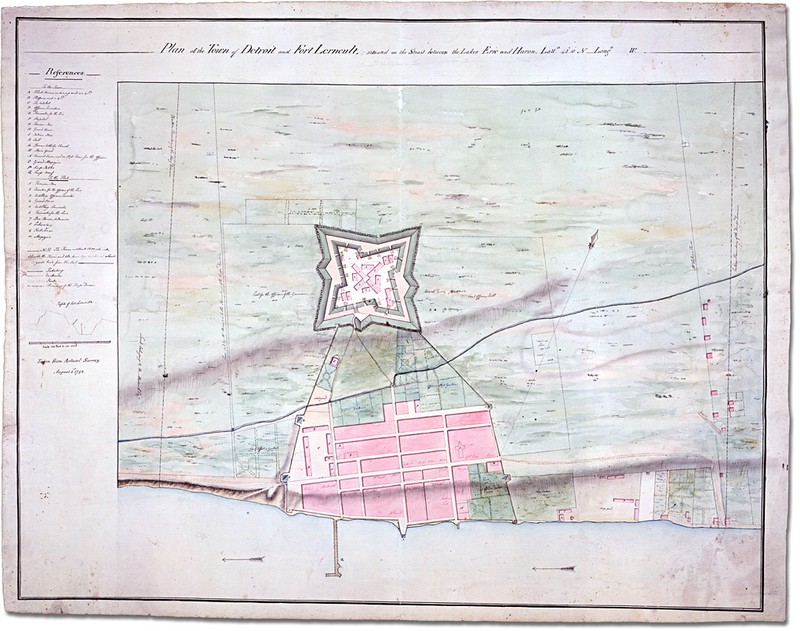 Detroit in 1796, when American forces took control of the city and Fort Lernoult for the first time. Soon after it was renamed Fort Detroit.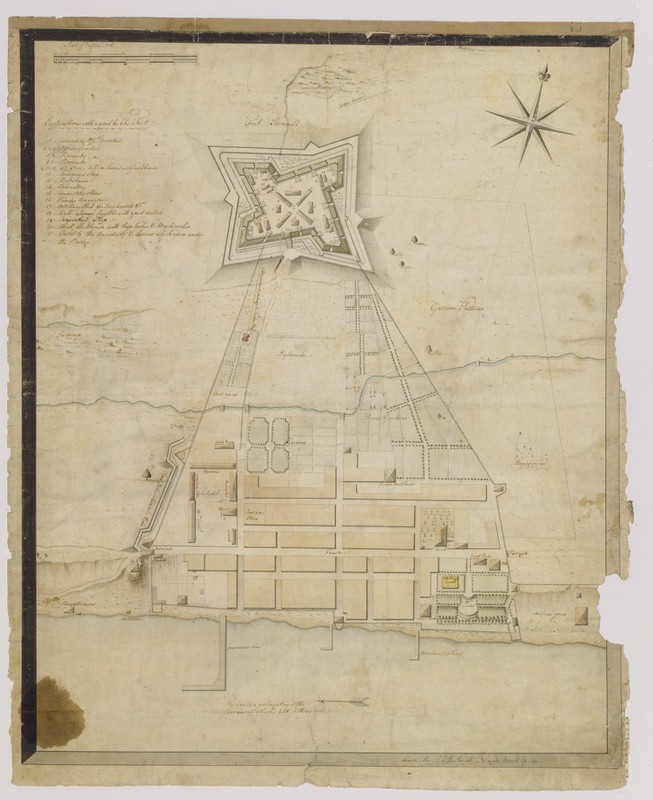 Detroit in 1812, when the town was captured by the British in June only to be recaptured by the Americans again a year later and renamed Fort Shelby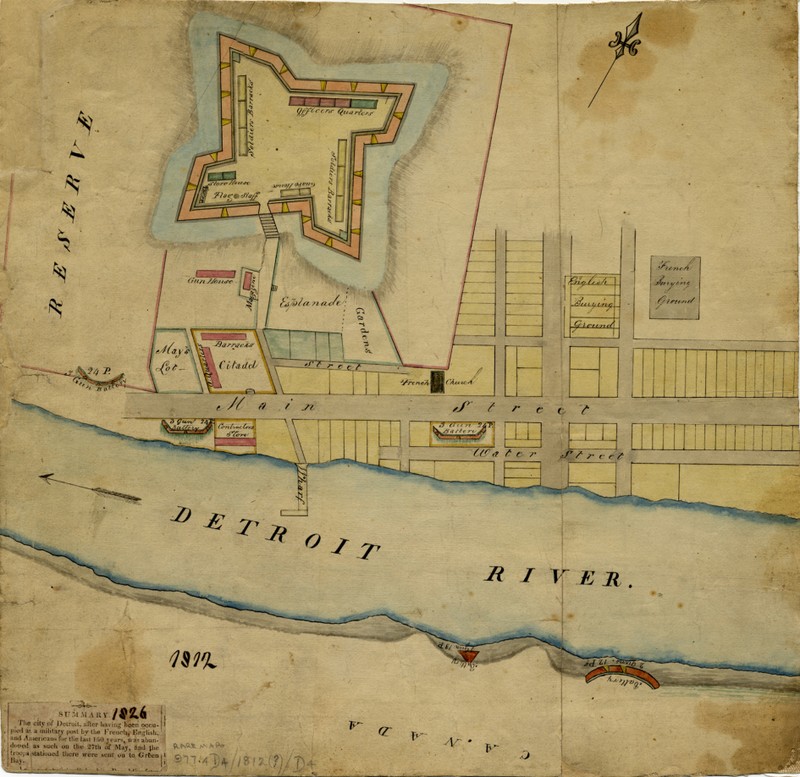 A view of the fort and the rest of the town over modern-day Detroit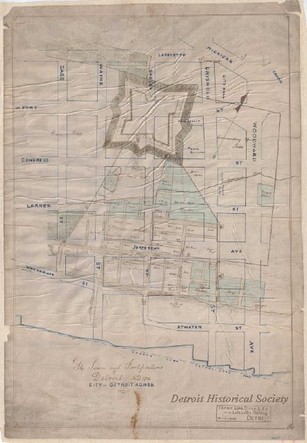 Excavations in the 1960s on the fort site revealed this original wooden flagpole. Thousands of artifacts from the excavations are held in the Anthropology Museum at Wayne State University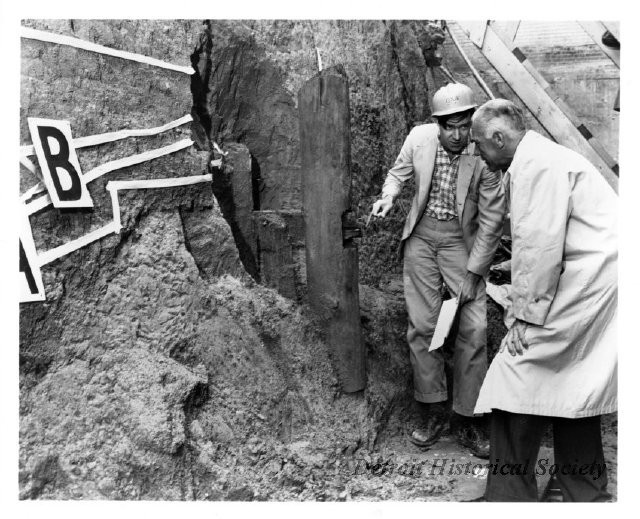 Historical marker on the side of the Comerica Bank building at the corner of Fort St and Shelby St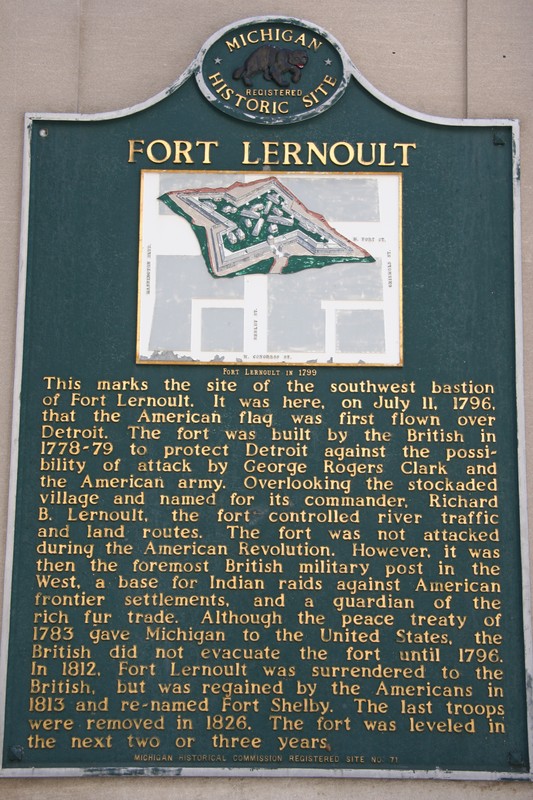 Backstory and Context
Fort Lernoult was built in 1778-79 by the British military in order to defend Detroit from U.S. forces during the Revolutionary War. Fort Lernoult was meant to replace Fort Pontchartrain du Detroit, which had defended Detroit under French rule (see separate Clio entry on Fort Pontchartrain). Fort Pontchartrain, later known as Fort Detroit, had fallen into disrepair, and its location was too vulnerable to an attack. Major Richard Lernoult, commander of the British troops in Detroit, ordered a new fort built on a hill behind the old one, with a more strategic position. Lernoult chose Captain Henry Bird to design and begin construction of the new fortification in November 1778. With the threat of attack imminent, crews worked tirelessly through the winter until it was completed the following April. The fort was located near the intersection of what is now Fort and Shelby Streets in downtown Detroit, between Washington Blvd and Griswold St.1

Fort Lernoult covered an area of about three acres just north of the small village below, connected to the settlement by tall fences. It "had earthen ramparts eleven feet high, twenty-six feet thick at the base, and twelve feet wide at the top of the parapet. The land surrounding the new fort was cleared so that the enemy would have no cover during an attack. There was only one gate, on the south or town side, and it was protected by a blockhouse and a drawbridge. Lernoult stripped the old fort and the naval vessels on the river of their guns and requisitioned more from Quebec. Inside the fort, a number of buildings were put up and a well was dug to ensure a fresh supply of water. Finally, pickets were erected to extend from the corners of the new fort down to the east and west walls of the town."2

The attack that Major Lernoult feared never came as American forces were never in a position to capture such a defense. However, in 1783, after the Revolutionary War, a formal peace treaty was signed which granted the U.S. all of the Northwest Territories, including Detroit. British forces were slow to give up the position though, as Detroit was still a valuable center for trade. British occupation of the fort continued until July 11, 1796, when 65 troops arrived to assert their claim on Detroit. They took the fort and hoisted the American flag above the city of Detroit for the first time.1

In 1805, Detroit was named capital of the Michigan Territory, and the fort was renamed Fort Detroit. There were difficult times ahead for the city though. In June of that year, a fire swept through the city, destroying everything except the fort, which was used as a haven for the homeless. During the War of 1812, Fort Detroit was captured by the British in an unforeseen attack. In September of 1813, Americans again regained control of the city. They renamed it Fort Shelby after Kentucky Governor Isaac Shelby, who assisted in the recapture.1

As the city grew, the fur trade became less important and the threat of attack diminished, the military moved troops from Fort Shelby. The last troops left in 1826, and Fort Shelby was sold to the City of Detroit. The following year, the fort was torn down to make way for urban expansion. The destruction of the fort signaled Detroit's shift from a small frontier town to its beginnings as an important metropolis.

There is a historical marker on the Comerica Bank building at the corner of Shelby and Fort St, which indicates the location of the fort's southwest bastion. Construction on several buildings downtown in the 1960s revealed thousands of artifacts from the site, including the fort's wooden flagpole. The artifacts are now held at the Gordon L. Grosscup Museum of Anthropology at Wayne State University. 3




Sources
1. Burton, Clarence M. and William Stocking and Gordon Miller. "The City of Detroit, Michigan, 1701-1922." Detroit-Chicago: S.J. Clarke Publishing Company, 1922. 2. Woodford, Arthur M. "This is Detroit, 1701-2001." Detroit: Wayne State University Press, 2001. 3. "Collection Summaries: Fort Lernoult." The Gordon L. Grosscup Museum of Anthropology at Wayne State University Website. Accessed July 28, 2016. http://clas.wayne.edu/anthromuseum/Fort-Lernoult
Additional Information