Michigan Central Station
Introduction
Opened in 1913, Michigan Central Station was the hub of railway transportation in Detroit for decades. During the first half of the 20th century, the heyday for both the city and rail travel, thousands passed through the massive station every day. However, when the last train left in 1988, the station fell into disrepair and became a monstrous eyesore, like many of Detroit's historic grand buildings. Journalist Dan Austin said, "Nothing symbolizes Detroit's grandiose rise and spectacular fall like Michigan Central Station. No other building exemplifies just how much the automobile gave to the city of Detroit — and how much it took away." The building was purchased by Ford Motor Company in 2018 and is planned to be the centerpiece of their new Corktown campus.
Images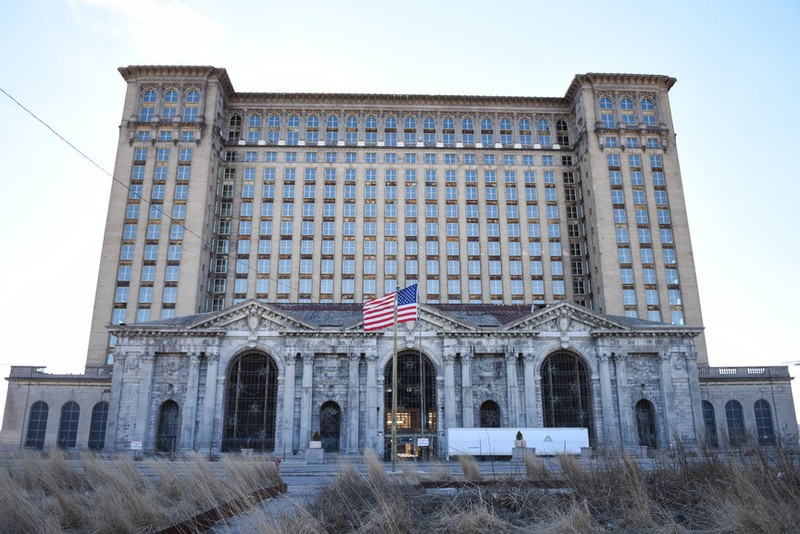 Michigan Central Station, before window renovation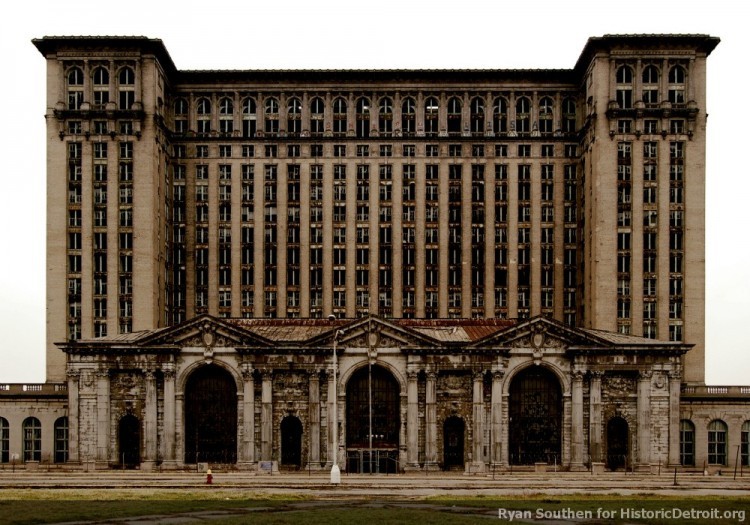 Interior when station was new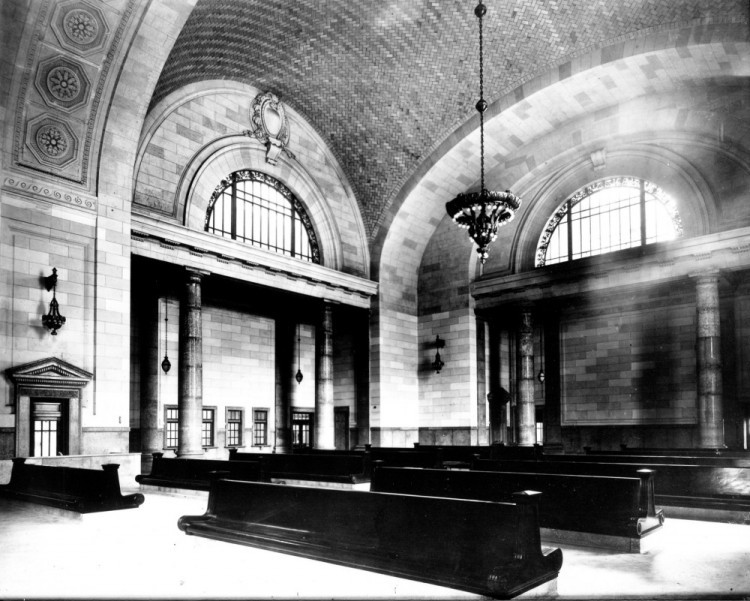 Interior after years of vandalism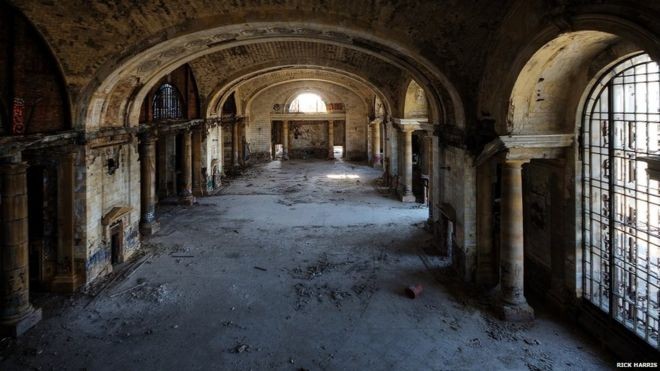 Interior when station was new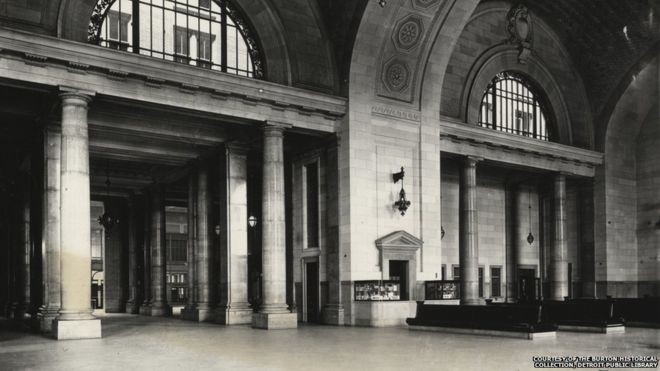 Postcard for Michigan / Penn Central Station (image from Historic Detroit)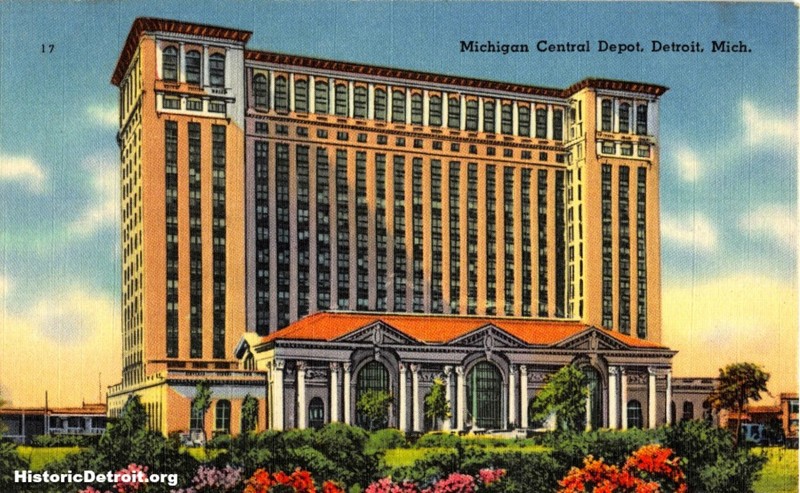 Historic photo of the boarding area (image from the Detroit Public Library)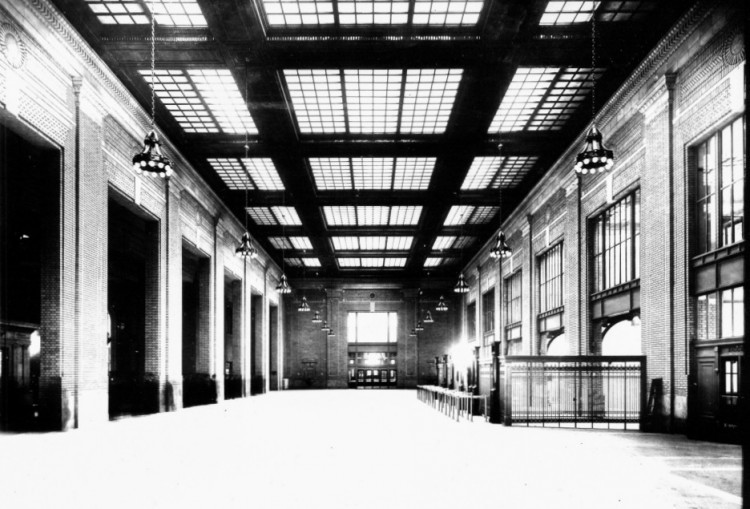 Ticket counter (image from the Detroit Public Library)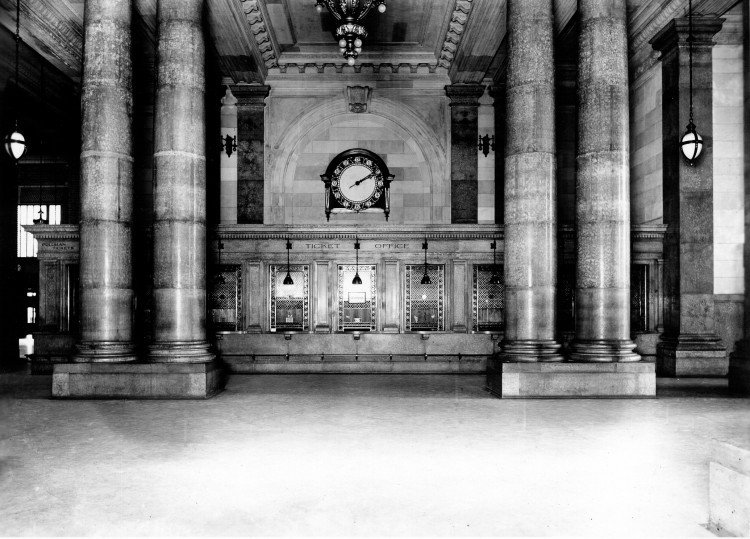 The waiting room (image from the Detroit Public Library)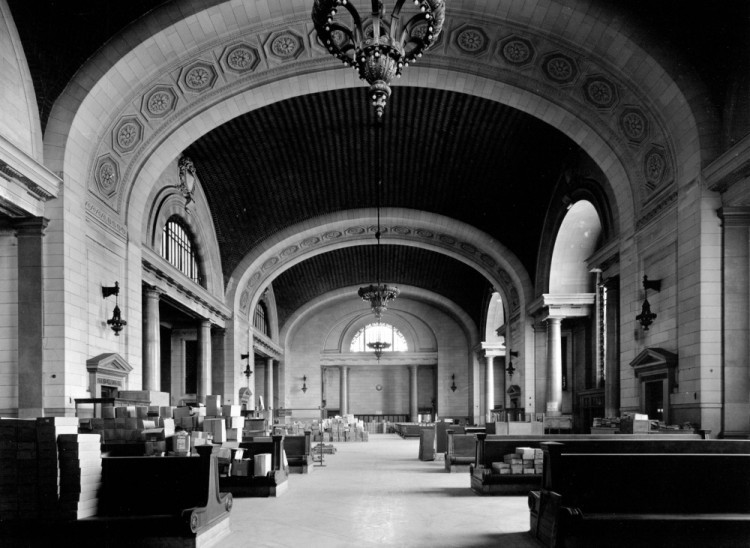 The abandoned waiting room (image from Historic Detroit)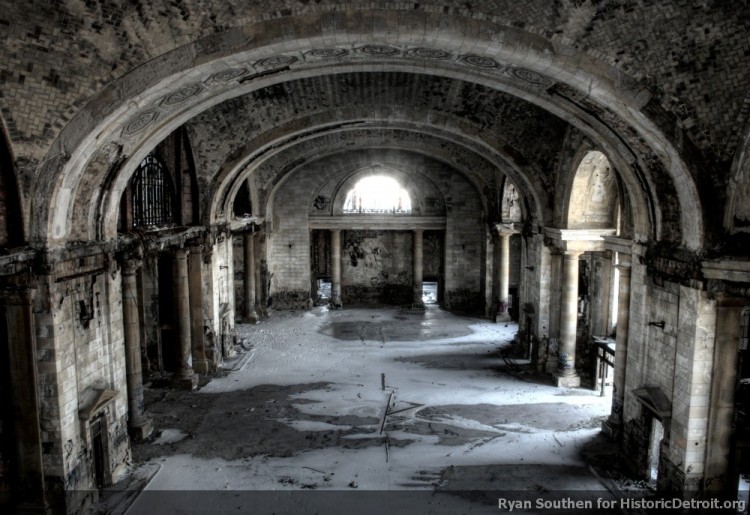 Columns in the abandoned station (image from Historic Detroit)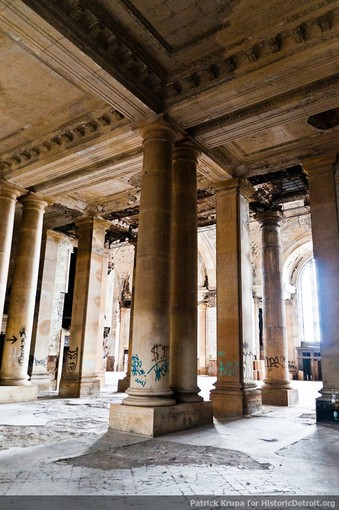 Backstory and Context
With an 18-story office tower, Michigan Central Station was the tallest railroad station in the world when it opened at a cost of $2.5 million (about $55 million today). A dedication ceremony was scheduled for January 4, 1914, but a fire at the old depot downtown on December 26, 1913 forced operations to begin immediately.
The interior was decorated with marble, bronze, and brick. Its central waiting room is 97 feet wide and 230 feet long with 65-feet-tall arched ceilings. In addition to the main waiting room, there was a smoking room, drugstore, restaurant, barbershop and bathing facilities, and other lounge facilities.
Presidents, war heroes, actors, business executives, and immigrants alike arrived and departed Detroit through Michigan Central Station for over seven decades. At the height of its operations, around 4,000 people and 200 trains passed through the station every day.1
However, as travel by train dwindled and as Detroit suffered from economic depression and population decline, the station no longer supported much traffic. Finally, the last train pulled out on January 5, 1988. Since then, the building has been extensively vandalized by looters, its marble interior spraypainted with graffiti, and occupied by the homeless over the years. It has been set to be demolished many times. However, there is hope that the building may still have a future, albeit an unclear one. A wire fence was eventually put up to deter trespassers, and as of 2016, the owners since 1995, the wealthy Moroun family, spent several millions in reinstalling electricity and replacing all of the blown-out windows in the entire building.2
The building was open for a special event in 2017 during Detroit's annual Homecoming Celebration. The Moroun family sold the Michigan Central Station and the nearby book depository to Ford Motor Company in mid-2018. Planned retail and restaurant spaces on the ground floor of the renovated building will be open to the public.
Sources
1. Austin, Dan. HistoricDetroit.org. http://www.historicdetroit.org/building/michigan-central-station/ 2. Thibodeau, Ian. Windows at Michigan Central Station Completed on Time and Budget. http://www.mlive.com/business/detroit/index.ssf/2016/02/windows_at_michigan_central_st.html
Runyan, Robin. Confirmed: Ford Bought Michigan Central Station, Curbed Detroit. June 11th 2018. Accessed July 27th 2021.https://detroit.curbed.com/2018/6/11/17446728/ford-move-michigan-central-station-detroit-corktown.
Runyan, Robin. Mondry, Aaron. Detroit's Most Iconic Buildings, Mapped, Curbed Detroit. November 4th 2019. Accessed July 27th 2021. https://detroit.curbed.com/maps/most-iconic-greatest-buildings-detroit.
Additional Information