Wharton-Scott House, also known as: "Thistle Hill."
Introduction
The Wharton-Scott House, also known as "Thistle Hill," is a historic mansion in Fort Worth, Texas. Thistle Hill is one of the most impressive surviving mansions of the "cattle baron" era. Built in the Georgian Revival style, Thistle Hill captures the architectural splendor of Fort Worth's wealthiest families.
Images
The exterior of Thistle Hill.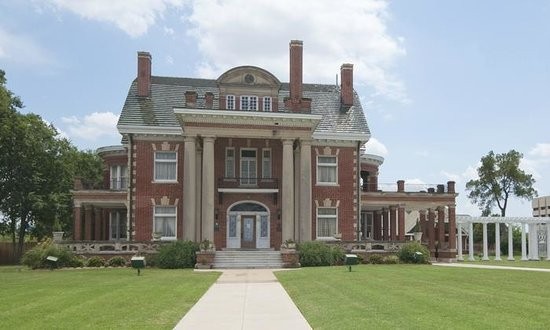 The spectacular stair of Thistle Hill.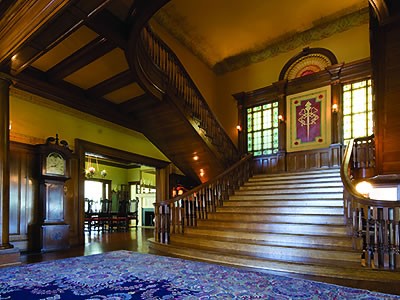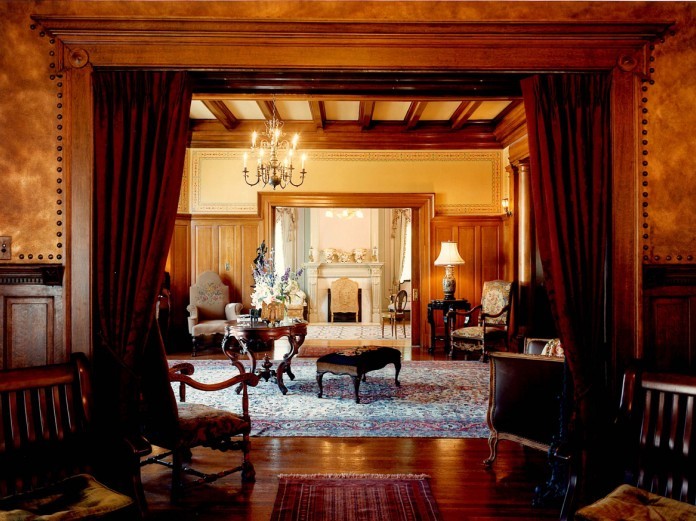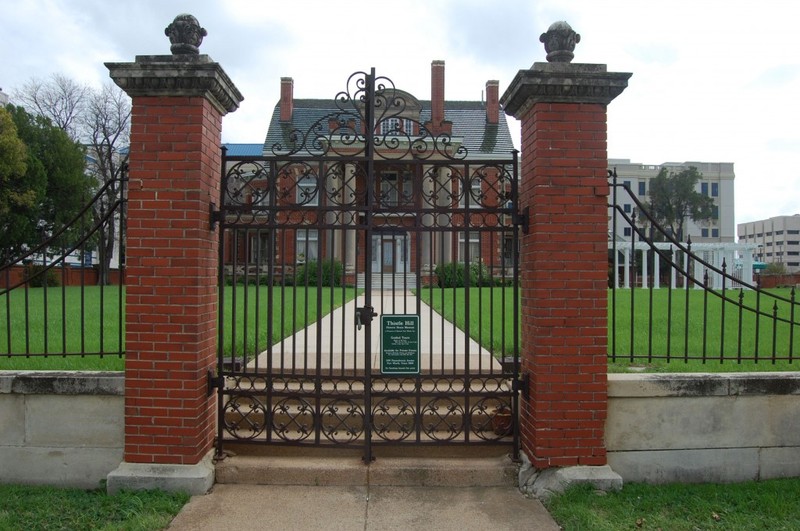 Backstory and Context
This three-story Georgian Revival was built in 1903 for Electra Waggoner, the daughter of cattleman William T. Waggoner, and her bridegroom, A.B. Wharton, Jr., of Philadelphia.1 Coming from two of America's most prominent cattle families, it comes as no surprise that such a luxurious house was the outcome of their union.

Waggoner and Wharton designed a fine 18-room, 11,000 square foot mansion. Originally designed by Fort Worth's premier architecture firm, Sanguinet and Staats, Thistle Hill was redesigned by the same firm in 1911 when the mansion was purchased for $90,000 by Elizabeth and Winfield Scott.2

The 1904 house featured white wooden stylistic elements, and was constructed entirely of red brick.3 The white woodwork included large columnns on the front portico and a second-floor porch which wrapped around the front of the house.4 The roof was comprised of beautiful green wood shingles.5 In their lavish home, the Whartons lived as elegant a lifestyle as any in the early 20th Century. They entertained often, and frequently relished in social visits from many friends and acquaintances.

Wharton eventually sold the property to Winfield Scott, a self-made millionaire and real estate tycoon. Scott bought the mansion for $90,000 and undertook a massive remodeling, said to have cost $100,000.6 Scott replaced Wharton's beloved wooden decorative elements with wrought iron, and the wooden roof with luxurious green tile, imported from Italy. Scott also installed marble columnns on the front porch, giving the house it's imposing profile, and soaring lines.

The flawless interior features lavish finishes, including a grand staircase and elaborate woodwork.7 The grounds are fenced with brick walls and ornamental iron. A beautiful carriage house on the rear of the property also remains to this day. The house's true wonder, however, is the exquisit craftsmanship that went into construction of the home. Master masons, carpenters, and electricians completed a home that was truly unrivaled in the entire United States.

After many years, the house fell into disrepair in the 1960s. Upkeep had proven too much, and, like so many mansions of the guided age, the house was largely forgotten. Thistle Hill was occupied by various non-profits, who "restored" the house by applying paint to many of the exquisite details. Despite the occupation of non-profits, the house still faced regular threats of demolition and destruction. Fortunately, in 2006, Historic Fort Worth took possession of the property and is restoring it to its former grandeur.8 During restoration, the House remains open for weddings, events, and is the site of a food-truck cafeteria on Fridays.
Sources
1. Handbook of Texas Online, Judy Alter, "Thistle Hill," accessed July 27, 2016, http://www.tshaonline.org/handbook/online/articles/cct02. 2."Weddings & Rentals." Historic Fort Worth. Accessed July 27, 2016. http://historicfortworth.org/weddings-rentals/. 3. Handbook of Texas Online, Judy Alter, "Thistle Hill," accessed July 27, 2016, http://www.tshaonline.org/handbook/online/articles/cct02. 4. Ibid. 5. Ibid. 6. Ibid. 7. Roberts, John, AIA. " Thistle Hill." Architecture in Fort Worth. 2015. Accessed July 27, 2016. http://www.fortwortharchitecture.com/md/thistlehill.htm. 8. Ibid.
Additional Information