Site of Rincon/Douglass School
Introduction
The first free public school for African Americans in San Antonio was built at this location in the late 1860s. Named Rincon Street School (at the time, St. Mary's Street was called Rincon Street), it was established by the Freedmen's Bureau, which was a federal agency established shortly before the end of the Civil War to protect former enslaved people and help them transition to freedom. The Bureau implemented a number of programs, one of which was to build schools throughout the south. Rincon School was one of them. This historical marker provides a brief historical overview of the school.
Images
The historical marker is located along the San Antonia Riverwalk.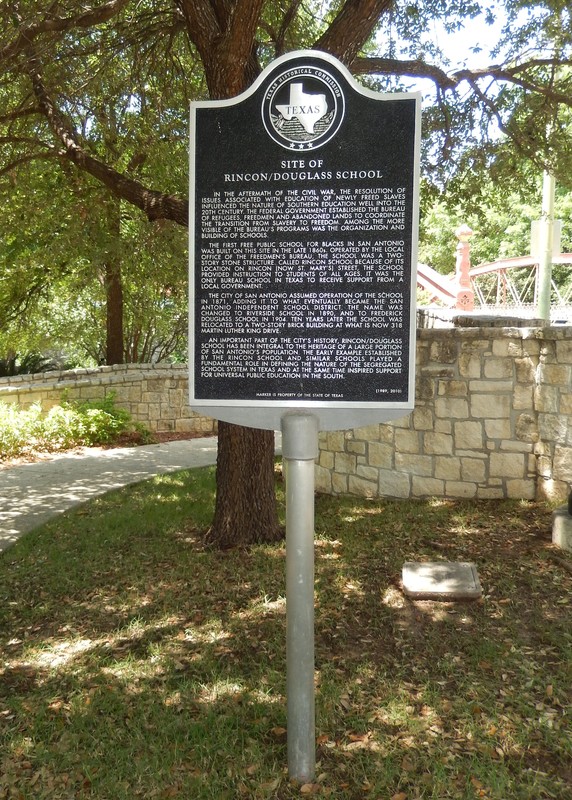 Backstory and Context
The Freedmen's Bureau, which was officially named the Bureau of Refugees, Freedmen, and Abandoned Lands, was established in March 1865. Led by Major General Oliver O. Howard, it was originally intended to last for one year but did not disband until 1872. Over that time it established around 3,000 schools (including universities and training schools), built hospitals, developed a contract labor system, and created military tribunals to settle legal disputes. However, a lack of funding and military and political support, as well as persistent racism, significantly hampered the Bureau's work.
Despite these issues, its effort to educate freed people was largely successful. Rincon Street School was a two-story stone building and educated students of all ages. It was built using funds that were acquired from the sale of a Confederate tannery. It provided a basic education in math, history, geography, reading, civics, politics, home economics, and vocational training. The city acquired the school in 1871 and four years later it became part of the San Antonio school district. Its name was changed to Riverside Negro School in 1884 and was later renamed Frederick Douglass School in 1904. In 1914, it moved to a new, larger building on present-day Martin Luther King Drive where it continues to operate today.
Sources
"A History of Douglass Academy." Douglass Academy. 2008. https://schools.saisd.net/upload/page/9922/docs/A_History_of_Douglass_Academy.pdf.
"Freedmen's Bureau (1865-1872)." Educational Broadcasting Corporation. 2002. https://www.thirteen.org/wnet/jimcrow/stories_events_freed.html.
Hatfield, Edward. "Freedmen's Bureau." New Georgia Encyclopedia. Last Updated September 16, 2020. https://www.georgiaencyclopedia.org/articles/history-archaeology/freedmens-bureau.
"Site of Rincon/Douglass School Historical Marker." The Historical Marker Database. Accessed August 11, 2016. http://www.hmdb.org/marker.asp?marker=27088.
Image Sources
The Historical Marker Database

Additional Information