Wilson's Raid to Macon
Introduction
Wilson's Raid to Macon was a series of battles and skirmishes, conducted by Union Cavalry Corps, Military Division of the Mississippi [US] from March 22 to April 20, 1865. The campaign included battles and skirmishes in the following cities: Houston, Black warrior River, Elyton, Columbiana, Shelby, Tannehill, Brierfield, The University of Alabama at Tuscaloosa, Trion (now Vance), Plantersville, Selma, Marion, and Montgomery, Alabama. From Montgomery the campaign continued into Georgia starting in West Point and continuing through Columbus, where a claim is made to be the "Last Battle of the Civil War". Macon, Georgia was captured shortly afterward on April 20, 1865 without resistance, concluding the campaign.
Images
Wilson's Raid to Macon History Marker in Macon, GA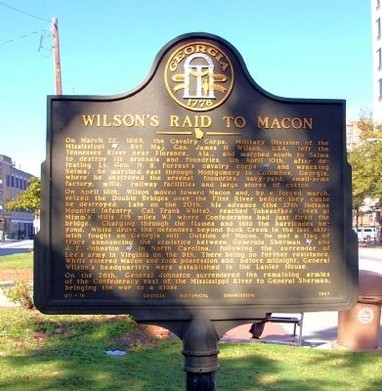 Backstory and Context
Major general James H. Wilson, commanded three divisions of the Union cavalry, which included about 13,500 men. His main opponent was Confederate Lieutenant general Nathan B. Forrest. This series of battles and raids was the biggest cavalry raid of the war. The raids were mostly in Alabama and destroyed a large part of the state's natural resources.

The battles took place during the twilight of the Civil War. Before the final battle of the campaign, general Robert E. Lee had already surrendered to general Ulysses S. Grant at Appomattox Court House, Virginia, on April 9, 1865. The campaign just validated the end of Confederate fighting, eliminating their ability to conduct war.
Sources
https://www.nps.gov/abpp/battles/al007.htm http://www.encyclopediaofalabama.org/article/h-1375 https://www.hmdb.org/Marker.asp?Marker=25380
Additional Information