The House of Mirrors
Introduction
In Denver's early decades, Market Street, then known as Holladay Street, was "the wickedest street in the west", a street of "wine, women, and wrong". Brothels lined a thriving red-light district while city officials turned a blind eye. No Denver brothel was more famous than the House of Mirrors, built by one of the city's most flamboyant and high profile madams, Jennie Rogers, then purchased by another, Mattie Silks. Rogers, almost six feet tall and rarely seen without her signature emerald earrings, was rumored to have gained the funds to build the House of Mirrors through Blackmail. Silks, who ran another house on Market Street for 42 years, purchased the House of Mirrors after Roger's death in 1909 and operated it until a wave of reform shut down Denver's red light district in 1915. The House of Mirrors later became home to Denver's only Buddhist temple.
Images
Historical marker on the House of Mirrors, 1946A Market Street. Photo by Jeffrey Beall. Licensed under Creative Commons.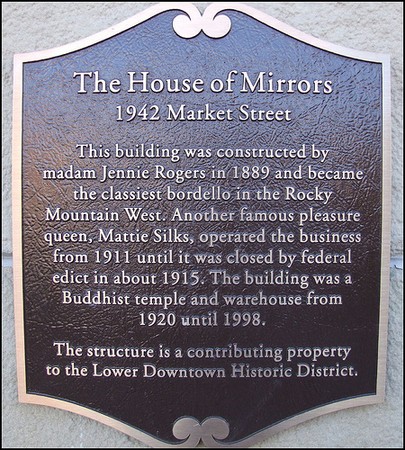 The House of Mirrors as it appears today. Photo by Wally Gobetz. Licensed under Creative Commons.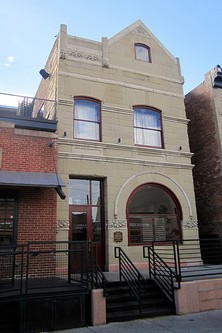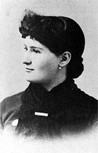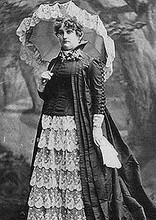 An elderly Mattie Silks (far left, in hat) poses with one of the racehorses she acquired for her stable.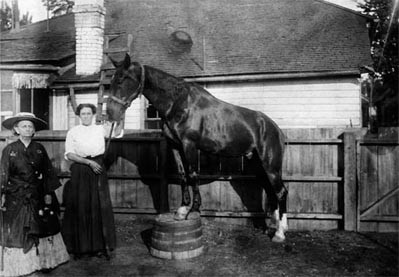 Backstory and Context
In the nineteenth century, women who needed to earn money had relatively few options. Prostitution, the "oldest profession", was one of them . Sex work, as it is often referred to today, is still a polarizing topic; some see it as purely exploitative, while others see it as a sphere in which women could establish and exercise autonomy. On the western frontier, prostitutes and brothel keepers were one of the most visible groups of women, and their experiences ranged from those of women (often Chinese) who were essentially victims of human trafficking to those who not only built successful businesses but played significant roles in their communities.
Denver's House of Mirrors recalls the time when lower downtown's Market Street was full of brothels, and their owners were well-known figures around town. Close political and financial relationships with Denver's city agencies insured that the houses operated with impunity. On one occasion, the city's papers reported that a city council meeting had been suspended, because so many councilmen had chosen to attend the opening of a "new and fashionable den of prostitution on Hollady Street", the meeting could not achieve a quorum. Holladay Street, named for settler Ben Holladay, became so notorious that in 1889 the name was changed, supposedly under pressure from the Holladay family, o the ostensibly neutral Market Street.
It was on Holladay Street in the 1870s that both Jennie Rogers and Mattie Silks established themselves as managers of "female boarding houses", as the their businesses were called in official records. Rogers, a strikingly attractive brunette almost six feet tall, had already risen to prominence as a madam in St. Louis before opening her first house in Denver.
In the 1880s, Jennie bought the Holladay Street house of a retiring rival and replaced it with a lavish stone structure designed by William Quayle, the architect responsible for Denver's First Congregational Church. Stories were told that Rogers financed the building of the house through an elaborate Blackmail scheme against a well-known local figure whose first wife had disappeared, and that the stone faces decorating the house's façade were thinly veiled portraits of clients and/or Blackmail victims. The luxuriously furnished House of Mirrors opened for business in 1889 and quickly established itself as Denver's premier parlor house.
Rogers's chief rival throughout her career in Denver was Mattie Silks, who ran her own houses on Holladay Street before purchasing the House of Mirrors after Rogers's death. In 1877, Mattie Silks had supposedly fought a duel with another woman, Kate Fulton, who was involved with Silks's longtime lover Cort Thomson. Whatever the truth may be, Silks was a fixture in city life, maintaining the same principal business address for 42 years and enjoying close ties to city hall – her establishment had an official liquor license, a rarity for a parlor house. Silks purchased the House of Mirrors shortly after Rogers's death in 1909, and ran it until 1915, when a nationwide anticorruption movement led to the closure of Denver's brothels. The building later housed a Buddhist templeserving Denver's Asian community and was used as a warehouse. It was restored in 1990s and opened as a restaurant. It is now a banquet hall.
Silks died in 1929. Both she and Rogers are buried in Denver's fashionable Fairmount cemetery under their legal names, Martha Ready and Leah J. Wood. A quote attributed to Silks sums up her approach to her profession: "I went into the sporting life for business reasons and for no other. It was a way for a woman in those days to make money, and I made it. I considered myself then and I do now -- as a businesswoman." Of the women she employed, she said: "I never took a girl into my house who had no previous experience of life and men. That was a rule of mine. No innocent young girl was ever hired by me. And they came to me for the same reasons that I hired them. Because there was money in it for all of us."