The Aviator and the Linsly School
Introduction
The Aviator is a monument that was commissioned by Sallie Maxwell Bennett, the mother of a young man killed during World War I on August 24th, 1918. Her son, Lt. Louis Bennett Jr., was serving in the Royal Air Force's 40th Squadron in France in the fall of 1918 when he was killed. Just before his death, he had destroyed three enemy planes and nine spy balloons from August 15th to August 24th. Before his decision to join a few hundred American pilots in England's Royal Air Force, Bennett was the captain of the West Virginia Flying Corp in Wheeling. The statue is located in front of the Linsly School, which became the oldest preparatory school west of the Alleghenies when it held its first classes in 1814.
Images
The statue was created to honor the memory of Louis Bennett and other American pilots who fought in World War One.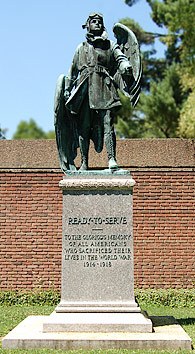 Backstory and Context
Internationally-renowned sculptor Augustus Lukeman designed the statue of a young pilot whose wings appear as a shield. The statue is one of the highlights of the campus of the Linsly School, a two-century-old preparatory school located in Wheeling. In 1927, Colonel Charles Lindbergh paid a visit to the school and placed a wreath on the bottom of the statue. The event was witnessed by a large crowd of spectators as Lindbergh had just become famous for making the first solo nonstop flight across the Atlantic Ocean in May of 1927.

Louis Bennett Jr. was born on September 22, 1894, in Weston, West Virginia. He was the third child of Lewis and Sallie Bennett, two members of locally prominent families. Louis showed signs of being mechanically inclined at an early age. At age twelve, he built a motorcycle and an automobile. Louis was educated in New Jersey and Pennsylvania. He enrolled at Yale in 1913 where he was on the lacrosse and wrestling teams. In 1917 he graduated from Yale.

Louis learned to fly at the Aero Club of America and the Burgess Company of Massachusetts. He read accounts of the war in Europe, and he realized aviation could be a factor in the war effort. Recognizing the military potential of the airplane, he established the West Virginia Flying Corps in Beech Bottom. He secured financing for the flight school from Governor John J. Cornwell, but the school folded owing to the expense. As a result, Louis enlisted in the British Royal Flying Corps. He received additional flight training in Taliaferro, Texas, which was sponsored by a U.S. Canadian agreement.
Sources
"Linsly History-The Aviator" The LInsly School website, (accessed 10/16/16) http://www.linsly.org/page/about-linsly/linsly-history/the-aviator
Additional Information