Doughboy Statue, Martinsburg WV
Introduction
The Doughboy statue honors the infantry soldiers from Martinsburg and throughout Berkely County who served in the United States Army during the first World War. The statue was dedicated on New Year's Eve on 1925 and built by donations from local citizens. Many of these donations were secured through the efforts of the women of the American Legion Auxiliary, who solicited donations from local residents throughout the county on behalf of the Berkeley County Memorial Association.
Images
With his arms stretched forward and the gun at his side, the statue depicts the American infantryman as a heroic figure.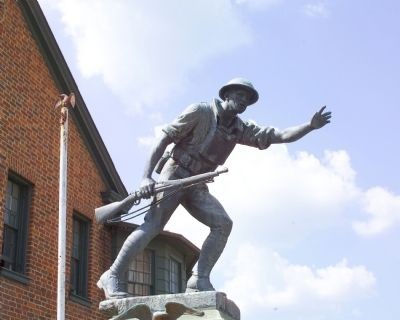 The left side of the statue includes one side of the local roll of honor.

Dedication of Doughboy in Martinsburg, WV. Photo courtesy of West Virginia & Regional History.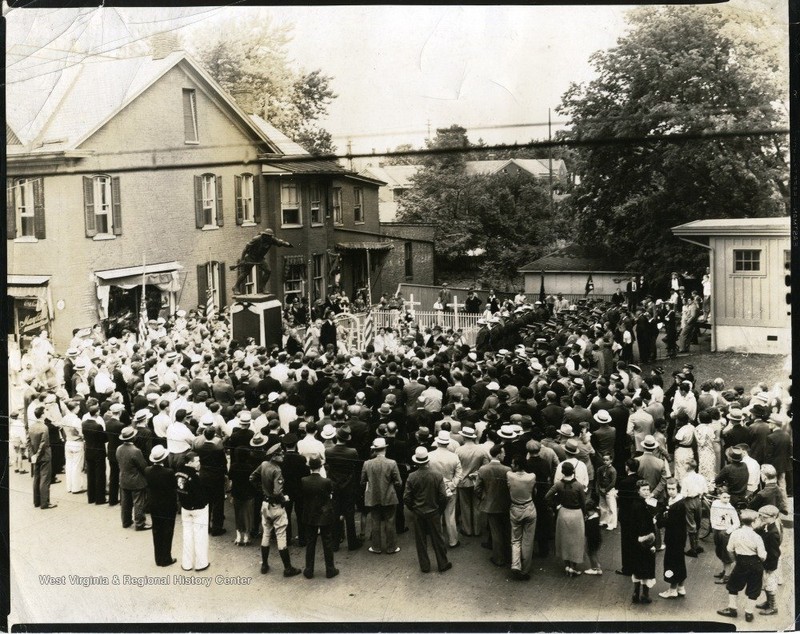 Backstory and Context
The statue includes the names of 41 soldiers from the area who served in World War I, including a list of nurses and a separate list of African American soldiers. The statue depicts a typical infantry soldier whose left arm is extended forward. The soldier clutches a rifle in his other arm and is wearing a helmet with a brim and chin strap around his neck. He stands on the base with bronze plaques attached.
The dough-boy statue was made with graphic region stone, built to honor the citizens of Berkeley County by the Berkley County Memorial Association. The statue was created by Walters A. Sinz of Cleveland who also created World War I monuments for communities in Pennsylvania and Michigan.
The term "dough-boy" started as an insult leveled on infantrymen by members of the cavalry during the Mexican-American War. Given the transition from cavalry to infantry that occurred in the next twenty years, the term soon took on a different meaning as infantrymen took the leading role and changed the meaning of the term.
Sources
U.S. War Department to West Virginia Adjutant General. Revised List of Deceased Soldiers. Department of Veterans Affairs, 1922.

Leatherwood, Jeffrey M. "World War I." e-WV: The West Virginia Encyclopedia. 30 September 2015. Web. 16 January 2017.

Hanlon, Micheal E. "The Origins of "Doughboy"." The Great War Society. Accessed July 22, 2016. HMdb.org. "World War Memorial." Accessed July 22, 2016.

Additional Information