The Palmer Park Log Cabin
Introduction
The log cabin home in Palmer Park was built from 1885-1887 by Thomas and Lizzie Palmer. Thomas was a Michigan and U.S. Senator. He and his wife were generous benefactors of numerous causes and eventually donated the home and land to the city for use as a park. Although it appears rustic, their summer cabin had contemporary Victorian amenities and elaborately carved interior features. It was decorated with stuffed animals mounted on the walls and artifacts like spinning wheels and bows and arrows in order to replicate the look of a frontier homestead. After a long period of neglect, the City of Detroit announced plans in 2016 to restore the cabin and use it as community event space.
Images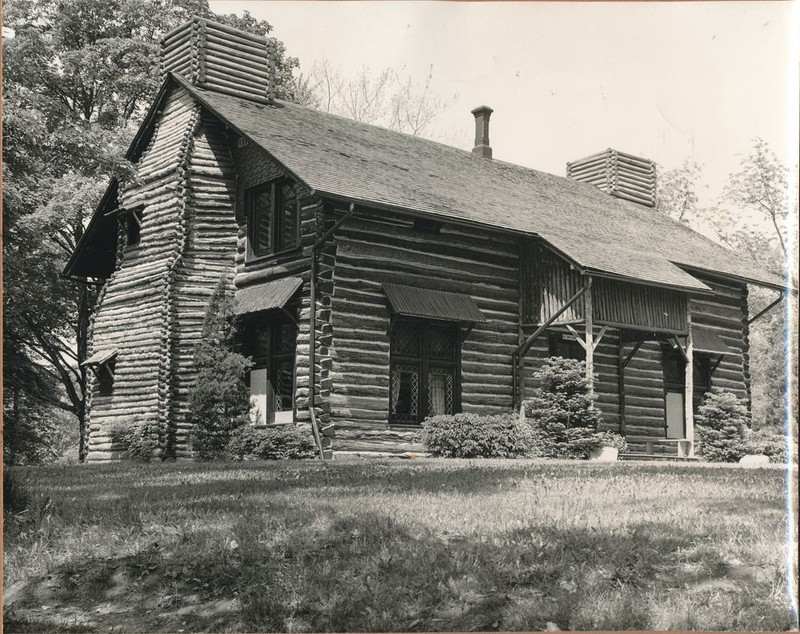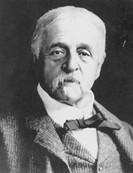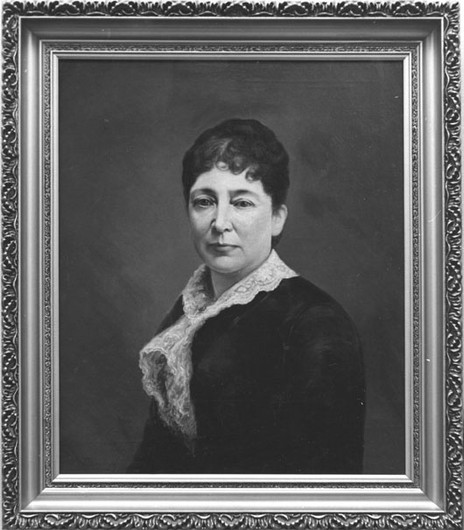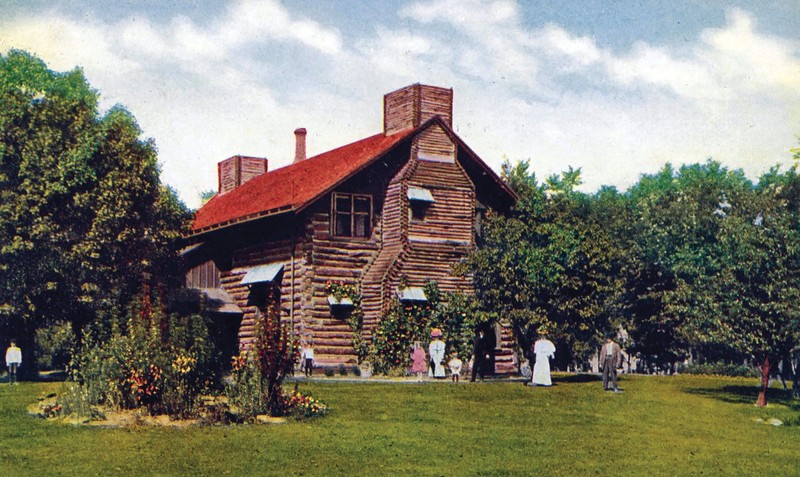 The log cabin hosted many social gatherings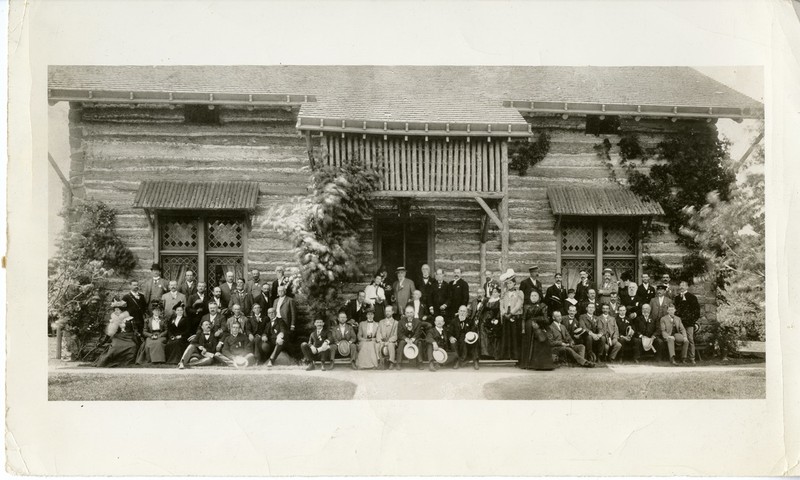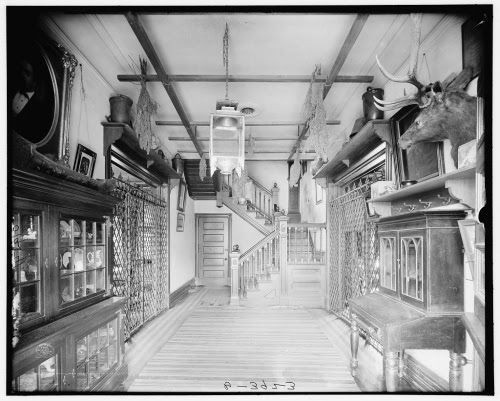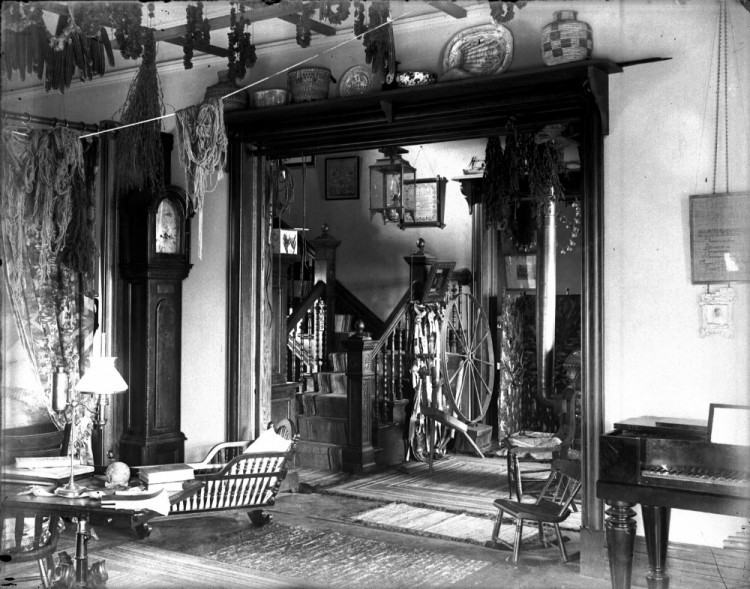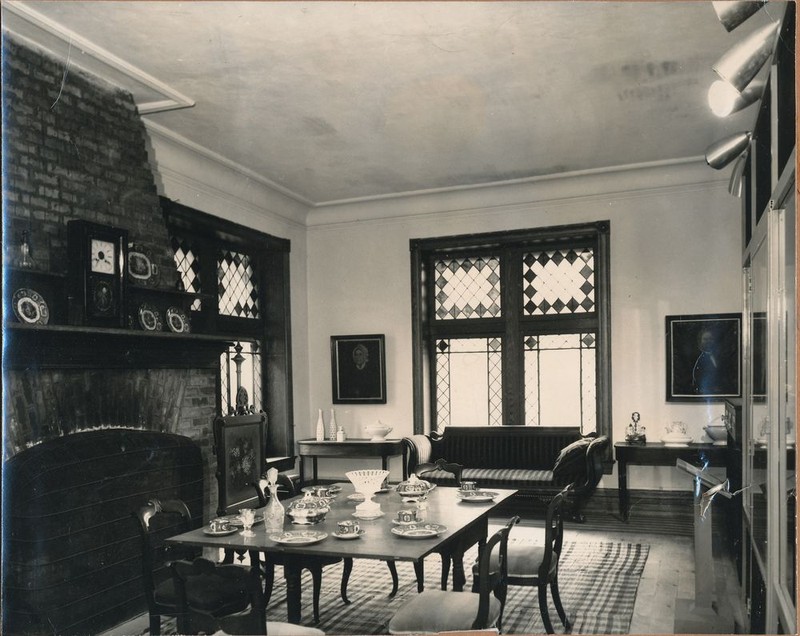 The cabin fell into a state of disrepair over the years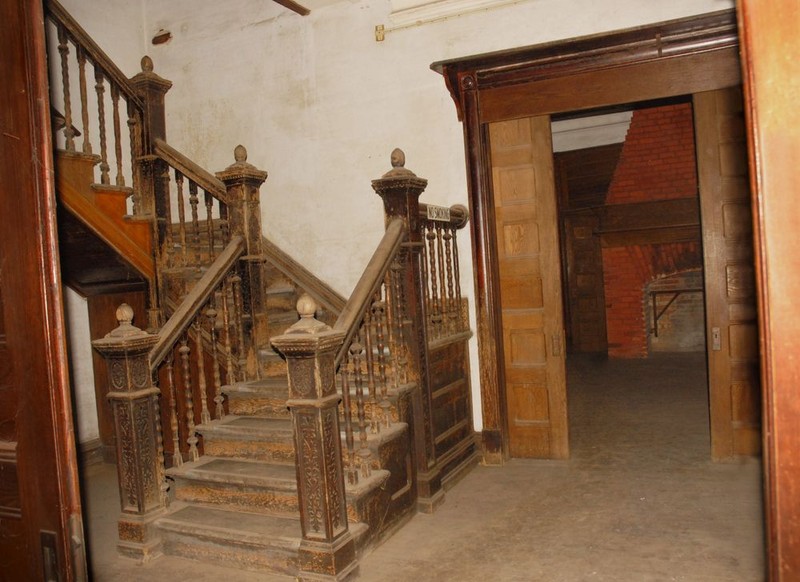 Visitors come to see inside when the cabin is open on "Log Cabin Days"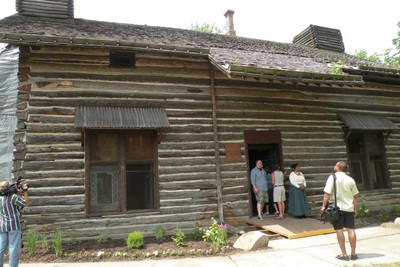 Backstory and Context
Thomas Witherell Palmer was born in Detroit in 1830 and worked in real estate, lumber, and agriculture. Elizabeth (Lizzie) Pitts Merrill was born in 1837 and was the daughter of one of Thomas' business partners. The two were married in 1855. Together, they became great philanthropists and proponents of the women's suffrage movement, the Detroit Museum of Art (now the Detroit Institute of Arts) and the Michigan Society for the Prevention of Cruelty to Animals (now the Michigan Humane Society). Thomas was a member of the Michigan Senate from 1879 – 1880 and the U.S. Senate from 1883 – 1889. He was also appointed Minister to Spain in 1889. The Palmers never had any biological children, but they adopted four orphans.1

In 1884, the Palmers began plans to build a summer home on about 600 acres on (what was then) the outskirts of Detroit. To design the home, they chose architects George D. Mason and Zachariah Rice, who had built the Detroit Opera House, Detroit's old Masonic Temple, and the Grand Hotel on Mackinac Island. The Palmers were looking for a quiet, lush retreat from the hustle and pollution of the city, as well as a nostalgic reminder of a bygone era. The result has been called a "Victorian house wrapped in log veneer."2 That is, the home they built was reminiscent of a rustic log cabin in many aspects, but actually contained many modern features and technologies of the time. The exterior is made of oak logs that were put up with the bark still attached, but inside the walls are plastered. The two-story house is about 30 feet by 40 feet and has a brick foundation and two red brick chimneys. Inside, the floor is made of wooden planks, with a carved oak staircase and pocket doors. The home has leaded glass windows, an indoor bathroom, and a state-of-the-art American Jewel stove in the kitchen. To complete the frontier look, the Palmers decorated the house with stuffed animals, spinning wheels, a 1787 grandfather clock, and various weapons like swords, bows and arrows, and a pistol over the mantel. There was even a birch bark canoe hanging from the rafters along with bundles of dried herbs and flowers. The land also contained a horse farm, a barn with jersey cows, and an orchard. A man-made pond called Lake Francis was filled with fish.3

The Palmers' log cabin was a social gathering space for many of Detroit's most notable socialites, politicians, and businessmen over the years. In 1893, the Palmers gifted the log cabin and 140 acres of land to the city for use as a park. Palmer Park was enjoyed by generations of Detroiters, and the area around it was included on the National Register of Historic Places. The log cabin became a museum, with visitors coming from near and far to see it for almost a century. However, it was closed in 1979, and its artifacts were moved to the Detroit Historical Society. The house as well as the entire park went into a state of disrepair and neglect over the next several decades. In 2011, a group of area residents formed People for Palmer Park after the city threatened to close to park due to lack of upkeep. People for Palmer Park has developed a partnership with the city to keep the park open, to help with its upkeep, and to use park grounds for hosting community events. The group has hosted "Log Cabin Day" once every summer, opening the home for public tours, with volunteers in period dress and activities like an ice cream social and hat making. Thanks in part to the effort of the group, the City of Detroit announced in June 2016 that it would invest $400,000 to restore the house. When it opens, the log cabin will serve as an educational community center available for rent for weddings and other events.4


Sources
1. Piazza, Gregory. "Meet the Palmers." People for Palmer Park Webpage. Published 2011. Accessed July 19, 2016. http://www.peopleforpalmerpark.org/meet-the-palmers.html 2. "Senator Palmer's Font Hill Log House and Famous Log Cabin Farm." People for Palmer Park Website. Accessed July 19, 2016. http://www.peopleforpalmerpark.org/log-cabin.html 3. Bragg, Amy Elliott. "Log Cabin at Palmer Park." HistoricDetroit.org Website. Accesssed July 19, 2016. http://historicdetroit.org/building/log-cabin-at-palmer-park/ 4. Runyan, Robin. "Palmer Park's Log Cabin to Receive $400K Restoration from the City." Curbed.com Website. Published June 27, 2016. Accessed July 19, 2016. http://detroit.curbed.com/2016/6/27/12039492/palmer-park-log-cabin-restoration-historic
Additional Information