Paramount Theatre
Introduction
The beautiful Art Deco style Paramount Theatre, located on Glenarm Place adjoining the Sixteenth Street Mall, is a survivor of the golden age of motion picture "wonder theaters", when simply going to the movies meant stepping into a world of glamour. Now converted to a live performance venue, the Paramount Theatre nevertheless retains its vintage style. The richly detailed "zigzag"-style terracotta exterior survives, and the gilded decorations and fanciful murals that adorn the interior have been restored. The theatre also contains a rare Wurlitzer pipe organ, which provided early film audiences not only with music but with sound effects such as train whistles and galloping horses.
Images
Paramount Theater, 1621 Glenarm Place, Denver, CO.
The Paramount Theatre's neon sign at nightfall. Photo by Paul Sableman. Licensed under Creative Commons.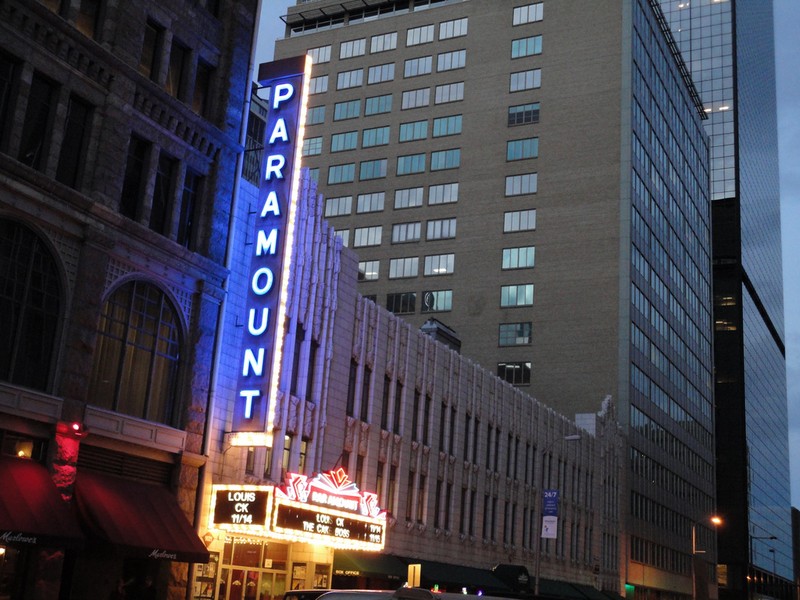 Detail of the ornate Art Deco terra cotta facade of the Paramount Theatre. Photo by Dave & Margie Hill/Kleerup. Licensed under Creative Commons.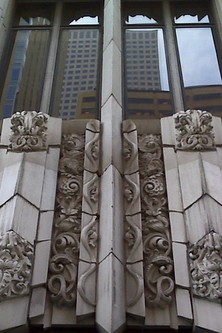 The Paramount theater's Art Deco detailing and murals painted on silk seen from the balcony. Photo by Ken Kanouse. Licensed under Creative Commons.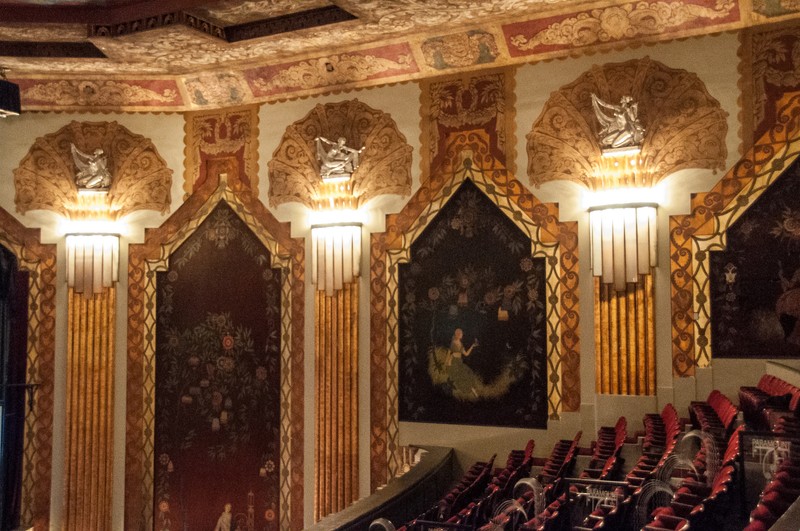 Light fixture in the stairway of the Paramount Theatre.Photo by Dave & Margie Hill/Kleerup. Licensed under Creative Commons.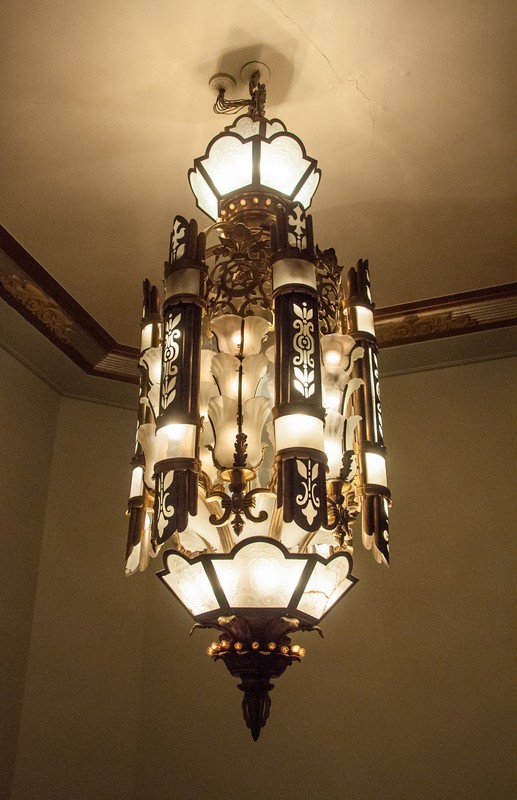 Backstory and Context
Construction began on downtown Denver's Paramount Theatre in 1929, and the theatre opened to the public in 1930. It was the era when silent films were giving way to "talkies" and the Roaring Twenties to the Great Depression. At the time, many movie theatres were owned and operated by the studios in Hollywood, and the Paramount was built as part of the Paramount Pictures-owned Publix chain. (Studio ownership of theatre chains was later successfully challlenged under anti-trust laws in the 1940s).
In 1925, the Publix chain (formerly Famous Players/Lasky) merged with the Balaban and Katz theatre chain in Chicago. Denver's Paramount and other Paramount "wonder theatres" across the country were modelled on Balaban and Katz's flagship theatre in Chicago. The "wonder theatre", with its lavish appointments and live music, enveloped movie patrons in an atmosphere more evocative of Hollywood high life than of their workaday lives.
Denver's Paramount is credited to the celebrated Denver architect Temple Hoyne Buell along wth the Chicago firm of Rapp and Rapp, builders of the original Balaban and Katz "wonder theatre". An example of the bold "zigzag" version of Art Deco, the theatre's terra cotta exterior was crafted by the Denver Terra Cotta Company; on the façade, sleek geometric forms are contrasted with intricately detailed panels incorporting feathers, ferns, and other organic motifs, the work of Denver Terra Cotta sculptor Joseph Ambrusch.
Inisde, the theatre features lavishly detailed interiors combining numerous motifs that would carry glamorous associations for patrons of the era. Marble and gilt are softly and indirectly illuminated by cut-glass chandeliers and stylized "Egyptian" lights. The visual highlight of the interior may well be the murals painted on silk by artist Vincent Mondo and installed on the walls of the main auditorium. The murals depict figures from the Commedia dell'Arte, a form of theatre created in Renaissance Italy featuring stock masked characters such as Harlequin, Pierrot, and Pierrette. Mondo's murals, featuring figures from the Commedia in pretty pastoral settings, linked movie-going to the grand theatrical traditions of Europe. They became the model for similar murals by Mondo in other Paramount theatres, including one in Ashland, Kentucky.


The grand opening of Denver's Paramount Theatre on August 29, 1930 reportedly drew 20,000 people. The opening featured showings of "Let's Go Native", a musical comedy starring Jeannette MacDonald. The choice of a musical for the opening showed just how quickly the motion picture business was changing, as the theatre had originally been designed with silent films in mind. The theatre's Wurlitzer twin-console organ was designed to provide sound effects as well as music to accompany the images on the screen. Along with its "sister" in Radio City Music Hall in New York, it is one of the largest installed in an American theatre.
In later decades, the Paramount was threatened with demolition, but was saved by a group known as Friends of the Paramount. It was added to the National Register of Historic Places in 1980. Converted to a venue for live musical performances, it remains one of the most popular and most elegant performance spaces in Denver.
Sources
"Balaban & Katz". Encyclopedia of Chicago. http://www.encyclopedia.chicagohistory.org/pages/103.html. Accessed July 9, 2016. "Chicago Theatre". Wikipedia. https://en.wikipedia.org/wiki/Chicago_Theatre. Accessed July 9, 2016. "History". Paramount Theatre, Denver, CO. http://www.paramountdenver.com/history/. Accessed July 9, 2016. "History & Mission". Paramount Arts Center, Ashland, KY. http://paramountartscenter.com/history-mission/. Accessed July 9, 2016. Grossman, Ron."Humble Theaters Become Movie Palaces". Chicago Tribune, February 26, 2012. http://articles.chicagotribune.com/2012-02-26/site/ct-per-flash-theaters-0226-20120226_1_movie-palaces-balaban-katz-central-park-theater. Accessed July 9, 2016. "Let's Go Native" (1930). IMDb. http://www.imdb.com/title/tt0021061/plotsummary?ref_=tt_ov_pl. Accessed July 9, 2016. "Paramount Theater". Masonry of Denver. http://www.masonryofdenver.com/2014/10/paramount-theater/. Accessed July 8, 2016.
Additional Information