Arrow Park (Parker Pen)
Introduction
Arrow Park was the production facility for the Parker Pen Company opening in 1954.
Images
The front of the building, featuring the company's extensive collection of national flags.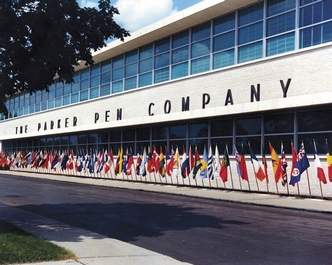 Backstory and Context
George Safford Parker applied for his first pen patent in 1888 and started The Parker Pen Company. He applied for his second patent on "the Lucky Curve" which featured an innovative ink feeding system. Business grew exponentially and George travelled overseas to London, Paris, Geneva, and Berlin to hire salesmen to expand his business internationally. By 1918, Parker Pen had sold over one million dollars' worth of pens. The next great idea came in the 1920's with the Duofold design pen, followed later by the Parker 51 in 1939. Both pen designs, became the popular choice for those seeking to make a statement. In fact, General Dwight Eisenhower used a Parker 51 pen to sign the German surrender papers in Europe, and General Douglas MacArthur used the Duofold pen to sign the Japanese surrender papers in Japan. Pen sales continued to rise in the post war era so the company built a state of the art facility called Arrow Park. The over 150,000 square feet building is a classic example of the 1950s modern architectural style, with its stark exteriors, open concept, and use of concrete and glass. Pens were manufactured here until 2009 when Parker Pen relocated its manufacturing operations to Mexico. The building is now home to Panoramic, a thermoforming plastic packaging company and TAGOS Leadership Academy.