Armand Bayou Nature Center
Introduction
At 2,500 acres, the Armand Bayou Nature Center is one of the countries biggest urban wilderness preserves in the country, consisting of the last remnants wetlands, forest, prairie and marsh habitats in the Houston/Galveston area. Over 370 species of plants, birds, fish, reptiles, amphibians and mammals live in the preserve. Given this incredible diversity of flora and fauna, the center is one of the best places for birdwatching on the Texas Gulf Coast. Visitors can observe the plants and animals on a boardwalk and other trails that goe through various habitats. Additional attractions include butterfly gardens, a recreated 19th century farm, interpretive signage and live animal displays. The center also offers numerous educational programs and guided boating and hiking tours.
Images
Entry to the Nature Center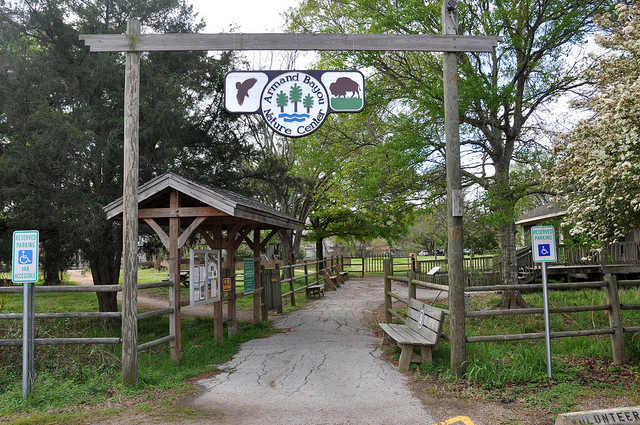 Backstory and Context
Archaeological evidence shows that this area was inhabited by Native Americans for 7,000 years. The location was an obvious location for habitation. Natives lived here until the mid-19th century when people of European descent began to move in. Over time, the area became increasingly developed and in the 1960s, NASA built the Manned Spacecraft Center nearby.
However, conservationist Armand Yramategui led the efforts to establish the center, which occurred in 1974. He was seriously concerned with the urban buildup around the bayou, and coordinated well in advance of the program's actual launch to begin pulling the property together. Tragically, Armand away in 1970, but this had the effect of spawning and cementing the collection of the properties that collectively would become the nature center.
Sources
"ABNC History." Armand Bayou Nature Center. Accessed March 23, 2015. http://www.abnc.org/about-abnc/history.html.
Additional Information