Holocaust Museum Houston
Introduction
The permanent exhibit at the Museum is Bearing Witness: A Community Remembers, which focuses on the stories of Holocaust survivors living in the Houston metropolitan area. A tour begins with a look at life before the Holocaust. Visitors then see the beginnings of Nazism and Adolf Hitler's rise to power. The displays progress through the disruption of normal life, to segregation, to imprisonment in concentration camps and, finally, to extermination. The roles of collaborators, by-standers, rescuers, and liberators are portrayed through artifacts, film reels, photographs, and text panels. The main exhibit ends with the moving short films, Voices and Voices II, which alternate daily in the 100-seat theater. These films are compilations of verbal testimony from area survivors.
Images
The Holocaust Museum Houston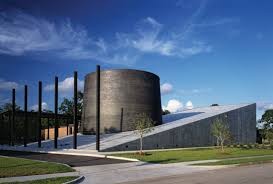 Backstory and Context
Holocaust Museum Houston is also widely known as an education center, and the facility includes two classroom areas and a research library. The Boniuk Library and Resource Center contains more than 4,000 titles relating to the Holocaust, World War II, religion and anti-Semitism. The video section contains more than 300 titles on related subjects, and the tapes can be viewed in the Museum's video room, or they can be checked out. A full-time librarian manages the center, and a full-time registrar is responsible for maintaining the Museum's archives. Thousands of historic and original photographs, documents, letters, diaries and other artifacts from the 1930s and 1940s are cataloged in the archives. Researchers can examine these documents and artifacts by appointment.
Sources
"History of Holocaust Museum Houston." Holocaust Museum. Accessed February 24, 2016.
Additional Information