Clayton Library and the William and Susan Clayton Historical Marker
Introduction
William Lockhart Clayton (1880-1966), a native of Mississippi, left school early to become a court reporter. During World War I, Clayton served worked for Committee on Cotton Distribution of the War Industries Board. He served as Under-Secretary of State for Economic Affairs (1945-47) under George C. Marshall. He is considered to be one of the most important architects of the post World War II Marshall Plan. The Marshall Plan was an initiative in which the U.S. gave $13 billion to aid the rebuilding of Western European countries following World War II. Clayton and his wife, Susan, bequeathed their Houston home to Houston's Public Library system. Notable architect Birdsall P. Bristle worked with Susan Clayton to build the home. Today, it houses one of the best centers for genealogical research in the nation.
Images
William L. and Susan Clayton historical marker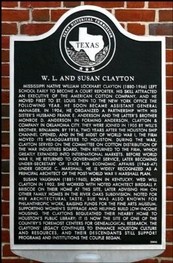 The marker is located at the front of the Clayton Library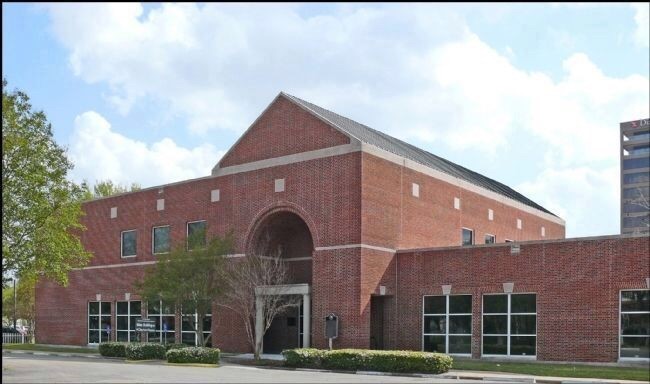 Clayton in 1945 arriving for the Potsdam Conference, at which the terms for the ending of WWII were negotiated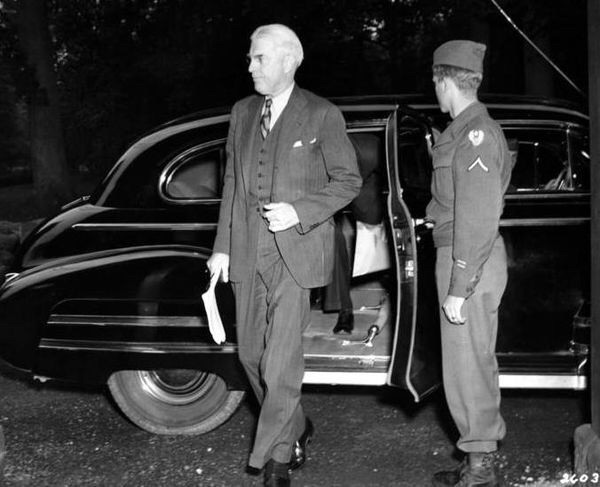 Backstory and Context
Clayton's skill as a court reporter attracted the attention of an executive of the American Cotton Company, resulting in a move to join the company first in St. Louis and then in New York. He created his own firm in 1904 along with his sister's husband, Frank E. Anderson, and Anderson's brother, Monroe D. Anderson. Together, they formed the firm Anderson, Clayton, and Company in Oklahoma City. Clayton's brother, Benjamin, joined the firm in 1905 and in 1916 the firm moved its headquarters to Houston following the opening of the Houston Ship Channel.
Despite being a member of the Democratic Party, Clayton disagreed with President Franklin D. Roosevelt's New Deal agricultural policies. However, he supported FDR in the 1936 election because of the New Deal's free trade policies. When Clayton returned to government work in 1940, he worked for the Reconstruction Finance Corporation. He then worked to acquire strategic materials for the U.S. in an effort to keep them out of Germany's hands. This work was done as part of the Export-Import bank.
Sources
"History of the Marshall Plan." The George C. Marshall Foundation. Accessed October 20, 2015. http://marshallfoundation.org/marshall/the-marshall-plan/history-marshall-plan.

Tinsley, James. "Clayton, William Lockhart." Handbook of Texas Online. Accessed October 20, 2015. https://tshaonline.org/handbook/online/articles/fcl23.

"W. L. and Susan Clayton." The Historical Marker Database. Accessed October 20, 2015. http://www.hmdb.org/marker.asp?marker=63848.
Additional Information