Blunt House
Introduction
The second-oldest home in Dalton, this Federal-Style home had four rooms when it was completed in 1848. The home was built for the family of Ainsworth Emery Blunt, the first mayor of Dalton. Blunt came to this area as a missionary to the local Cherokee and remained in the area with his wife, who was also a missionary, following the relocation of the Cherokee across what is now known as the Trail of Tears. Blunt built this home shortly after moving to Dalton and establishing a mercantile business. During the winter of 1863-1864, Confederate General Joseph E. Johnston stayed at Blunts home. The home stayed in the Blunt family until 1978, when it was given to the Whitfield-Murray Historical Society in return for a promise to preserve the home and use it for educational purposes. The Historical Society offers tours of the home, which is full of historic furnishings and artifacts that preserve and share the history of Dalton.
Images
The Blunt House is maintained by the Whitfield-Murray Historical Society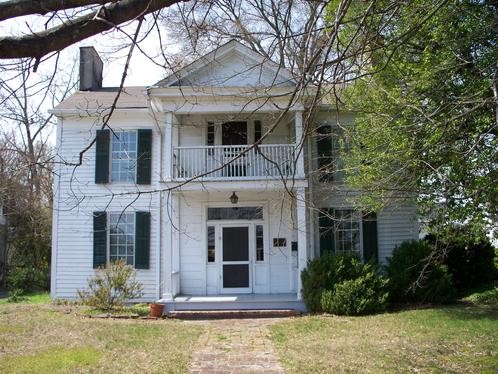 Backstory and Context
Ainsworth Blunt left his home in New Hampshire and served as missionary at Brainerd Mission-a historical site adjacent to modern-day Eastgate Town Center. For seven years, Blunt and other missionaries at the mission kept a journal which has been preserved and published by the University of Nebraska Press. At the end of this entry, there is a link to that published account.

When Confederate troops were camped at Dalton in the winter of 1863-1864, General Johnston and his staff stayed in this home. Blunt and his family then fled the area the following year when the Union took control of the city and area.

In 1910, an addition was added to the home that gave it more of a Victorian appearance-reflecting a style of architecture that was popular at the turn of the century. The home stayed in the Blunt family and was donated by local teacher Emery Kirby Baxley, grand-daughter of Ainsworth and Elizabeth Blunt, in 1978. Baxley taught in the local schools for fifty years and many of the historical artifacts in the home contain interpretive signs that were hand-written by Mrs. Emery Baxley before she passed.
Sources
"The Blunt House," Whitfield-Murray Historical Society website, (accessed 7/10/2016) http://www.whitfield-murrayhistoricalsociety.org/historicproperties/blunthouse.html Susan Pierce, "The Blunt House in Historic Dalton, Ga." Times Free Press, Feb 16, 2013.
Additional Information