Temple Emanu-El
Introduction
The Temple Emanu-El is not only a site of religious worship for the Jewish community of Miami Beach, it is also a historic and architecturally beautiful place. The oldest Conservative Jewish synagogue in Miami Beach, it is a structure that mixes Byzantine and Moorish architectural styles together, creating mosaic patterned arches in the interior and a ten-foot-tall copper dome that rises out of the top of the synagogue. The temple is often a stop on various historic walking tours of Miami Beach and can be visited on most days of the week.
Images
Temple Emanu-El was built in 1948.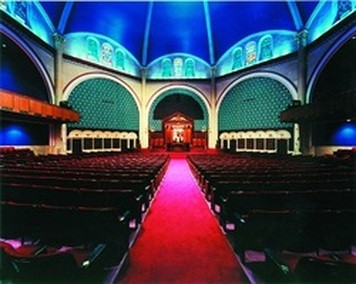 Backstory and Context
Temple Emanu-El's first congregation, led by Rabbi Jacob Rackovsky, was formed in 1938. It was known as the Congregation Jacob Joseph of Miami Beach and it met in a home of one of the members of the congregation. Over the next few years, the synagogue endured a couple of name changes, which were the "Miami Beach Community Jewish Center" and then the "Miami Beach Jewish Center." In 1941, the congregation, with the help of the new leader, Rabbi Samuel Benison, a New Yorker that originally hailed from Palestine, raised enough money to build a new structure. A year later the building was completed, but the onset of WWII changed the community. Miami Beach became a military training center and Rabbi Irving Lehrman, who would go on to lead the temple for nearly fifty years, became the congregation's new leader. In 1948, the synagogue that is now known as Temple Emanu-El, although it wouldn't officially change its name to that until 1954, was built. Over the next two decades, additions were made to the synagogue, including a ballroom and a school building, which is now known as the Lehrman Community Day School.

Today, the Temple Emanu- El is a thriving synagogue, serving the religious and spiritual needs of the Jewish community. Shabbat services are done every Saturday morning and evening, and weekly minyan is hosted. Weddings, galas, and bar mitzvahs are held in the ballroom. The temple is also considered to be one of the most beautiful synagogues in the country and was awarded the 2010 Beautification Award by the Miami Beautification Committee. Many religious and political leaders have visited the synagogue, including President Ronald Reagan, President Bill Clinton, Senator Henry M. Jackson, the Dalai Lama, and Desmond Tutu. The Temple Emanu-El is a historical, beautiful, and culturally significant part of a Miami Beach visit.

Sources
"History." Temple Emanu-El. Accessed on July 9, 2016. http://www.tesobe.org/history.html.
Additional Information