HistoryMiami
Introduction
HistoryMiami, formerly known as the Historical Museum of Southern Florida, preserves the history and culture of Miami and southern Florida. Because southern Florida has historically stood as the cultural crossroads of America, HistoryMiami interprets and presents its vast collection of artifacts, providing locals and visitors with meaningful ways to connect to the region's past and its ever-evolving future. In addition to the Museum's 40,000 square feet of gallery space that features a variety of exciting and interactive exhibits, the museum also offers a variety of city tours. The top floor houses the museum's permanent exhibition, where the "Tropical Dreams: A People's History of South Florida" exhibit (2015-2017) showcases over 12,000 years of regional history. The lobby contains the gift shop as well as two galleries that rotate temporary exhibitions. HistoryMiami also includes the Archives and Research Center, which contains historic photos and documents useful to scholars, distant learners and industry professionals.
Images
Outside View of HistoryMiami in the Miami Dade Cultural Center.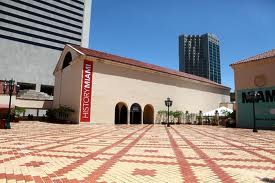 Former tram car from Miami featured at HistoryMiami.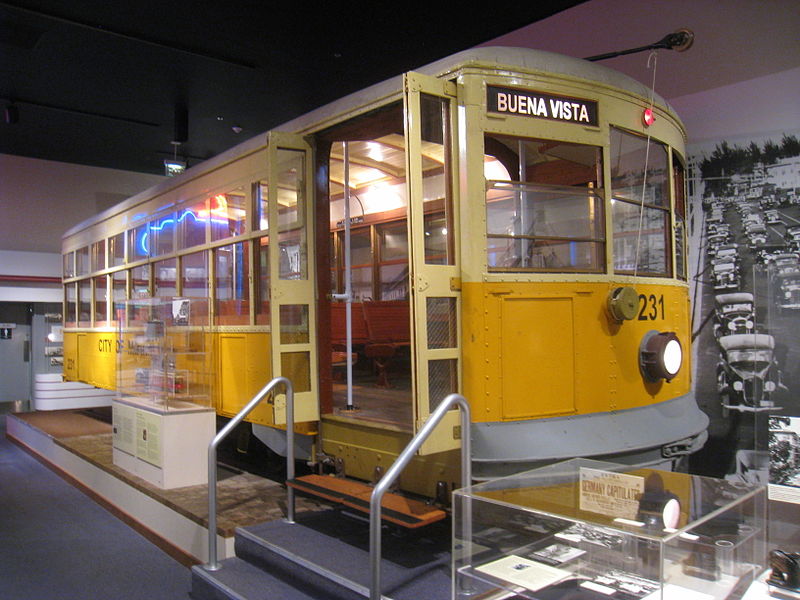 Part of HistoryMiami's permanent exhibit, "Tropical Dreams. A People's History of South Florida."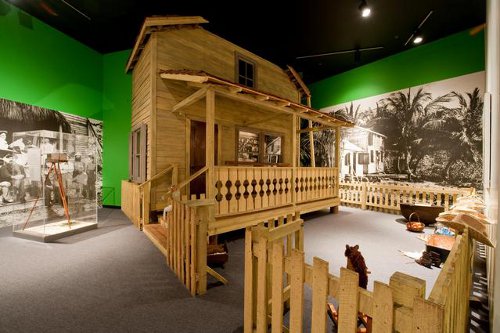 History refugee raft featured at the Museum.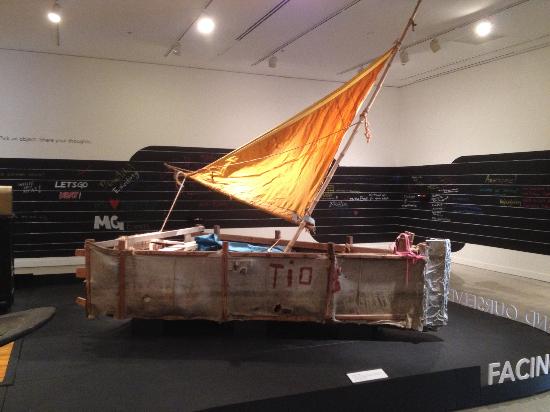 Backstory and Context
The idea for a historical museum covering the rich history of southern Florida was first conceived by famous Miami citizens George Merrick, Charlton Tebeau, and Marjory Stoneman Douglas. By 1940, these three visionaries founded the Historical Museum of Southern Florida. Although the Historical Museum of Southern Florida remained as an association without a physical museum for two decades, it was able to open its doors for regular public use in 1962. Ten years later, the Museum moved to a larger facility within the Miami Science Museum, where it was able to expand its exhibition range and provide more educational and outreach programs for the city. From 1974 to 1979, the Museum gained esteem for its developing exhibition storyline, and in 1984, after years of fame for being the premier historical museum in the area, the Museum moved to its current location in downtown Miami in the Miami-Dade Cultural Center. By 2010, the Museum changed its name to HistoryMiami, and a year later, it was formally received as a Smithsonian Institution Affiliate.
The sheer variety and depth of HistoryMiami's exhibits have made the museum the premier cultural center in southern Florida, and this museum presents everything from standard historical subjects (such as Native American and Spanish arrival in the region) to more nuanced and specific exhibits. For example, the interactive "History & Ourselves" exhibit features artifacts and other materials related to the theme of Arrive, Adapt, Grow, and Live, and highlighted objects range from the Miami Heat logo to an early Coral Gables street light. Other exhibits featured at the museum have included "Whitman Family Gallery," "Folklife Gallery," and "Operation Pedro Plan," which showcases the Cuban child refugee exodus in the Western Hemisphere from 1960 to 1962. Artifacts at HistoryMiami present the three-dimensional history of Miami culture and innovation, and with over 37,000 objects covering archaeology, technology and home furnishings, aviation life, and even community life, visitors to the museum can discover the real objects that played a role in the growth and cultural diversity of the area.
In addition to galleries and collections, HistoryMiami also offers a variety of educational resources. Since the organization's inception, it has hosted programs attended by over 500,000 area students. A non-circulating library provides historical documents, photographs, and other materials to both public and private researchers. In addition to gallery and school tours, HistoryMiami also offers group city tours. A variety of tours are offered, including via walking, bike, boat, or coach. Finally, HistoryMiami has published Tequesta since just a year after the organizations founding in 1940. Tequesta is an annual scholarly journal which focuses on the history of south Florida and Miami. Topics range from pre-Columbian history to late twentieth-century. As one of the largest local history museums in Florida, HistoryMiami offers stellar resources and exhibits while maintaining a local feel.
Sources
"About Us." HistoryMiami. Accessed November 6, 2020. http://www.historymiami.org/about-us.
"Exhibitions." HistoryMiami. Accessed November 6, 2020. http://www.historymiami.org/museum/exhibitions. 
"Museum Artifacts." HistoryMiami. Accessed November 6, 2020. http://www.historymiami.org/museum/objects.
Additional Information