Blue Triangle Branch, YWCA
Introduction
In the early 1900s, the African American community in the area expressed the desire to provide a recreational center for its youth and for African American troops stationed at Camp Logan. Mary L. Jones began to form an organization focused on aiding the spiritual growth of young women and the Camp Logan Activities Committee began offering civic and morality instruction. During the First World War, a national representative from the Young Women's Christian Association (YWCA) worked to open a recreation center. The center opened in 1917 and was housed in the Masonic building at 806 Clay.
Images
Blue Triangle Branch YWCA historical marker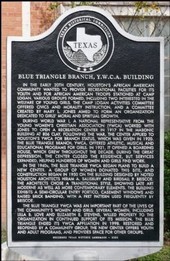 Front of the former YWCA building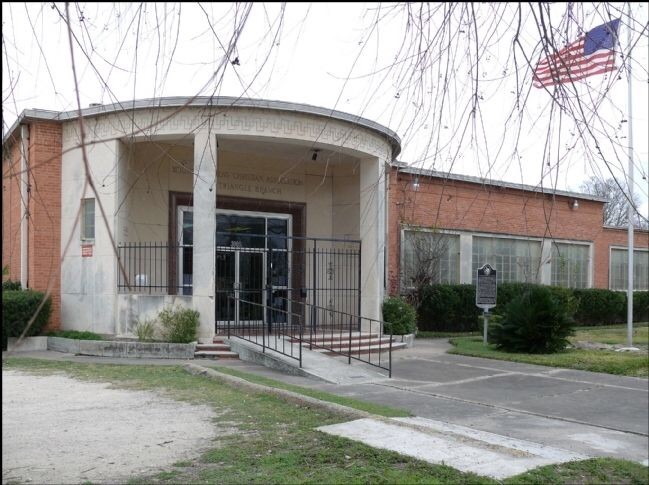 Former YWCA building from the street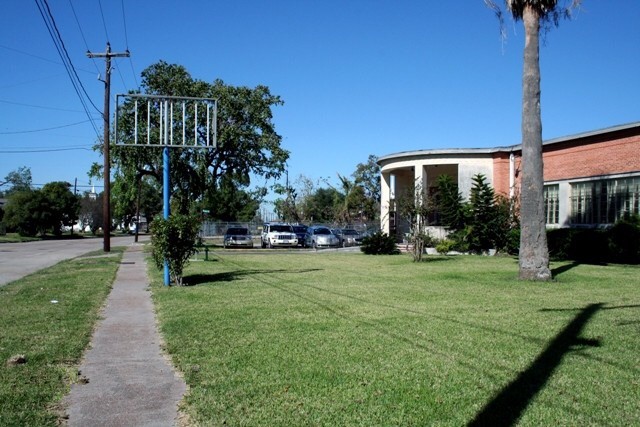 Backstory and Context
The Center received YWCA branch status in 1920. Known as the Blue Triangle Branch YWCA, the center offered athletic, musical, and educational programs for girls. The center also opened a boarding house in 1921, which lasted until the end of the decade. The residence services were closed during The Great Depression; however, services were expanded to help women and girls find employment.
In the forties, plans to build a new center started being made. The site for the building was donated by a group of women and construction began in 1950. The building was designed by notable Houston architects Hiram A. Salisbury and Birdsall B. Briscoe. Briscoe, along with Susan Clayton, also designed The Clayton House, which is now home to the Clayton Genealogical Library. The center is built in a Transitional style, which displays late Art Moderne elements.
Although the center ended its affiliation with the YWCA in 1998, the center still operates as a community center offering youth and adult programs as well as space for other groups to hold events. The center offers a number of events and programs, such as a swim team, gold tournaments, and summer day camps for kids. The center also includes a mural depicting notable African American women, such as Sojourner Truth.
Sources
"Blue Triangle Branch, Y.W.C.A. Building." The Historical Marker Database. Accessed February 24, 2016. http://www.hmdb.org/marker.asp?marker=62915. Kelly, Charlotte.

"History." Blue Triangle Multi-Cultural Association. Accessed February 24, 2016. http://www.the-bluetriangle.org/history.html.
Additional Information