Daughters of the Republic of Texas - Historical Marker
Introduction
On November 6, 1891, the Daughters of the Texas Republic began as a splinter group of the Texas Veterans Association. The organization was called the Daughters of the Lone Star Republic and Mrs. Anson Jones was elected president. Preserving the history concerning Texas Revolutionary heroes, instilling Texas patriotism in schoolchildren, preserving historic sites, and organizing statewide celebration of holidays—such as Texas Independence Day (March 2) and San Jacinto Day (April 21)—were among the goals of the organization. The name was changed to the Daughters of the Republic of Texas at the first annual meeting of the organization, which was held in Lampasas on April 21, 1892. The first two chapters of the organization, one in Galveston and one in Houston, were formed that same year.
Images
Daughters of the Republic of Texas historical marker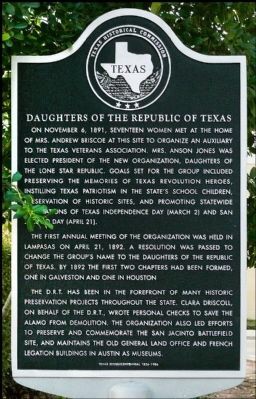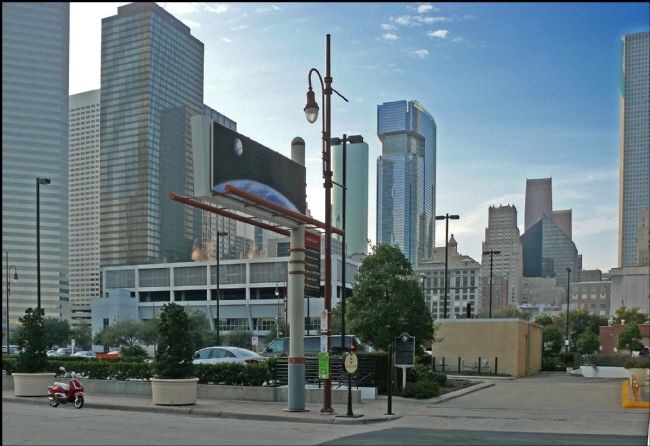 Daughters of the Republic of Texas celebrate 100th anniversary of acquiring custodianship of the Alamo, October 5, 2006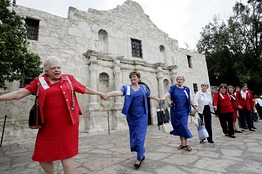 Backstory and Context
The Daughters of the Republic of Texas (DRT) has played a major role in the preservation of historic sites throughout the state, including The Alamo. Clara Driscoll, in the name of the DRT, used personal funds to keep the Alamo from being demolished. The organization maintains a library at The Alamo containing circulating collections related to the history of Texas, San Antonio, and The Alamo and is open to all researchers. Included in the library's collection are papers of early Texas settler families, including the Bustillo Family Papers, 1772-1936, Cassiano-Perez Family Papers, 1741-1954, and Cumings Family Papers, 1824-1926. The San Jacinto Battlefield site, the Old General Land Office and French Legation buildings are among the historic sites that the organization has worked to commemorate and preserve. The latter two are maintained by the organization as museums.
The French Legation building was built in 1841 in the Republic of Texas to represent the French government. The Old General Land Office building served as the land office building for the state until 1917, when the agency was moves to another building. The Land Office is Austin's oldest surviving state government building.
Sources
Casselman, Ben. "Remember the Alamo? It's Under Siege Again -- This Time From Within." Wall Street Journal. http://www.wsj.com/articles/SB125071524294544153.

"Daughters of the Republic of Texas." The Historical Marker Database. Accessed November 9, 2015. http://www.hmdb.org/marker.asp?marker=62378.

"Overview of Collection." Daughters of the Republic of Texas. August 20, 2009. http://www.drtl.org/AboutTheLibrary/OverviewCollection.asp.

Additional Information