The JPMorgan Chase Building
Introduction
The JPMorgan Chase Building, originally known as the Gulf Building, is one of the best examples of Art Deco skyscrapers in the southwestern United States. It was built in 1929 and designed by Alfred C. Finn, Kenneth Franzheim, and J. E. R. Carpenter. Jesse H. Jones, a wealthy businessman, commissioned the building's construction in 1927 to be the headquarters for Texas Commerce Bank, which was originally called the National Bank of Commerce. It has 37 stories and is 430 feet tall. The interior is impressively decorated with Art Deco motifs, decorative nickel stylings and etched glass. There is also a large stained glass window depicting the San Battle of Jacinto and eight frescoes depicting the history of Texas and Houston.
Images
The JPMorgan Chase Building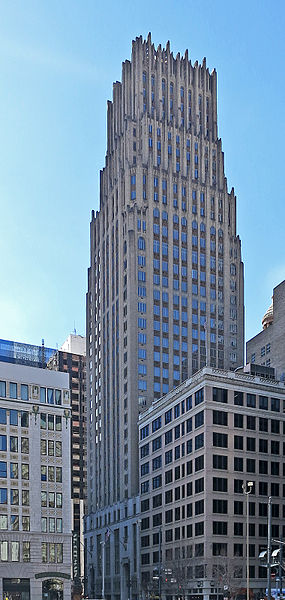 View of the main hall on the first floor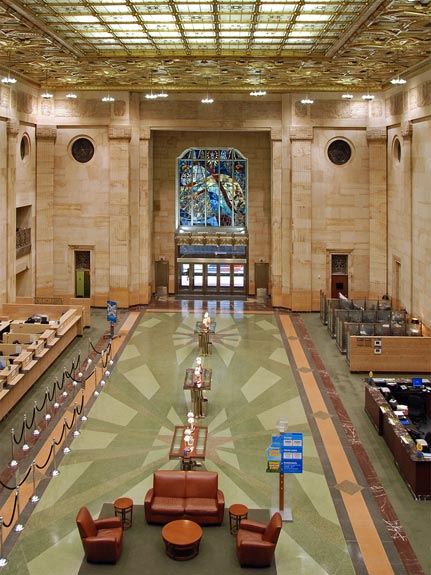 Some of the intricate polished nickel metalwork in the interior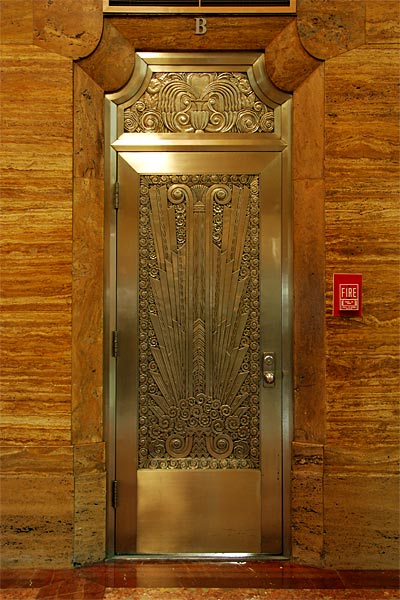 Backstory and Context
The Gulf Building was the tallest in Houston until 1963 when the Exxon Building was constructed. It was also the tallest west of the Mississippi River uni 1931. In total, the building has 800,000 square feet of office space, with the first floor being a retail banking center. The architects borrowed the concept of a tapered building from Eliel Saarinen, who designed such a building for the Chicago Tribune tower competition; his was in second place so it was never built.

From 1966-1974, the top of the building featured a large rotating neon sign for the Gulf Oil Corporation. Houstonians either hated or loved it, but they would agree that it was definitely a landmark. In 1989, given its age, the Texas Commerce Bank began what is believed to the largest privately funded restoration project. JP Morgan Chase acquired the building in 1987.
Sources
"Gulf Building." Preservation Houston. Accessed July 07, 2016. http://www.houstondeco.org/1920s/gulf.html.

Victor, Sally. "Gulf Building, Houston." Handbook of Texas Online. Accessed July 07, 2016. http://www.tshaonline.org/handbook/online/articles/ccg06.

Sarnoff, Nancy. "Historic downtown Chase Building Sold." Houston Chronicle. February 12, 2010.

Additional Information