1,000 Houstonians Join the Navy - Historical Marker
Introduction
At the site where the marker now stands, 1,000 people from Houston took the oath of service and joined the US Navy. They would go onto to crew the USS Houston, which was lost in the Battle of the Java Sea.
Images
The "1,000 Houstonians join the Navy" marker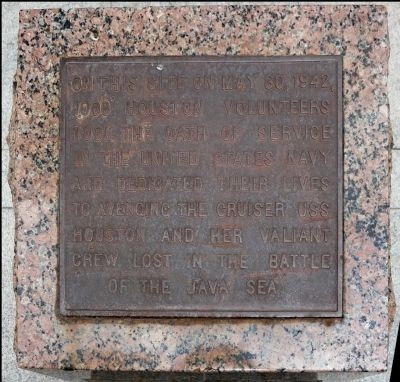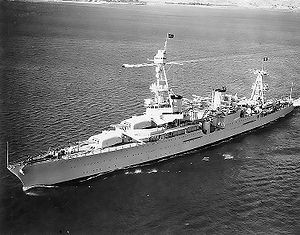 The De Ruyter at anchor in February 1942, shortly before the battle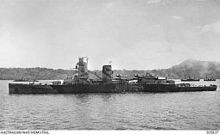 Backstory and Context
The Battle of the Java Sea occurred during the Pacific campaign of World War II. It was a huge loss for the Allies and resulted in Japanese occupation of the Netherlands East Indies. The battle occurred on February 27, 1942 and lasted seven hours. During this time, American-British-Dutch-Australian Command (ABDACOM) Strike Force Commander Rear-Admiral Karel Doorman's striking force attempted to advance upon and attack the Imperial Japanese Navy's invasion fleet. Japan's escort force thwarted these attempts and the Allies suffering heavy losses. Doorman and the majority of his crew died when the De Ruyter sunk.
The Japanese escort force protecting the convoy consisted of two heavy and two light cruisers and fourteen destroyers. The ABDA force was made of two heavy cruisers, three light cruisers, and nine destroyers. The Japanese Navy was more heavily armed, contributing greatly to the Allied Force's crippling defeat. Each Japanese Navy heavy cruiser was armed with ten 8-inch guns and superior torpedoes. The Allied Forces' Exeter was armed with only six 8-inch guns. The Houston carried nine 8-inch guns, only six of which still worked after one of the turrets was knocked out in an air attack. The poor coordination between the Allied navies and air forces during the battle is also cited as contributing to the defeat.
The Battle of Java Sea led to subsequent battles including the Battle of Sunda Strait and Second Java Sea Battle on February 28. The Battle of Sunda Strait resulted in the sinking of the Perth and the Houston just after midnight on March 1.
Sources
"Battle of the Java Sea." Wikipedia. Accessed September 26, 2015. https://en.wikipedia.org/wiki/Battle_of_the_Java_Sea.

Evans, Jim. "1,000 Houstonians Join the Navy." Accessed September 26, 2015. http://www.hmdb.org/marker.asp?marker=66151.

"USS Houston." Wikipedia. Accessed September 26, 2015. https://en.wikipedia.org/wiki/USS_Houston_(CA-30).
Additional Information