Flying Leatherneck Aviation Museum
Introduction
The Flying Leatherneck Aviation Museum preserves and shares the history of Marine Corps aviators with the support of the Flying Leatherneck Historical Foundation. This command museum is located at MCAS Miramar, and is funded entirely donors. It is the only museum in the world dedicated to preserving the contributions made by Marine Corps aviators and ground support personnel.
Images
Flying Leatherneck Aviation Museum is the only Museum in the world dedicated to United States Marine Corps (USMC) aviation, with the largest and most complete collection of vintage aircraft flown by Marine pilots in the world.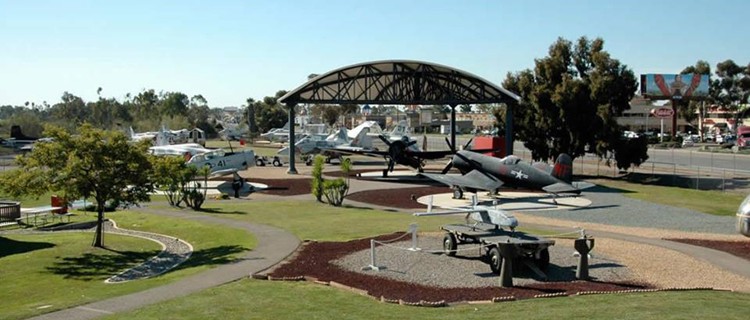 Backstory and Context
The Museum was established in 1989 on MCAS El Toro. However, the Base Realignment and Closure commission closed El Toro in 1999, threatening the survival of the museum and collection. In response, a group of retired Marines from San Diego, led by Major Generals Bob Butcher and Frank Lang, spearheaded the move of the aircraft and artifacts to MCAS Miramar.

The Museum maintains and restores vintage aircraft used by the United States Marine Corps (USMC) through work performed by employees and volunteers. Current restoration projects include an iconic World War II-era Douglass Dauntless SBD bomber. Restoration work has been done for the USS Midway Museum and Air and Space Museum in San Diego.

In the San Diego Aircraft Museum there are 27 aircraft currently on display, including "Lady Ace", the helicopter that evacuated the U.S. ambassador from the rooftop of the embassy in Saigon on April 30, 1975. The museum includes a total of eight galleries, each full of artifacts from World War I to present. Highlights of these galleries include that exhibit "Marines in Space" and "Women Marines." The museum also includes one of the world's largest collection of military patches.

Sources
"About The Flying Leatherneck Aviation Museum." Flying Leatherneck Historical Foundation. Accessed October 15, 2015. https://www.flyingleathernecks.org/about-the-flying-leatherneck-museum.
Additional Information