Presidio Park
Introduction
The San Diego Presidio was established on July 1, 1769 by Spanish explorer Gaspar de Portolá, as the first European settlement on the coast of California. The fort served as a military headquarters and religious mission and also protected the colonizers from attacks by area Native American tribes. Numerous missionaries and soldiers occupied the fort, reflecting its dual role as a military outpost and as a place where the Spanish hoped to convert Native Americans to Christianity. Though only ruins of the original fort and mission remain, the site has been well excavated and is listed on the National Register of Historic Places and declared a National Historic Landmark. The location of the former fort is now part of Presidio Park. Visitors to the area can learn more about the Presidio with a visit to Junipero Serra Museum which is located in the park in a building constructed in 1929 in the Spanish colonial style.
Images
The original ground plan for San Diego Presidio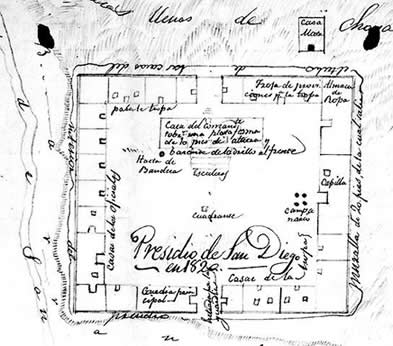 The San Diego Presidio Park and Museum today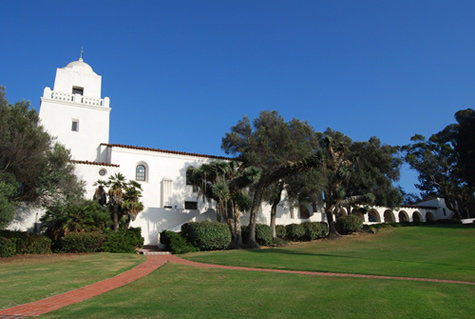 Ruins of the San Diego Presidio, photo courtesy of the National Historic Landmarks collection.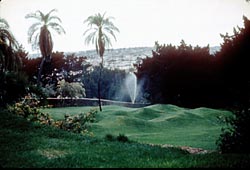 Artistic rendering of Father Junipero Serra, who help found San Diego and led the mission.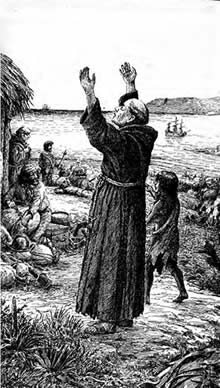 Backstory and Context
The San Diego Presidio was located in the Spanish territory called Alta (upper) California. This area was previously unexplored, which prompted the establishment of the fort. It began as a mission to help spread Christianity throughout Alta California. Around 300 settlers began their journey with Father Junipero Serra, but only about 126 of them managed to arrive at the mission. Within the first few weeks of their arrival, they were largely outnumbered by Native Americans. They were attacked, which forced the Spaniards to build the presidio. The original presidio was made entirely of wood, and housed about 100 people.

The mission became the Mexican Governor's residence after Mexico gained independence from Spain in 1821; it served as such until 1825. The site fell to ruin as people moved to what is now Old Town San Diego. In 1907, George Marston, a wealthy store owner, bought the property in order to preserve it. He also founded the construction of what is now the San Diego History Center. He sold both to the city in 1929 and they became part of what is now Presidio Park.


Sources
Snell, Charles. "San Diego Presidio." National Register of Historic Places, National Park Service. November 24, 1978.

"San Diego Presidio." National Park Service. Accessed December 1, 2014. http://www.nps.gov/nr/travel/American_Latino_Heritage/San_Diego_Presidio.html

"Early History of the California Coast." National Park Service. Accessed March 19, 2017. https://www.nps.gov/nr/travel/ca/ca2.htm

Additional Information