Old Town Visitor's Center (Robinson-Rose House)
Introduction
The Robinson-Rose House, a rebuilt structure after the original one was constructed in 1853, is a two-story building in the historic Old Town San Diego State Historic Park and now serves as the park's visitor center. The original building was constructed by by attorney James Robinson, who was a prominent citizen of San Diego and played an important role in the city's growth and development. Another man and acquaintance of James, Louis Rose, lived in the house beginning in 1868.
Images
The reconstructed home now serves as Old Town State Historic Park's visitor center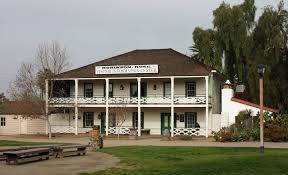 Photograph of James Robinson (1790-1857)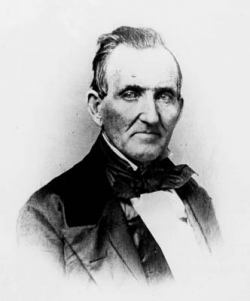 Backstory and Context
Beginning in the 1850s, James and Louis sensed that San Diego could become an important economic center. They also hoped that San Diego could become a new state capital, with Hawaii and Baja California comprising the new state. Both surmised that San Diego would be either the terminus or headquarters of a transcontinental railroad; the house was built in anticipation of this. However, drought, floods, economic instability and the Civil War completely stymied these hopes.

James died in 1857 and his widow Sarah Robinson sold the building to Louis Rose in 1868. Fire destroyed the roof in 1874 and the building was abandoned by 1900 and eventually demolished. The building was reconstructed in 1989 to be Old Town's visitor center. A highlight in the center is a model of Old Town as it looked in 1872. Over the years the building served a law office, medical office, jail, school, newspaper office, store, apartment and the County Clerk's office.
Sources
"Robinson-Rose House: The Visitor Information Center." California Department of Parks and Recreation. May 7, 2014. http://www.parks.ca.gov/pages/663/files/robinsonrose_6.18.2013.pdf
Additional Information