First San Diego Courthouse
Introduction
This building is a reconstruction of San Diego's first courthouse. The original was built in 1847 by the Mormon Battalion, a contingent of 500 men, which arrived in San Diego in January of 1847 to help protect the U.S. border during the Mexican-American War. The First San Diego Courthouse Association operates a museum in the building. It is located in the Old Town San Diego State Historic Park and is one of several structures intended to recreate the early days of the city.
Images
First San Diego Courthouse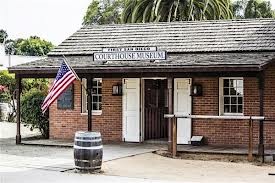 Recreated interior of the courthouse, photo courtesy of trip101.com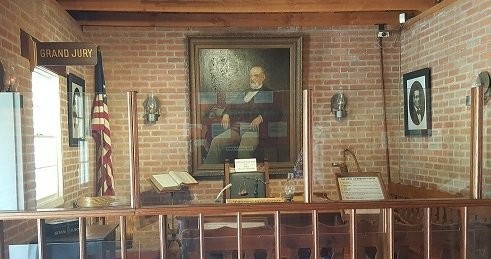 Backstory and Context
Between May and July of 1847, the battalion took part in building brick structures, wells, sidewalks and chimneys. The soldiers built the courthouse in about a month, leaving behind the 16 x 27 foot structure. In fact, the courthouse was the first fired-brick building constructed in San Diego. It was originally to be used as schoolhouse but, as the city became the first one to be incorporated in California, it became the courthouse.

Like many of the other buildings in the area, it was burned down in the 1872 fire. Also like the others, it was rebuilt in 1992 by the California State Parks. Pieces of some of the original bricks can be seen on the ground outside the building. Interestingly, it is clear that the bricks were not of great quality.


Sources
"First San Diego Courthouse," California Department of Parks and Recreation, accessed June 6, 2016, http://www.parks.ca.gov/?page_id=28011

Dan Mosier, "Mormon Battalion Brickyard, San Diego," California Bricks, accessed June 6, 2016, https://calbricks.netfirms.com/brick.mormon.html

"First San Diego Courthouse," Old Town San Diego State Historic Park, accessed March 19, 2017, http://oldtownstatehistoricpark.org/mobile/first-san-diego-courthouse.html
Additional Information