The McConahay Building
Introduction
Designed by prolific Kansas City architect Nelle E. Peters, the McConahay Building was constructed in 1922. Notably, this building was home to Walt Disney's first professional cartoon studio and where the inspiration for Mickey Mouse started. Incorporated in May 1922, the Laugh-O-gram Films studio operated out of 5 offices on the second floor before Disney moved to California. Over the years, the area became blighted and the building in major disrepair. Today, the McConahay Building is owned by the non-profit group Thank You, Walt Disney Inc., which is working to restore the building into a museum and digital art studio. The McConahay Building was added to the National Register on May 22, 1978 for its architecture and the significance of Laugh-O-gram Films, Inc..
Images
The Laugh-O-Gram Studio today. Thank You, Walt Disney Inc. plans on converting it into an interactive museum.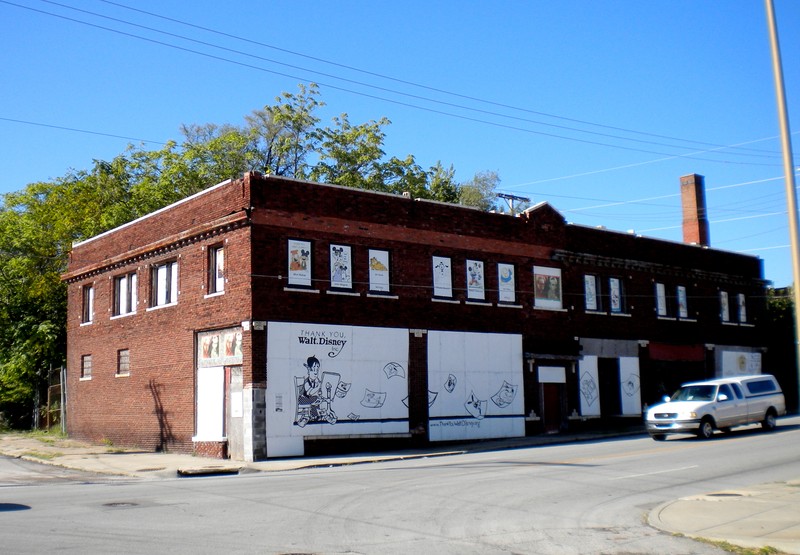 Laugh-O-Gram Studio in 1922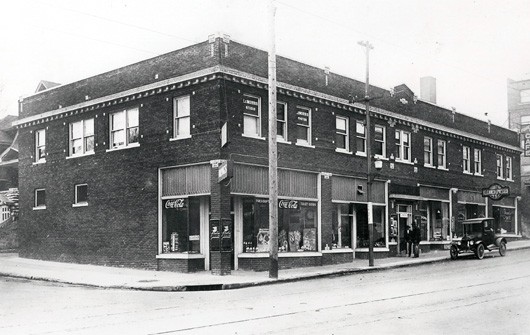 A Laugh-O-Gram title card.
Animators working at the Studio.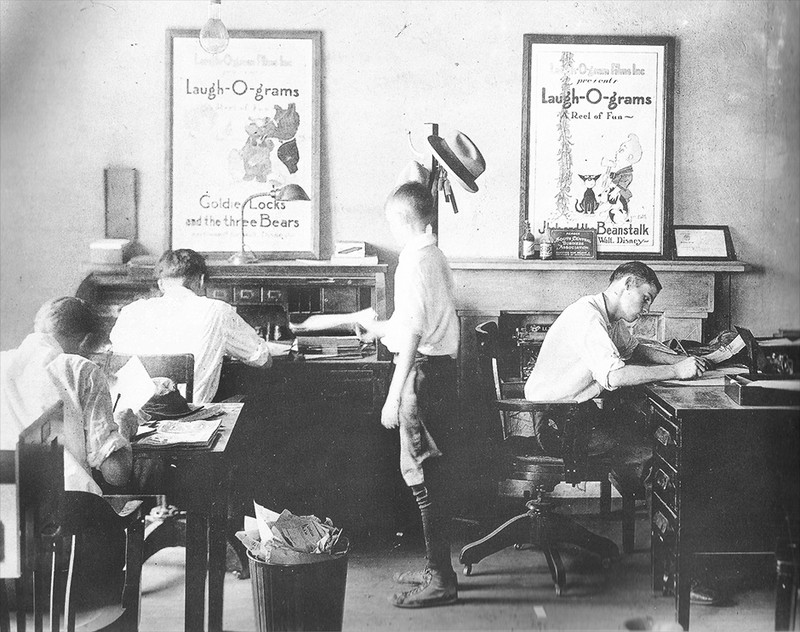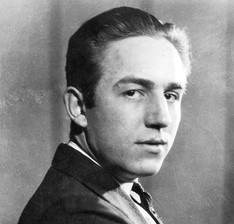 Backstory and Context
This two-story tapestry brick building was designed in 1922 by Nelle Peters and constructed by Bliss Building Company. Its original design featured terracotta ornamentation in the lugsills, string course, and in floral decorative elements. The first floor contained five consecutive storefronts with recessed entryways, and a peaked gable over the parapet aligned above the main entrance. The second level consisted of office space and the flat roof was designed with several skylights. 
Walt Disney incorporated Laugh-O-Gram Films and moved into the newly-completed McConahay Building in May 1922, after leaving the Kansas City Film Ad Company months earlier. The studio occupied five suites on the second floor. When he left, he brought along Ub Iwerks and many other animators who would later go on to be the founders of the Golden Age of Animation. In the early months of incorporation, a distribution company called Pictorial Clubs out of Nashville commissioned Laugh-O-gram to produce several cartoons, but went bankrupt without ever paying. Around this time, Disney moved out of his apartment and into his studio to save money. He began seeing mice eating crumbs out of a wire waste basket, but one brave mouse stood out amongst the rest and was the inspiration for the Mickey Mouse character created in 1928. By January 1923, Laugh-O-gram Films continued to struggle and the owner of the McConahay Building sued for unpaid rent. Disney moved Laugh-O-gram in May, to the same location where he previously ran a small cartoon studio at 32nd and Troost. Laugh-O-gram Films, Inc. folded. In July, Disney said goodbye to Kansas City and left for California. 
The McConahay Building was acquired by the non-profit group Thank You Walt Disney, Inc. in the late 1990s, saving it from demolition. After decades of deterioration to the structure and a fallen roof, the group is working to restore the life once held here. Plans to renovate the building include the addition of an animation studio as a training space for digital media storytelling, a co-working office space for new media start-ups, and a museum that shares the history of the building and community. In addition, this project coincides with the ongoing revitalization efforts of the once-bustling commercial hub in the Troost Corridor.
History of 31st & Troost Corridor and its Revitalization
Just a block away from the McConahay Building in the 1880s, large homes lined the stretch of Troost between 26th and 32nd Streets. Once called "Millionaires Row," these mansions were owned by some of the city's wealthiest residents. An economic depression in the 1890s caused stocks to decline and banks to close, which led homeowners to flee and housing prices to drop significantly. The less-affluent population, namely African Americans, began to move in. As the population of Kansas City experienced a surge of growth in the early 1900s, construction moved south and east. This neighborhood became a highly desired area with new schools, churches, banks, retail shops, and the streetcar. By 1920, the district grew to be a center for minority-owned businesses and a bustling commercial hub. In 1954 when segregation in schools was deemed unconstitutional, the city redrew district boundaries with Troost being the dividing line. Due to racial inequities and housing restrictions, Troost became a clear "red line" of economic status. Over the years, the district struggled and declined. 
In addition to ongoing city improvements on northern Troost Avenue, a redevelopment plan for the area between 31st Street and Linwood started in February 2021 in an attempt to revitalize this once-bustling district. What will be called Troost Village, includes new construction and the renovation of six major buildings for apartments and commercial space, added parking, and recreational venues. Developers say that 70 percent of the tenancy will be reserved for non-profit and minority organizations.
Architect, Nelle E. Peters (1884-1974)
Nelle E. Peters (1884 - 1974) was one of Kansas City's most successful early-twentieth-century architects. Peters contributed to the architectural richness of Kansas City during her short but prolific career in architecture, which spanned two decades and included hundreds of residential homes as well as apartments and several commercial buildings. 
Peters' success as a professional architect came at a time when men dominated the field. Born in a sod house in North Dakota, her family moved first to Minnesota and then Iowa, where she attended college from 1899 to 1903. She excelled in mathematics, art, and sketching mechanical schematics. She developed a desire to study architecture, but Buena Vista College did not offer an architectural program. So, she moved to Sioux City in 1903, where Frank Colby of Eisentraut, Colby, and Pottenger, hired Nelle on a bet as a "drafts lady." While working for the company, she also took a correspondence course in architecture. 
Eisentraut, Colby, and Pottenger had opened an office in Kansas City in 1907. Though Frank Colby hired Peters on a bet, she proved herself more than capable of handling the job, so the firm sent her to Kansas City in 1909, where she became the principal architect for numerous projects. Her arrival coincided with a population and building boom; between 1900 and 1910, Kansas City's population expanded by 80,000, with the overall population reaching 250,000. It did not take long for Peters to step away from Eisentraut, Colby, and Pottenger and open her own office, which she did in late 1909. Two years later (1911), she married fellow designer William H. Peters, who designed the Kansas City Terminal Railroad.
During their twelve years of marriage, Nelle retained her practice as an independent architect. However, in 1913, Nelle began working for Charles E. Phillips, one of Kansas City's most formidable real estate developers. By 1915, Phillips served as Nelle's principal employer; she designed dozens of apartments for Phillips. Indeed Peters completed twenty-nine projects in 1924 alone for Phillips (and she divorced her husband in 1923). While developing those residences, she also designed commercial buildings, including the McConahay Building.
The Great Depression took a toll on Peter's career. By 1933, six years after the Valentine on Broadway opened, she had to work as a seamstress to make ends meet, which, along with the constant prejudice against women architects, contributed to her suffering a breakdown; she needed a wheelchair for a time. And, although the Great Depression proved profoundly challenging to Peter's career, she continued to work as an architect sporadically after the 1930s; Peters completed her last major work in 1959 for the Ohio Street Methodist Church in Butler, Missouri. In 1967, Peters retired fully. She spent her final years in a nursing home and then died in Sedalia, Missouri, in 1974. 
Peters designed the building before Art Deco came into vogue. She focused mainly on functionality instead of aesthetics. Nevertheless, she did include an artistic touch by interspersing into the brickwork cut stones and terra cotta blocks to form geometric designs. 
Sources
Barrier, Michael. "The Pet in the Family: On the Farm and in the City, 1901-1923." In The Animated Man: A Life of Walt Disney. Berkley and Los Angeles: University of California Press, 2007.
Gabler, Neal. Walt Disney: The Triumph of the American Imagination. New York: Vintage Books, 2006.
Green, Ron. "The Roots of Animation in Kansas City." Jackson County Historical Society Journal (Summer 2014): 15-19. Accessed June 9, 2018. https://static1.squarespace.com/static/51181e81e4b04512ec820440/t/53d5510de4b02f566ee1b0e6/1406488845322/disneykc.pdf
"History." Thank You, Walt Disney Inc. Accessed June 9, 2018. https://thankyouwaltdisney.org/history/
Karel, Victoria C. "McConahay Building, Laugh-O-Gram Films, Incorporated." National Park Service – National Register of Historic Places. 1977. Accessed July 5, 2018. https://dnr.mo.gov/shpo/nps-nr/78001655.pdf
KCPT. "Walt Disney's Kansas City Connections | Arts Upload" (video). Posted September 18, 2015. Accessed June 9, 2018. https://www.youtube.com/watch?v=HnMs-vI9ViI
Merritt, Russell and J. B. Kaufman. "Walt Disney's Laugh-O-Grams, 1921-1923." San Francisco Silent Film Festival. 2011. Accessed June 10, 2018. http://silentfilm.org/archive/laugh-o-grams
Susanin, Timothy S. Walt before Mickey: Disney's Early Years, 1919-1928. University Press of Mississippi, 2014. 
"What is Walt Disney's connection to Kansas City?" Missouri Valley Special Collections. Accessed June 9, 2018. http://www.kchistory.org/faq/what-walt-disneys-connection-kansas-city 
Image Sources
By Iknowthegoods at English Wikipedia, CC BY-SA 3.0, https://commons.wikimedia.org/w/index.php?curid=16539072

https://pendergastkc.org/collection/9704/umkc-005/laugh-o-gram-office-mcconahay-building

https://pendergastkc.org/collection/9704/umkc-006/laugh-o-gram-office-mcconahay-building

Additional Information