18th and Vine Historic District
Introduction
The 18th & Vine Historic District is best known as the place where the Kansas City style of jazz and blues were born. This district was home to legendary musicians such as Charlie Parker and Count Basie, as well as numerous jazz clubs. The district was also home to numerous independent black businesses and a thriving African-American community. From the late-19th century to the mid-20th century, this area was home to dozens of businesses that catered to the needs of the community during an era of informal segregation. Today, the 18th & Vine Historic District is once again home to several jazz clubs, black-owned restaurants and stores, and institutions such as the Negro Leagues Baseball Museum, the Gem Theater, and the American Jazz Museum. The district is listed on the National Register of Historic Places and there are several interpretive signs throughout the neighborhood.
Images
18th & Vine Historic District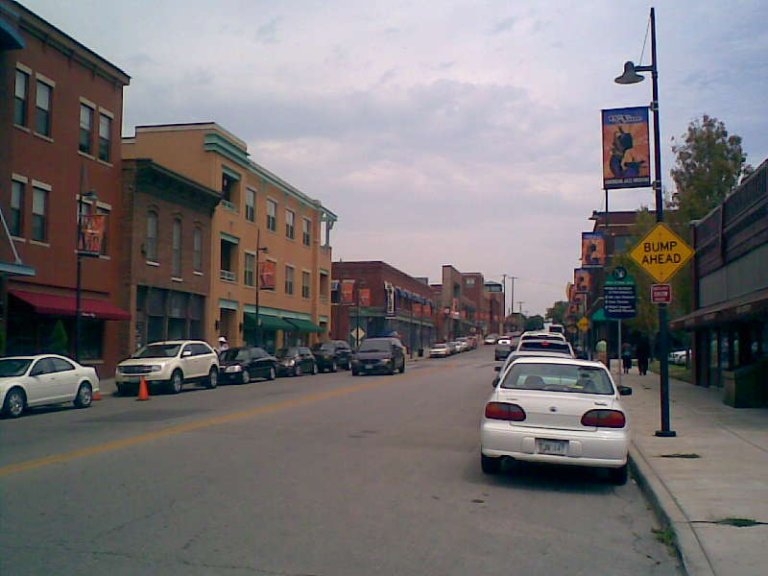 Map of 18th & Vine. Credit Neil Nakahodo for KCUR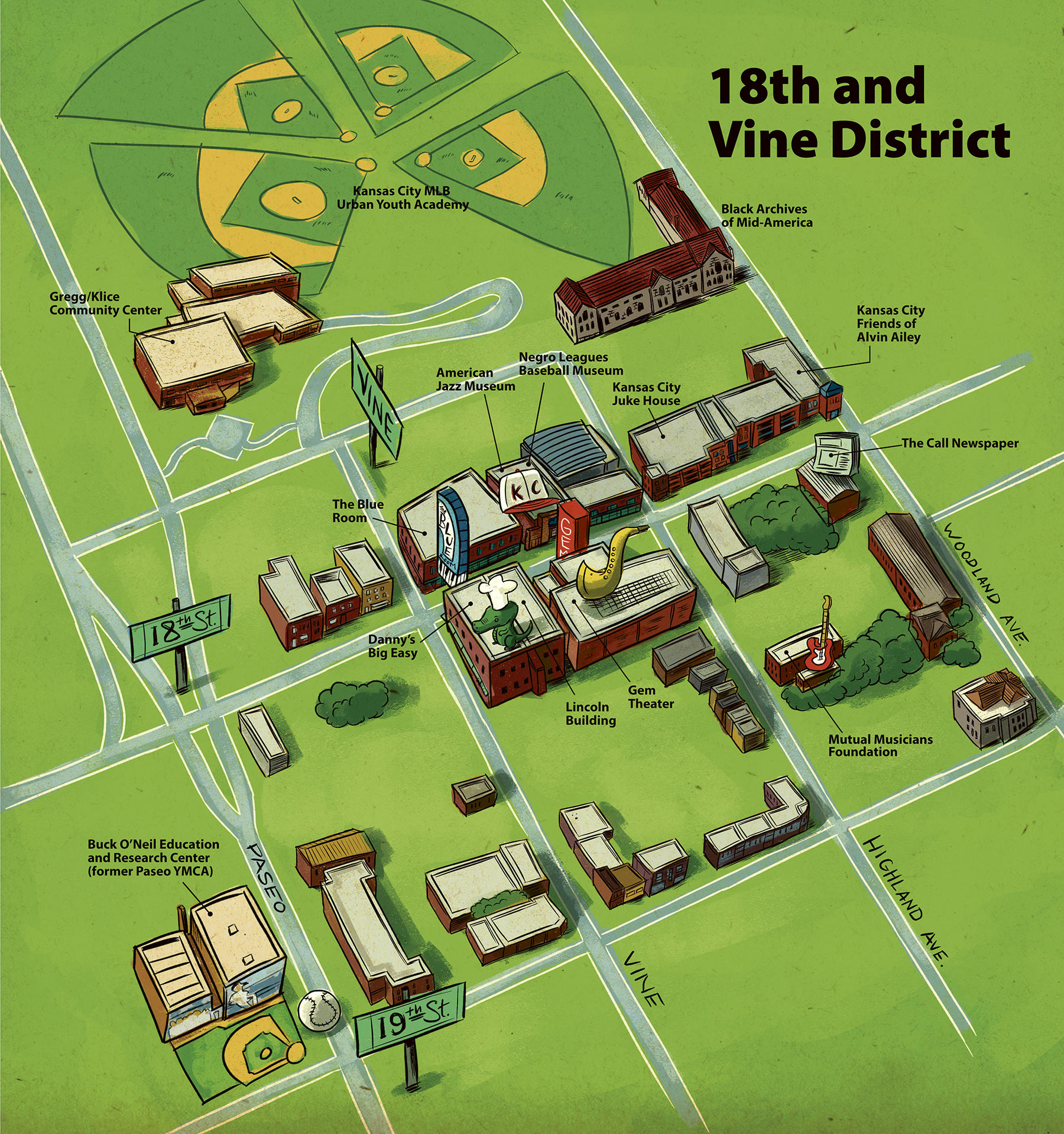 Kansas City and international jazz legend Charlie Parker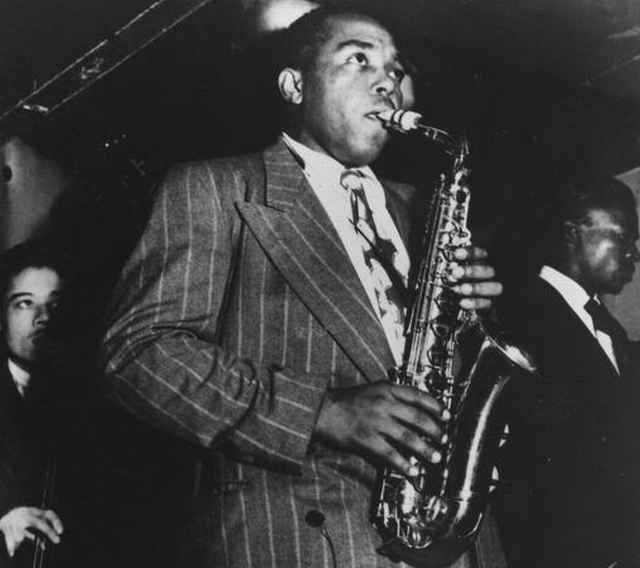 Gem Theater in the 18th and Vine District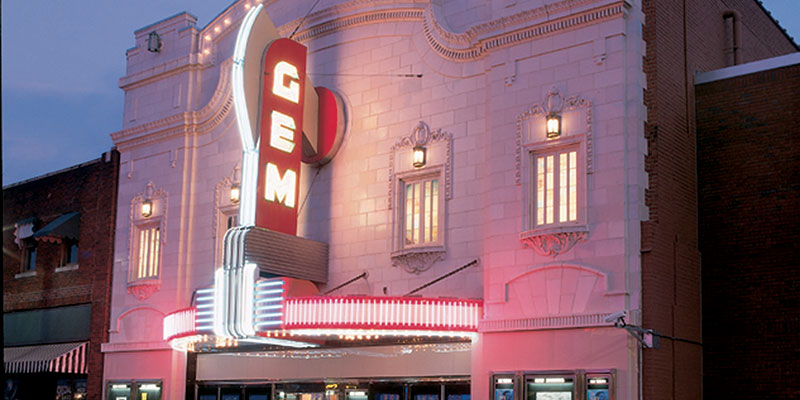 Kansas City Jazz: From Ragtime to Bebop--A History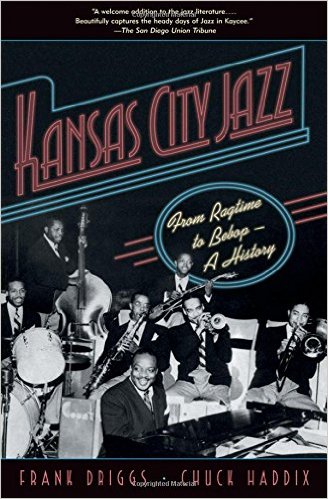 Backstory and Context
History of 18th & Vine
The 18th & Vine District began as a "city within a city." Starting around 1879, the first major migration of ex-slaves to the north brought thousands of African Americans to Kansas City. In fact, while the bulk of the "Great Migration" led African Americans to New York, Chicago, Philadelphia, and so forth, Kansas City was considered a second-tier industrial city. Around 1900, African Americans comprised about 10 percent of the city's population.1
Many of the new arrivals made their homes and businesses along the district cross streets and, at the beginning of the 20th century, the neighborhood around 18th & Vine had become a thriving African American area. With segregation rampant throughout the city, African Americans found they could find all their day-to-day necessities in the area. There were schools, retail establishments, churches, and entertainment and social venues.2
As jazz music took hold in Kansas City around the 1920s, the city's political machine in Kansas City purposefully overlooked violations of Prohibition. As a result, 18th & Vine was producing vibrant and lively dance halls and nightclubs. During the Great Depression, this area was at the height of its popularity and substantially contributed to the growth and evolution of Jazz music. Jazz legends who called 18th & Vine their home included Charlie Parker, Count Basie, George and Julia Lee, Big Joe Turner, John Coltrane, Mary Lou Williams, Bennie Moten, and many others.3
In addition to jazz music, historic venues such as Arthur Bryant's obtained a legendary status for barbecue; also in this district was offices of the Kansas City Monarchs baseball club.
Sources
1.) Gibson, Campbell. "Population of the Largest 100 Cities and Other Urban Places in the United States: 1790 to 1990." U.S. Census Bureau. Population Division Working Paper No. 27, June 1998. Web. 5 July 2016.

2.) "Jazz District History." 18th & Vine Jazz District. 18th & Vine Jazz District Redevelopment Corporation, n.d. Web. 5 July 2016. http://www.kcjazzdistrict.org/about/history

3.) Coleman, Dan. "Why did the area of 18th and Vine become famous?" The Kansas City Public Library, April 2006. Web. 5 July 2016.
Additional Information