Old Adobe Chapel
Introduction
The Old Adobe Chapel, located near Old Town San Diego State Historic Park, is a historic chapel that now serves as a museum. It is operated by the Save Our Heritage Organization (SOHO) which manages several other historic properties. The structure currently houses artwork from the Mission and Presido churches after they had been abandoned and left to ruins. The chapel is available for tours, weddings and other special events.
Images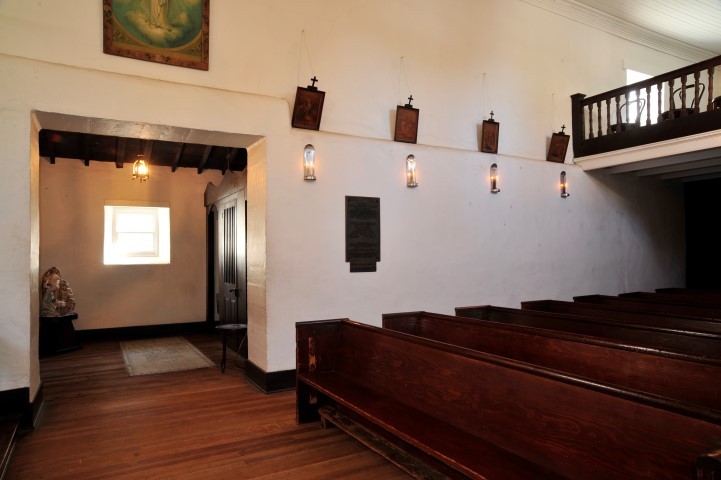 The chapel as it appeared around 1872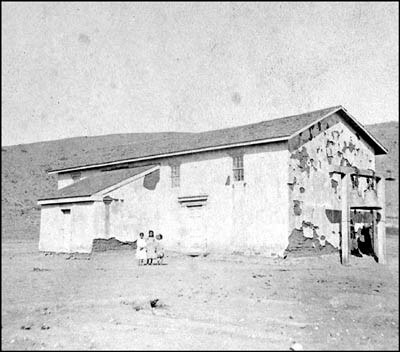 Adobe Chapel with historical marker out front.
Altar in Old Adobe Chapel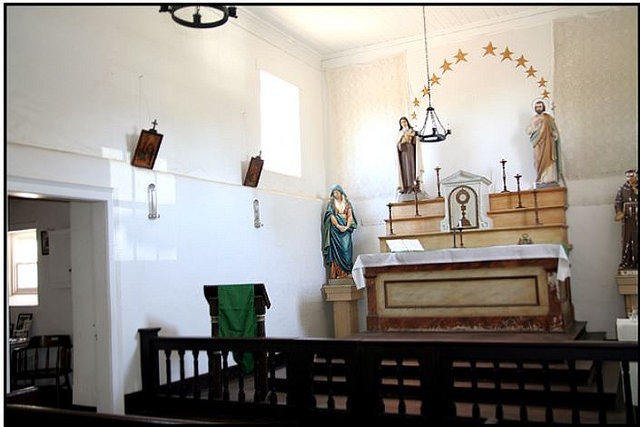 Tombstone of Jose Aguirre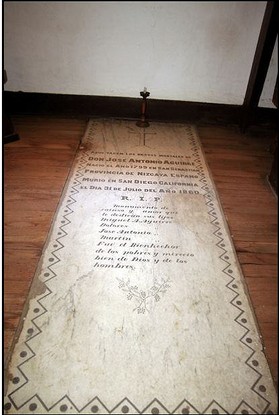 Backstory and Context
The chapel was originally built in 1850 to be used as a home for a man named John Brown. In 1858, Don José Aguirre converted the house into a chapel. Father Antonio D. Ubach served as the chapel's priest from 1866-1907. Previously, he was a missionary to the Native Americans in the area. While the original chapel was bulldozed in the mid 1930s to make way for a new street alignment, it was subsequently rebuilt in 1937 as a project for the Depression era Works Progress Administration (WPA).

Not only was the artwork from the Mission and Presidio churches retained at the chapel, a substantial photographic record of that artwork was kept as well. As a result, almost all of the artwork from the churches have been recovered. The chapel itself retains key original items, including the tabernacle, marbleized altar, some original pews and doors, and Jose Aguirre's tombstone.
Sources
"SOHO Receives Stewardship of Adobe Chapel of the Immaculate Conception in Old Town," SOHO San Diego, accessed June1, 2015, http://www.sohosandiego.org/reflections/2004-4/chapel.htm

"Old Adobe Chapel," Hidden San Diego, accessed March 19, 2017, https://hiddensandiego.net/old-adobe-chapel.php

"Adobe Chapel Welcomes the Old Town Community," Whaley House Museum, accessed March 19, 2017, http://www.whaleyhouse.org/winter205.htm

Bruce Coons, "Adobe Chapel of the Immaculate Conception," Whaley House Museum, accessed March 19, 2017, http://www.whaleyhouse.org/winter105.htm

Additional Information