San Diego Zoo
Introduction
The San Diego Zoo, located in Balboa Park, features over 3,700 animals of more than 650 species and subspecies. The zoo has grown extensively since its establishment in 1916 and has garnered worldwide recognition as one of the leading zoos in the world. Highlights include a guided tram tour that covers most of the park, an elevated gondola lift that allows people to view the park from above, and a giant panda exhibit. The zoo is a member of the Association of Zoos and Aquariums and several other organizations, and is accredited by the American Alliance of Museums.
Images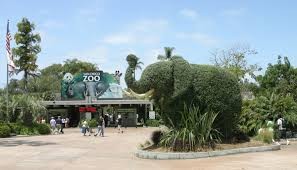 Backstory and Context
The zoo was founded in 1916 by physician Henry M. Wegeforth, who, after viewing the exotic animals at the Panama-California Exposition in Balboa Park, decided that a zoo should be established. Many of the original buildings were designed by local architect Louis John Gill in 1926. The gondola lift was added in 1969. The zoo pioneered the open-air concept for zoos, allowing for more natural settings for animals rather than cages.

Interestingly, the zoo has become known for animal escapes. The most famous animal to do so was an orangutan named Ken Allen (1971-2000). In the summer of 1985 he escaped three times and wandered peacefully in the park looking at other animals. The zoo installed cameras and even sent in personnel disguised as tourists, but Ken was on to them. Finally, the zoo hired rock climbers to find routes out of the enclosure to figure out how Ken, who became known as "Hairy Houdini," escaped. In recent years, a koala, wolf monkeys and a couple of hyenas have also escaped. All were captured and safely returned to their enclosures.
Sources
"About San Diego Zoo Global." San Diego Zoo. Accessed May 29, 2015. http://zoo.sandiegozoo.org/content/about-san-diego-zoo-global
Silver, Alexandra. "Top 11 Zoo Escapes: Ken the Orangutan, San Diego." TIme. Monday, 24 June, 2013. http://content.time.com/time/specials/packages/article/0,28804,2041628_2041646_2041609,00.html
Additional Information