George Ross, Lancaster Attorney & Signer of the Declaration of Independence
Introduction
Born in New Castle, Delaware, George Ross was a lawyer, prosecutor, politician, colonel in the Continental Army, judge, and a patriot of the American Revolution. He practiced law in Lancaster, Pennsylvania and was also a member of the First and Second Continental Congress, the First Pennsylvania Constitutional Convention, and a number of other government committees during the Revolutionary era. His former country home was located here and is marked by a local historical monument. The original structure was demolished in 1894.
Images
George Ross from an 1873 oil painting by Philip Fishbourne Wharton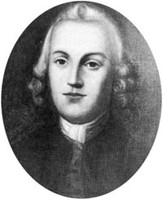 This image depicts what is presumed to be Betsy Ross and two children presenting the "Betsy Ross flag" to George Washington. The image is a version of a painting entitled "The Birth of Old Glory" by Percy Moran cir 1917 (Library of Congress)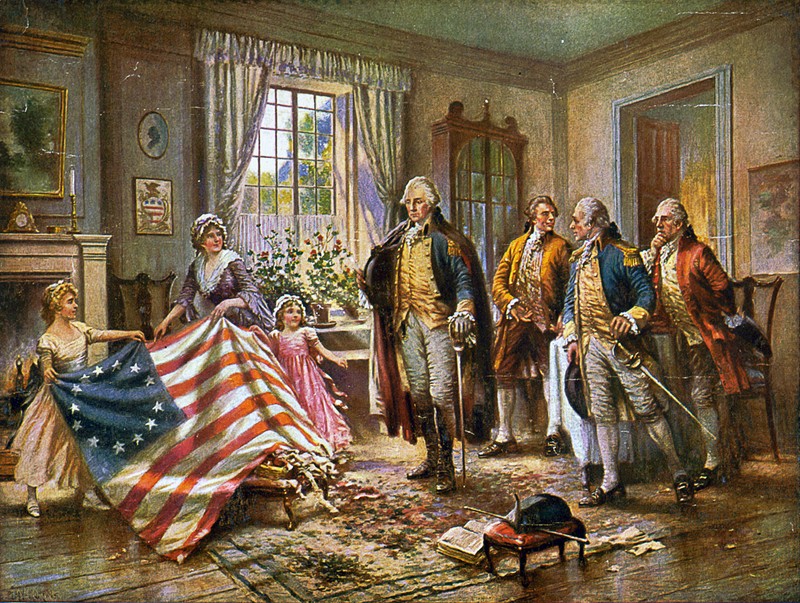 Backstory and Context
George Ross was born to the Reverend George Ross, rector of Immanuel Church, and Catherine Van Gezel in New Castle, Delaware on May 10, 1730. He was born into a large family and was educated at home along with his siblings. When Ross was 18 years old, he went to Philadelphia to study law at his brother John's law office and in 1750, after only two years of study, was admitted to the Pennsylvania Bar at the age of 20. The next year, in 1751, Ross started his own law practice in Lancaster, Pennsylvania. In that same year he married Ann Lawler, who was one of his first clients. George and Ann had three children.

In 1756, Ross was chosen to represent the British Crown as the King's prosecutor in Pennsylvania. He held this position until 1768 when he was elected to the American provincial legislature, representing the colony of Pennsylvania. Originally, a strong supporter of the King of England, Ross change his opinions due to his time in the provisional legislature where he was able to better understand the colonial struggle against the Crown and its taxation policies. In 1774, Ross was elected to represent Pennsylvania at the First Continental Congress. Only one man received more popular votes to the Congress than Ross - Benjamin Franklin. Membership in the First Continental Congress proved to be one of Ross's first patriotic acts. In 1775, he was removed from the provincial legislature because of his affiliations with the Continental Congress and became a dedicated champion for the cause of independence, working on a number of other colonial committees such as the Lancaster County Committee of Observation and the Pennsylvania Committee of Public Safety, where he wrote regulations for the Pennsylvania Constitutional Convention, the rules concerning the state militia, and an ordinance on treason and punishment. In honor of his work. Ross also was made a Colonel in the Continental Army.

In 1776, Ross was elected Vice President of the First Pennsylvania Constitutional Convention, helping to draft the Pennsylvania Bill of Rights, but stopped short of signing the controversial Pennsylvania Constitution of 1776, ending the rule of the Penn Family and establishing Pennsylvania as an independent commonwealth. Ross believed the new Commonwelath constitution was too radical for the period. That same year, he was also elected to the Second Continental Congress and on August 2nd joined the other delegates in signing the Declaration of Independence. In 1777, health issues forced Ross to resign from the Continental Congress, but he would not be out of public service for long. In 1778, he was elected Vice President of the Pennsylvania Assembly, and he also accepted a judgeship in the Pennsylvania Court of Admiralty, where he presided over Olmstead et al. v. Rittenhouse's Executors. This was a landmark case about the conflict between state and the new national government would eventually become one of the first major cases of the new US Supreme Court. Unfortunately, Ross was only in office for the Court of Admiralty for three months, again due to failing health. He died from gout in Lancaster on July 14, 1779 at the age of 49.

Perhaps Ross' most famous contribution to the new nation, was not his alone. Betsy Ross (born Elizabeth Phoebe Griscom in 1752) only had her famous last name "Ross" for 4-years, which she obtained by marrying Ross' nephew John Ross (b.1752, d.1776), when she joined her place in American popular culture. John and Betsy had a sewing business in Philadelphia, and it would be at Ross' suggestion, that a three-member committee from the Continental Congress came to call upon her in May of 1776. Those representatives, General George Washington with Congressional delegates Robert Morris and (her uncle-in-law) George Ross, would asked her to sew the first American flag based on a design Washington had drafted. The Stars and Stripes created by Ross would eventually be officially adopted by the Congress on June 14, 1777 as the official banner of the new nation.


Sources
"George Ross." George Ross. N.p., n.d. Web. 04 July 2016. "George Ross (delegate)." - Wikipedia, the Free Encyclopedia. N.p., n.d. Web. 04 July 2016.