Cathedral Basilica of the Immaculate Conception
Introduction
This is the cathedral of the Archdiocese of Denver. Construction of the cathedral started in 1902 and was completed nine years later. It is one of only a few cathedrals in the United States to host the Pope. On August 13th and August 14th of 1993, Pope John Paul II presided over mass at the cathedral during festivities affiliated with the city's selection as the host of World Youth Day.
Images
Inside view of the stained glass and internal architecture that characterize this beautiful church.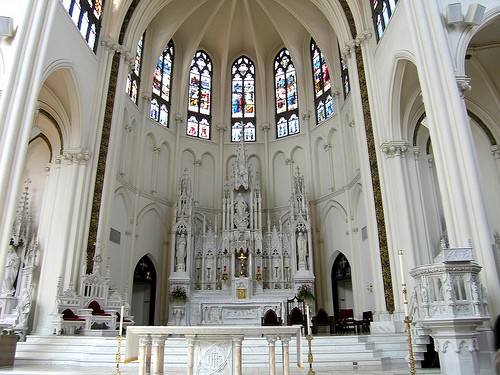 The Cathedral in the springtime, when it shines the brightest white.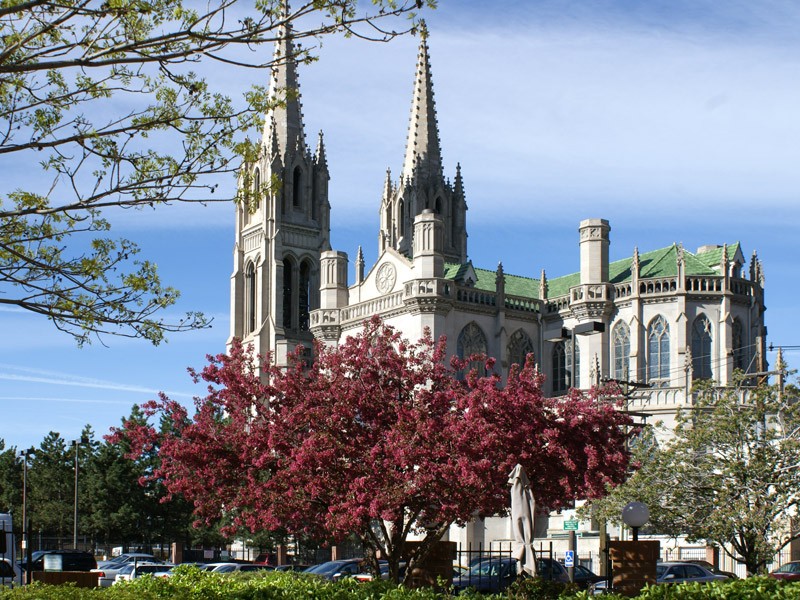 More of the intricate stained glass art.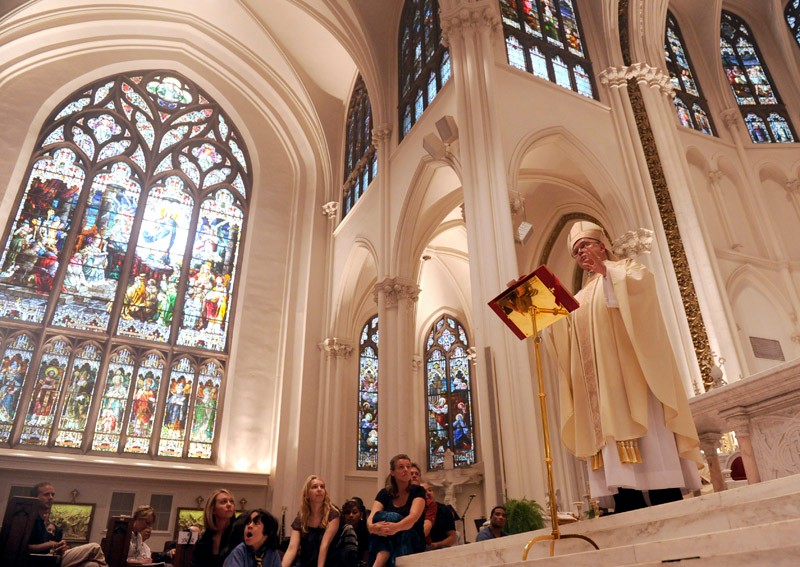 This photo shows the Cathedral of the Immaculate Conception in the background of the 192 Denver Tramway strike. To learn more about the strike, search for the Clio entry on the Tramway Building.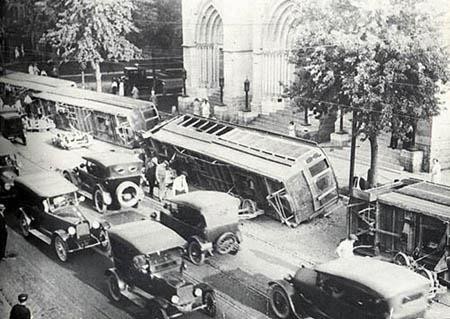 Backstory and Context
The cathedral is the mother church for about 500,000 members in 144 parishes and missions in the region. Its spires reach 210 feet and the vaulted ceiling inside the cathedral itself reaches an apex of 68 feet. The four main bells are rung before and after the 10:30 a.m. Mass on Sunday and on special occasions. The stained glass windows on the west spire depict the symbols of the four major prophets: Isaiah, Jeremiah, Ezekiel and Daniel; the east spire windows show the symbols of the four evangelists: Matthew, Mark, Luke and John.
The Cathedral was designed by Leon Coquard, Aaron Gove, and Thomas Walsh and was inspired by French Gothic architecture. It has a Gunnison granite foundation, Indiana limestone exterior walls and interior structural marble from Marble, Colorado. Special features such as altars, pedestals, and the pulpit, among other things, are made of Carrara marble from Italy. There is a Gothic vaulted ceiling.
There are two bell spires; the east spire has 15 bells. The front doors made of brass. The church also contains busts of Popes of the 19th century. The Cathedral features 75 stained glass windows crafted at the Royal Bavarian Art Institute in Munich, Germany by 50 artisans overseen by F.X. Zettler. The original cost of the windows was $34,000. Today they are valued at more than $500,000.
The church was built between 1902 and 1912. It was added to the National Register of Historic Places in November of 1974. It is referred to in a book called, "The Pinnacled Glory of the West by Father Hugh L. McMenamin.

Sources
"History." Cathedral Basilica of the Immaculate Conception. Accessed May 26, 2016. http://www.denvercathedral.org/history.

Arndt, Helen. National Park Service - National Register of Historic Places Nomination Form. Accessed May 26, 2016. "Cathedral Basilica of the Immaculate Conception." http://npgallery.nps.gov/nrhp/AssetDetail?assetID=22ee0ed9-48ce-4390-8693-60be6eba0552.
Additional Information