USS Nautilus and Submarine Force Museum
Introduction
The US Navy Submarine Force Library and Museum, located on the Thames River near Groton, Connecticut is the only submarine museum managed exclusively by the U.S. Navy, which makes it a repository for many special submarine items of national significance, including the "USS Nautilus." The "USS Nautilus" (SSN-571) is the world's first operational nuclear-powered submarine. It is also known for being the first vessel to complete a submerged transit to the North Pole, which occurred on August 3, 1958. It was decommissioned in 1980 and declared a National Historic Landmark in 1982. It is also listed on the National Register of Historic Places.
Images
The museum as seen from above with the Nautilus at the bottom of the picture. The museum was founded in 1955.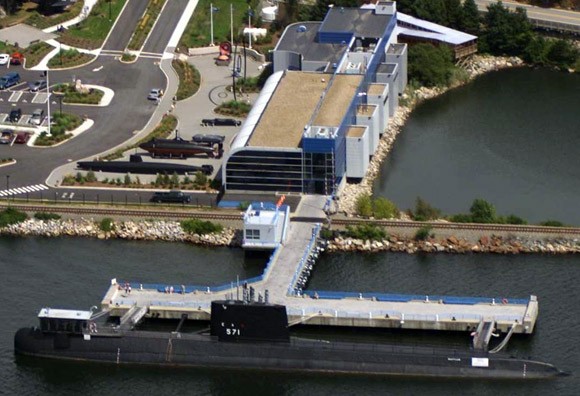 Backstory and Context
Founded in 1955 as "The Submarine Library," the Submarine Force Library and Museum has gained fame over the years for its massive collection of over 33,000 submarine and naval artifacts, 20,000 documents, and 30,000 photographs. In April 1964, the collection was officially handed over to the US Navy and was soon relocated to the Naval Submarine Base New London in Groton, Connecticut. "Submarine Force Library and Museum" was soon adopted as the new name in 1969.
On occasion, exhibits in the museum will be rotated, and so the displays change quite often. The 6,000-volume library is a renowned collection on the history of US submarines and is open to anyone looking for more information on the subject.
Sources
"History of USS NAUTILUS (SSN 571)." Submarine Force Museum. Accessed November 06, 2018. http://www.ussnautilus.org/nautilus/index.shtml.

"About Us." The Submarine Force Library & Museum. Accessed November 06, 2018. http://www.ussnautilus.org/aboutus.shtml.


Additional Information