Armed Forces History Museum
Introduction
This Museum contains many interesting exhibits on military history. The displays have anything from past and present uniforms, to weapons, to artistic exhibits about WWI, WWII, the Korean War, and the Vietnam War. A piece of history from every Branch of the U.S. Armed Forces is found in this Museum. Active military and military personnel that have been retired for twenty or more years get free admission.
Images
The Firearms Exhibit http://armedforcesmuseum.com/salute-to-service-exhibit/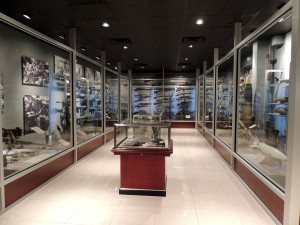 Salute to Service Exhibit http://armedforcesmuseum.com/salute-to-service-exhibit/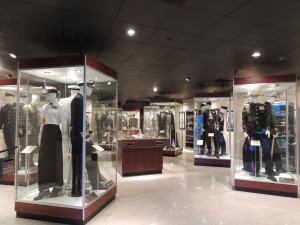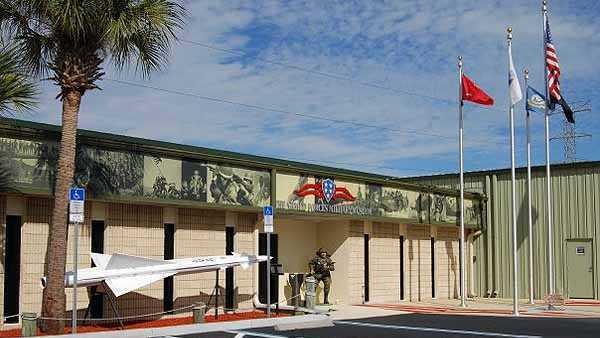 Backstory and Context
In 1955 John J. Piazza, Sr. began his collection of all things military when he was first given a WWI grenade. By 1996 his collection was so large he began to run a traveling exhibit for local schools and community events. In order to receive public donations to his business, Piazza decided to set forth in establishing a museum to both receive these donations and hold his collection for the public consumption. His efforts bore fruit with the creation of the Armed Forces History Museum (his traveling exhibit was called the Armed Forces Military Museum) in 2008. In 2012 the museum began to hold special events and fundraisers.
One of the many exhibits to be found in the Armed Forces History Museum is the Salute to Service Exhibit. This exhibit holds a host of Uniforms from every branch of the U.S. military. One of the most interesting of all the uniforms is that of the first soldier to land on Normandy's beach, Leonard T. Shroeder, Jr. All but one of these uniforms is authentic.
The Firearms and Ordinance is an exhibit that holds weapons and explosives dating back from the Revolutionary War. The oldest bayonet in the Museum is actually one form the American Revolution. A number of firearms, grenades, and mines can be found in this exhibit. A small number include bombs from of varying eras, Uzis, the Bren LMG, Bayonets of various origins and eras, Bouncing Bettys, and the M9 Anti Tank Mine.
Sources
"A Sampling of Exhibits and Dioramas." Armed Forces History Museum. http://armedforcesmuseum.com/exhibits/ Castillo, Piper. "Armed Forces History Museum Combines Fun with Honor." Tampa Bay Times. Accessed June 30, 2016. http://tbtpics.tampabay.com/news/military/armed-forces-history-museum-combines-fun-with-honor/2180951
Additional Information