Fort Ord Station Veterinary Hospital
Introduction
Fort Ord Station Veterinary Hospital is a former equestrian hospital that was built in 1941-a time when it was believed that horses and mules would continue play a vital role in the United States Army. It was one of last medical facilities for mounted, horse-drawn, and mule-packing units in the U.S. Army. When ground broke on Fort Ord in 1940, the horse-drawn 76th field artillery battalion was the first unit assigned and stables and a veterinary hospital were among the first buildings erected. The fort closed in 1994 but some of the buildings now comprise the Marina Equestrian Center. Another building houses a museum dedicated to the horse's military history. The hospital buildings (there are 16) were placed on the National Register of Historic Places in 2015.
Images
Fort Ord Station Veterinary Hospital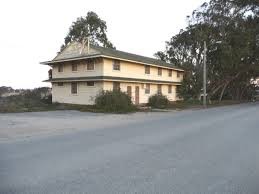 Backstory and Context
In the late 1930s, the U.S. military began to anticipate America's entrance into WWII. Horses were used significantly in WWI and many in the military thought that as many as 200,000 would be needed for the war. Eventually the site of Fort Ord was chosen to be one of twelve installations in the country dedicated to the care of horses as well as training for military units stationed there. Just days after the attack on Pearl Harbor, the 76th Field Artillery was ordered to the coast to support defenses there and it became mechanized. Its horses were then moved elsewhere.

Different military units were stationed at the fort thereafter. One of these was the 68th Quartermaster Corps Pack Troop which was in charge of animals, such as mules, that could be used to transport food and supplies. In 1943, the 68th left Australia and the China-Burma-Indian theater. Another unit was the 19th Veterinary Evacuation Hospital, which trained at the fort and was then deployed to this theater (the terrains in this region proved difficult for vehicles).

Gradually, mechanization of the army was inevitable and the use of horses and pack animals ceased. After the war, the fort became a place for horse recreation and remained as such until its closure in 1994.
Sources
Davis, Margaret. "Fort Ord Station Veterinary Hospital." June 17, 2014. National Register of Historic Places, National Park Service. https://www.nps.gov/nr/feature/places/pdfs/14000305.pdf. Krenzelok, Greg. "Fort Ord Station Veterinary Hospital." U.S. Army Veterinary Corps Historical Preservation Group. http://freepages.genealogy.rootsweb.ancestry.com/~gregkrenzelok/veterinary%20corp%20in%20ww1/fort%20ordequestriancenter.html.
Additional Information