Fort MacArthur Museum
Introduction
The Fort MacArthur Museum, located in what is now Angels Gate Park in San Pedro, California, preserves and interprets the history of Fort MacArthur. The fort protected the Los Angeles harbor from 1914 to 1974. The Museum opened in 1985 and it is housed in the corridors and galleries of historic Battery Osgood-Farley. Several important historical structures, which were part of the U.S. Army's defenses of the American western continental coastline, are also located in the park. In these buildings, visitors can learn about the development of American coastal defenses, from the turn of the century big gun era to the missile era of today.
Images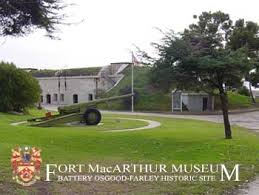 Backstory and Context
The government bought the property on which the fort was to be constructed in 1888. The fort was built in 1914 and named after General Arthur MacArthur, who was a Civil War Medal of Honor recipient and the father of future general, Douglass. As time progressed, batteries were added and the weaponry was updated. Nike missiles were the last new weapons to be installed.

By 1977, the fort was obsolete and surplus property for the U.S. Army. Parts of the property were either sold to private owners or became the park, which opened in 1982. One portion of the old fort became housing and administration offices for the Los Angeles Air Force Base. The fort was listed on the National Register of Historic Places in 1986.
Sources
"The History of Fort MacArthur: Guardian of Angels Gate." Fort MacArthur Museum. Accessed December 15, 2013. http://www.ftmac.org/Fmhist.htm
Additional Information