Signal Hill
Introduction
The town of Signal Hill is significant for two reasons: it is the only city in American surrounded by another city (Long Beach) and for the discovery of oil in 1921. For this reason the town is also known as the "oil town." Soon after the discovery of oil numerous rigs were built on the hill and as a result it became known as "porcupine hill." Oil continues to be pumped but today the hill is mostly residential, as it was before oil was discovered. A park featuring a commemorative sculpture and community center help preserve the hill's oil history.
Images
This photo shows a sculpture created by Cindy Jackson titled "Tribute to the Roughnecks" depicting two men bringing up petroleum following the 1921 oilfield discovery.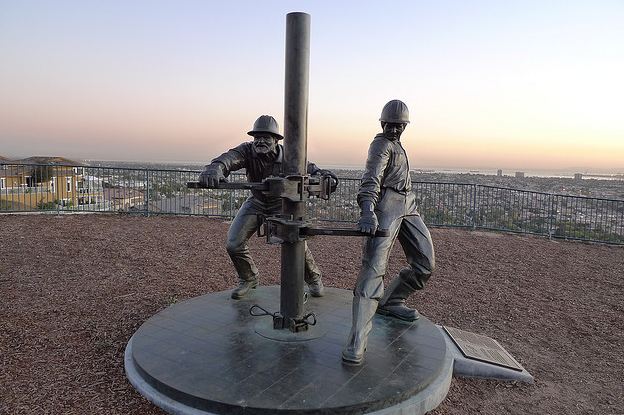 Backstory and Context
In 1900, the state of California was producing 4 million barrels of oil. By 1910, they were producing 77 million barrels. Even though production had increased the field began to experience "slowdowns." Luckily, three major fields were discovered, one in Huntington Beach (1920), one in Santa Fe Springs (1921), and the biggest of them all, in Signal Hill (1921).
Within one year of the discovery, 108 wells had been built and total output was 14,000 barrels a day. At the end of 1923 there were 300 wells and output reached nearly 260,000 barrels per day. This amounted to a quarter of the world's oil production.
Sources
"Signal Hill Oil Boom." American Oil & Gas Historical Society. Accessed May 13, 2016. http://aoghs.org/petroleum-pioneers/signal-hill-oil.
Additional Information