Monrovia Historical Museum
Introduction
The Monrovia Historical Museum is nestled in the picturesque foothills of the San Gabriel Mountains in the quintessential small town of Monrovia, California. Located in an historic 1925 Spanish style building that was once the city's Municipal Swimming Pool, the Monrovia Historical Museum is surrounded by Recreation Park with its lush gardens and family-oriented sports fields.
Images
The museum opened in the 1980s and is located in Spanish-style mission building constructed in 1925 and served as a community building and provided changing rooms for the city's municipal pool.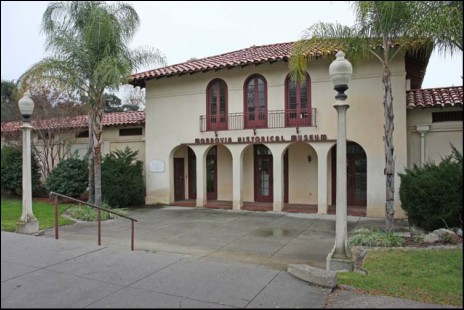 Backstory and Context
The 8,000 square foot Museum, organized in 1986, consists of two major wings - Historic Monrovia which introduces the guest to the Monroe Family and the town they helped establish, the famous Pottenger Sanatorium that helped the medical world find cures for breathing disorders, and a Pacific Electric trolley system exhibit. Also included in this wing are faithful reconstructions of a turn of the century kitchen and parlor, a 1907 classroom tribute to Monrovia's early grade schools, and an interactive police department exhibit that the kids always enjoy.
The Historic Collections wing includes impressive Native American artifacts that date back centuries, and a fascinating Natural History section that showcases interesting and unusual creatures and oddities seldom seen in public displays. There is also a great display of the telephone technology of the past century, and an exhibit dedicated to our fighting men and women, and much more.
Sources
"About." Monrovia Historical Museum. April 16, 2016. http://www.monroviahistoricalmuseum.org/about.html.
Additional Information