Breakers Hotel
Introduction
Breakers Hotel opened in 1926 as a luxury oceanfront resort hotel. The building has gone through multiple changes of ownership and has been renamed at various times the Hilton, the Wilton, and the Breakers International Hotel. In January 1964, the hotel was sold at auction to pay off the hotel's creditors and became a retirement home. In 1997, the Sky Room, originally developed by Conrad Hilton in 1938, was restored and re-opened. The building is currently listed for sale and is home to the Sky Room at the top of the building and a retirement home.
Images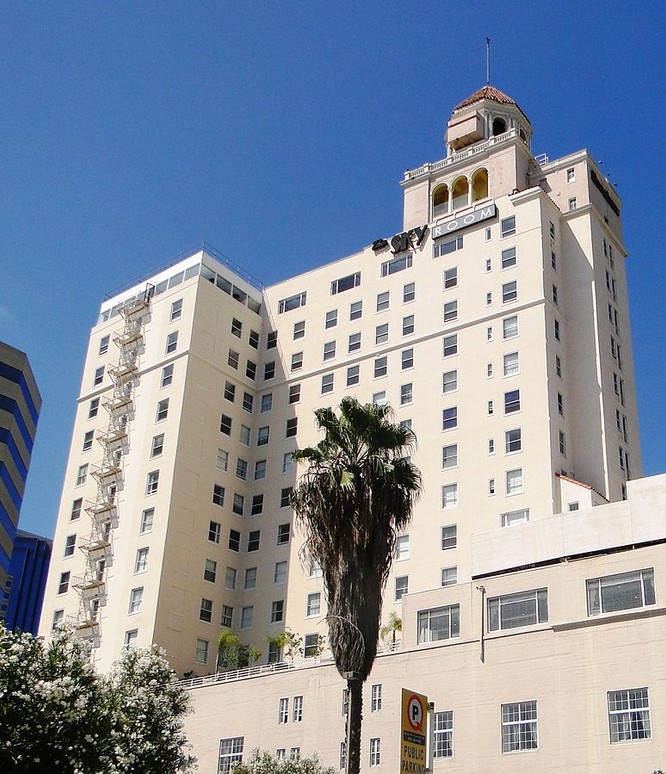 Historic Postcard of the hotel when it was in operation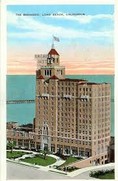 Backstory and Context
From the Sky Room Website: "An icon of another era, the eighteen-story Spanish Baroque beauty reigns in sandstone splendor. A dominant landmark of the western seaboard, this exclusive waterfront resort has served as a destination for thousands of visitors since its 1926 debut.
In 1938, Conrad Hilton acquired the hotel and reopened the splendid resort, making it the eighth Hilton in the chain. That reopening came just in time to entertain the servicemen brought to Long Beach by World War II. Fearful of an impending enemy invasion, a concrete machine gun bunker was installed in the red, tile-roofed tower that still remains.
Hilton added a restaurant and nightclub on the top floor calling it appropriately The Sky Room. Since its opening, The Sky Room has served local guests, politicians, and Hollywood celebrities such as Elizabeth Taylor, Charles Lindbergh, Babe Ruth, Clark Gable, Merle Oberon, Errol Flynn, and Cary Grant."
Sources
"About." Breakers Hotel. Accessed May 16, 2014. http://www.breakersatlongbeach.com/#about. "Long Beach : Breakers Hotel, Ocean Center Office Building Given Landmark Status." Los Angeles Times. June 01, 1989. http://articles.latimes.com/1989-06-01/news/hl-1299_1_demolition-ocean-boulevard-ocean-center-building.
Additional Information