Bing Rooming House Museum
Introduction
Located in the town known for strawberries and built in 1928, owner Mrs. Janie Wheeler Bing, offered rooms for boarding to African Americans since they weren't allowed to stay in white hotels due to segregation. The Bing Rooming House included a restaurant and 10 rooms. Mrs. Bing operated the establishment until 1975. It was put on the National Register of Historic Places in September, 2002. The rooming house is now also the home of the Improvement League of Plant City.
Images
Current photo of outside the Bing Rooming House.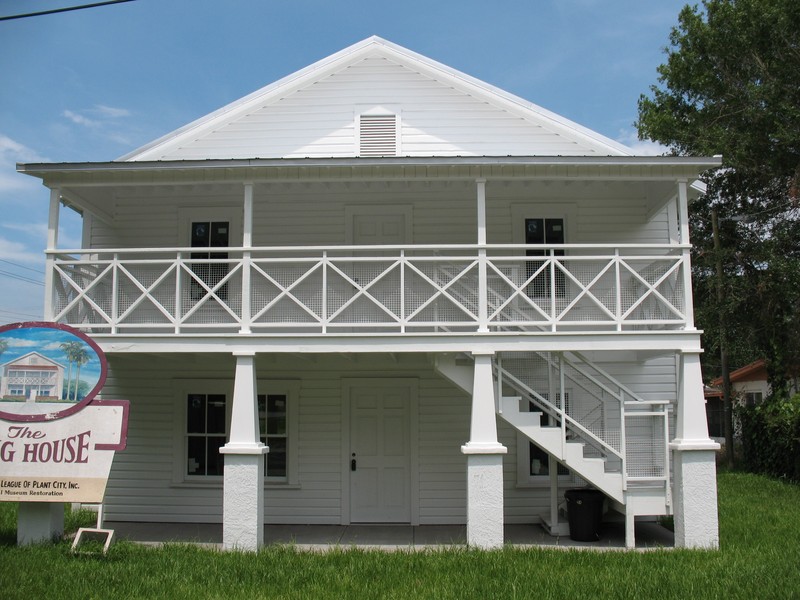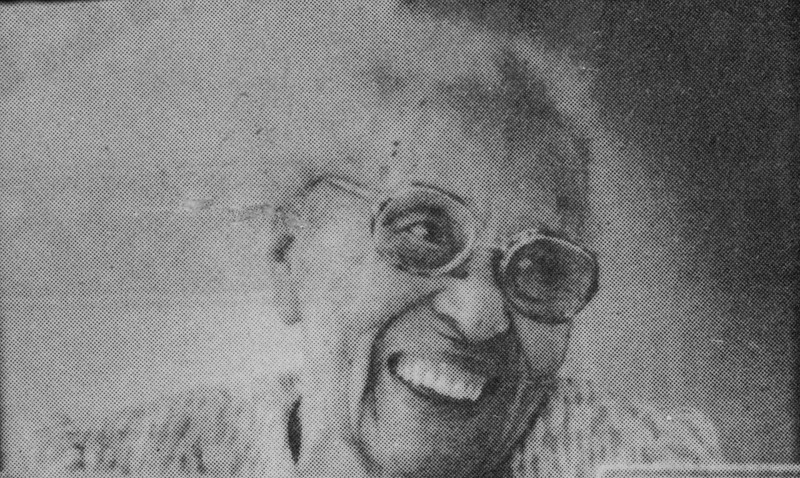 Bing House Restoration Sign.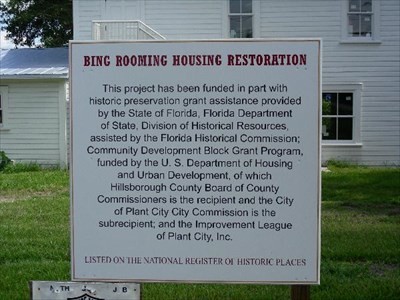 Backstory and Context
The Plant City Bing House was room and board business available for African Americans in 1928 through the 1960's during the segregation period. A boarding house is often a family home in which people rent rooms for one or more nights, weeks, months, and even years. There are rooms that are shared among the tenants. Some meals are provided and even laundry and cleaning may be supplied. The Bing Room House became a museum in 2011. It is located at 205 South Allen Street, Plant city Florida. You can learn about the Bing family and their children, as well as their successes and contributions they have made in the community. Jimmy Washington is a grandson of the Bing's, who made an effort to recognize the importance of the contributions of his grandparents, especially his grandmother, Janie Bing. (Bing Rooming House, 2018)
The Bing Rooming House also known as the Bing-Washington House is located in Plant City Florida. It was built in 1928 and used as a rooming house by Elijah Bing and Janie Wheeler Bing. Janie was also a school teacher and her husband owned a restaurant and dry cleaning business in the segregated Black community in Plant City. The Bing's were very successful, educated, and respected in their community. They had three children. Janie Wheeler Bing was born on December 2, 1889 in Rochelle, Florida and passed away in 1984. She was one of thirteen children in her family. The house was managed by Janie Wheeler Bing. In 1931 the Seminole Restaurant was added to the house for business. Its purpose was to provide room and board to Blacks visiting Plant City who were not allowed to stay in segregated white hotels and eat at restaurants. (Plant City Bing Rooming House Museum, 2000)
Racial Segregation existed in the United States through the mid 1960's. People of color had to use separate facilities from the white society. This included going to separate schools, hotels, bars, hospitals, bathrooms, parks, movie theaters, theaters, and telephone booths. The people of color where also not allowed in certain neighborhoods and could not purchase homes. They were not allowed in public streets, unless they were working. Interracial marriage was against the Law in Florida along with many other southern state and northern states. The Black communities were also not allowed to vote. (Bing Rooming House, 2018)
Elijah Luttrell Bing was the son of Janie Wheeler Bing. He grew up with his two sisters. During their childhood, segregation and the depression continued to exist. At the time Black were only allowed to go as far as 6th grade in Plant City. He and his sisters were sent to live with their aunt in Jacksonville to attend Junior High School. They returned to Plant City during their High School years, but no high school existed in Plant City for Blacks so they had to go to Lakeland. He became a distinguished educator, principal and administrator in Hillsborough County. He was also the Assistant Superintendent for Supportive Service from 1972-1978. He is now deceased, but has left his impact in the Hillsborough County community. (Plant City Bing Rooming House Museum, 2000)
Jimmy Washington is the grandson of the late Elijah and Janie Bing. He called for restoration of the Bing Rooming House as an African American Museum to give recognition to his grandmother's success as an African American as a business owner during the time of segregation. The Improvement League of Plant City accepted the project in 2001. The Bing Room was added to the United States National Register of Historic Places. The museum is open for business Monday through Thursday from 2:00-6:00 pm. The Bing Museum displays features of Marshall High School, from 1936- 1969 named after Edward Jackson Marshall. The museum also shares what the segregated Black community was like during that era. It exhibits important features of Laura Street, the historic African American Business District. It is also known as the Hillsborough County's Black Wall Street. It had all kinds of businesses that served the Black community during the segregation period like restaurants, rooming houses, and movie theaters. The Bing Museum's goal and purpose is to educate, share, and preserve the Plant City, Florida's African American history from an African American perspective. It includes the history of African- American Culture throughout the United States. The renovated rooms also include historical information of Martin Luther King Jr.'s influence. (Plant City Bing Rooming Museum, 2000)
The Bing House was a hotel that was operating since 1928 for Black people. This was a time when segregation existed. The hotel closed in 1975. The hotel has become a museum which shares artifacts, stories, letters and writings that share personal experiences of what life was like for people of color during the period of segregation. The Bing House Hotel has its own website to get more information and operating hours at www.plantcitybinghouse.com. There are pictures of the home, neighborhood and many pictures of people during the segregated era living their life. (Visit Florida, 2001)
Janell Johnson, board member of the Improvement League of Plant City and granddaughter of Janie and Elijah Bing stated, "This is important because it signifies the history of era. It brings the community together. The young people we able to come and be a part of it today and it's important because we need to know what our history is, especially so we don't repeat the past." (Breanne Williams, Bing Room Receives Historic Marker, 2008)
The Bing Boarding House was a very prominent boarding house among the African Americans. It even accommodated the Negro Baseball League teams as well as players such as Satchel Paige. The hotel's location is in a district called the Laura Street area which was a street that allowed African Americans but they weren't allowed on Main Street. It ideally was a business district for African Americans. A lot of historic buildings remain on Laura Street today.
Since 1975, Ms. Bing handed down the home to several close family members upon her death. It has been very important to restore the location to properly promote and provide African American history. In 2011, the museum was able to reopen its doors to the public after a major restoration that took nearly ten years.
Today The Bing Rooming House now is operated as a museum to celebrate Plant City's victory over segregation. The museum is dedicated to collecting as well as preserving the history of African American culture and lifestyle during this period. The museum has also included nearby residents in becoming part of their history. They interviewed residents of the area that have first hand look into the segregation struggles they faced. Inside the museum you will find displays of artifacts, storyboards, and written documents that all tell the story of segregation and are all parts of proud heritage.
Sources
"Guide to African-American Heritage Landmarks and Historic Sites in Florida." Visit Florida, www.visitflorida.com/en-us/travel-ideas/guide-to-african-american-heritage-landmarks-and-historic-sites-in-florida.html.

"Bing Rooming House African American Museum in Plant City, FL." Visit Florida, www.visitflorida.com/en-us/listing.a0t1W00000RrRywQAF.html.

"Bing Rooming House Receives Historic Marker." Plant City Observer, 19 Apr. 2018, www.plantcityobserver.com/bing-rooming-house-receives-historic-marker/.

"'What's inside the Museum?"." Museum, www.plantcitybinghouse.com/BingMuseum.html.

N
ewman, Gary H. "Landmark rooming house opens as museum in Plant City." The Tampa Tribune. Accessed July 3, 2015. http://tbo.com/plant-city/landmark-rooming-house-opens-as-museum-in-plant-city-259446
Additional Information