Christmas Tree Lane
Introduction
Christmas Tree Lane is a 0.7 mile boulevard of deodar cedar trees in Altadena, California. These trees have been lighted annually for Christmas since 1920. It was listed on the National Register of Historic Places in 1990.
Images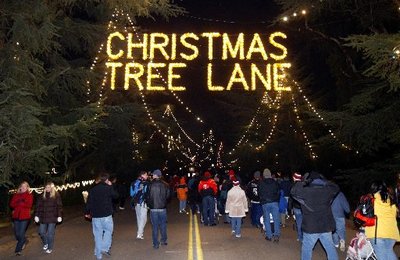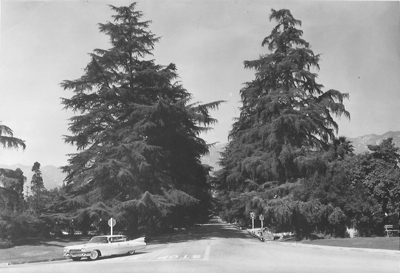 Photo by Michael Kindig, February 16, 2002.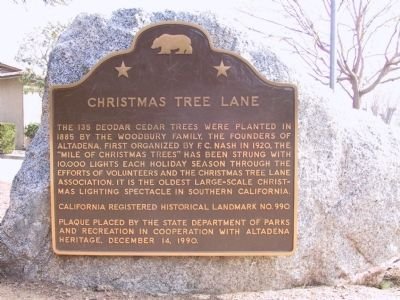 Backstory and Context
In 1885, John P. Woodbury of the Woodbury Family, the founders of Altadena, planted 134 deodar trees as a mile-long driveway entrance to the mansion he was going to build. He never ended up building the mansion, but the trees grew and the driveway became Santa Rosa Avenue.
In 1920 a man names Frederick Nash convinced people to light the Santa Rosa deodars for the upcoming Christmas season. They ended up only lighting one-fourth of the lane but it was spectacle. Over the next few years, they kept lighting more and more trees and it brought in many visitors from around the world. At the time, the lane had no official name so it was referred as the Avenue of the Deodars.
Over the years postcards of pictures of the lane became popular. The name "Christmas Tree Lane" began to appear on these postcards and this is when the name officially changed. Now every Christmas season the majestic deodars are strung with about 10,000 lights on Santa Rosa Avenue from Woodbury Avenue to Altadena Drive. The stringing begins on the second Saturday in December with a festive lighting ceremony. it is the oldest large-scale Christmas lighting spectacle in Southern California.
Sources
"History of the Lane." Christmas Tree Lane. Accessed November 11, 2014. http://www.christmastreelane.net. Triem, Judy. "Christmas Tree Lane." National Register of Historic Places, National Park Service. September 13, 1990. http://focus.nps.gov/GetAsset?assetID=2e28e248-ce26-48ff-be2d-1fde84a53306. "Christmas Tree Lane Historical Marker." https://www.hmdb.org/marker.asp?marker=50989.
Additional Information