The Second Battle of Cahuenga Pass/Battle of Providencia
Introduction
This site is believed to be the location where the Second Battle of Cahuenga Pass took place in the Cahuenga Pass area of Los Angeles in 1845. This was a battle just before the Mexican War (1846-1848) between two groups of Californios (loyalists and rebels) over Mexico's rule over California.
Images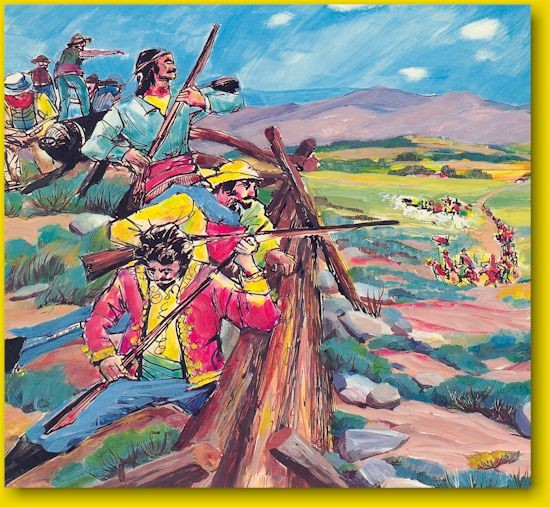 Monument as it looks today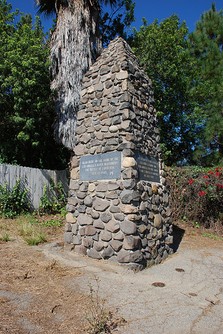 One of three plaques on monument. This one is for the Battle of Providencia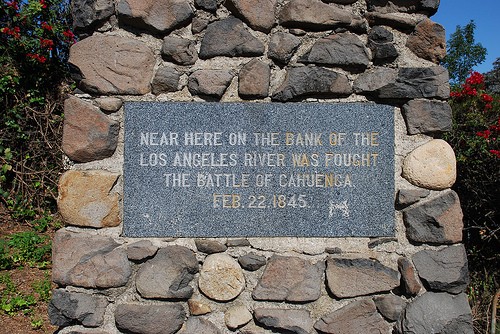 Marker for Treaty of Cahuenga.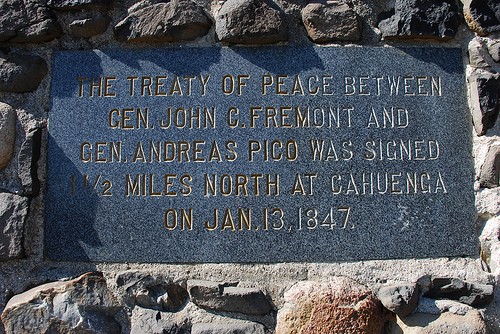 Backstory and Context
The Battle of Providencia (also called the "Second Battle of Cahuenga Pass") took place in Cahuenga Pass in 1845 on Rancho Providencia in the San Fernando Valley, north of Los Angeles. Rebellious forces backed by wealthy landowners challenged those of the Mexican government over rule of Alta California (Upper California)
.


Alta California, for three centuries a territorial province of Spain, had been under Mexican control since 1821. By the 1840s native born Californios grew angry that the Mexican government continued to choose Mexican-born governors. In 1842, it appointed Manuel Micheltorena, who proved very unpopular. By 1844, a revolt began, culminating in the Battle of Providencia.
In spite of an extensive artillery barrage battle casualties were similarly slight as in the first Battle of Cahuenga Pass, being limited to one horse and one mule.
In the battle's wake Micheltorena withdrew his forces and ceded the governorship to Pio Pico, a 1st generation Californio born at Mission San Gabriel Arcangel in modern day San Gabriel. Pico would go down in history, controversially, for his role is selling all California mission lands and structures, gaining wealth, as American forces swept through California and he chose not to resist.
The monument for this battle also commemorates the burial of James Boon Lankershim, Missouri-native that moved to the area and soon founded the Los Angeles Flour and Milling Co. and was once a president of Main Street Savings Bank. He requested his ashes be here after his death. The marker also denotes that 1.5 miles north of monument location, was were the Treaty of Cahuenga was passed. Monument is located on hiking roads of the Briar Summit Open Space Reserve
Sources
Clark, Wes. "The Second Battle of Cahuenga Pass and the War Lords of Burbank." Accessed June 25, 2015. http://wesclark.com/am/warlords.html.
Additional Information