Watts Towers of Simon Rodia
Introduction
The Watts towers are a unique collection of seventeen sculptures created by Italian construction worker Simon Rodia. He began in 1921, and spent the next thirty years creating the assemblages. He stated that the towers were dedicated to his new home and the spirit of American pioneers, and officially named them Nuestro Pueblo ("our town"). To this day the towers are protected by the Los Angeles Department of Cultural Affairs. The site is listed on the National Register of Historic Places and is a registered US National Historic Landmark. In recognition of Rodia's creative spirit, he is even featured on the famous album cover of The Beatles' Sgt. Pepper's Lonely Hearts Club Band.
Images
Sabato Rodia Watts (www.wattstowers.us)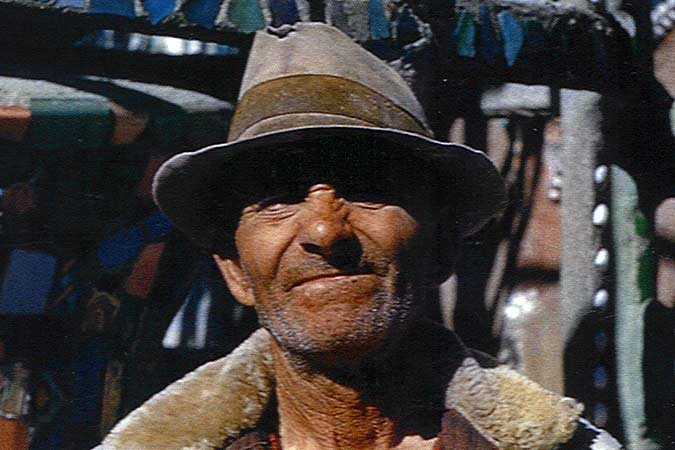 Watts working on his towers (www.wattstowers.us)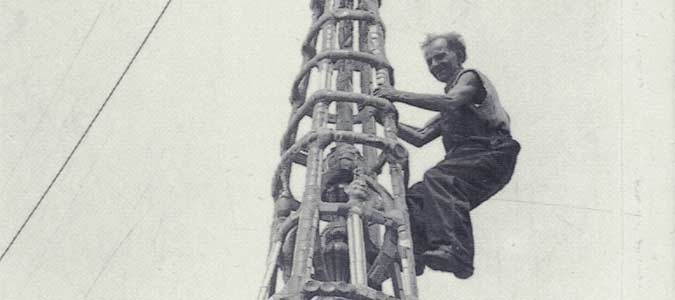 The towers as they appear today (www.greatbuildings.com)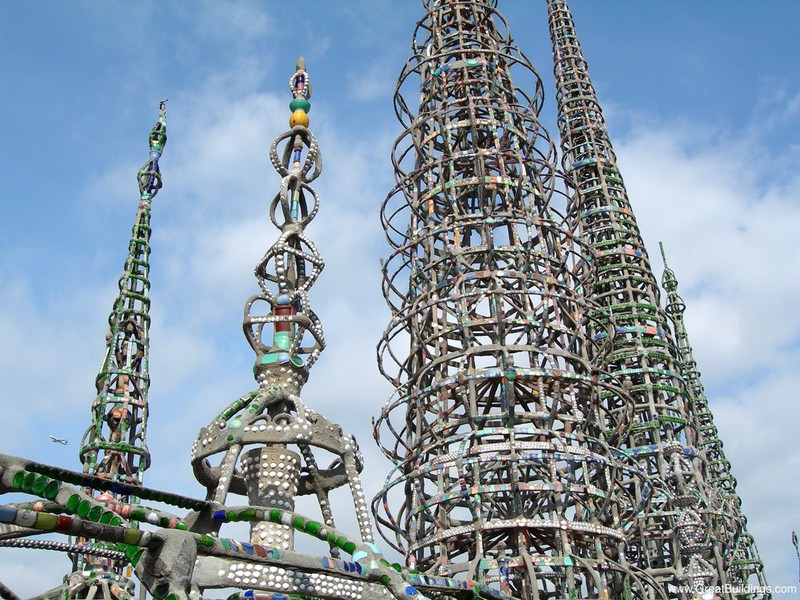 The towers as they appear today (www.greatbuildings.com)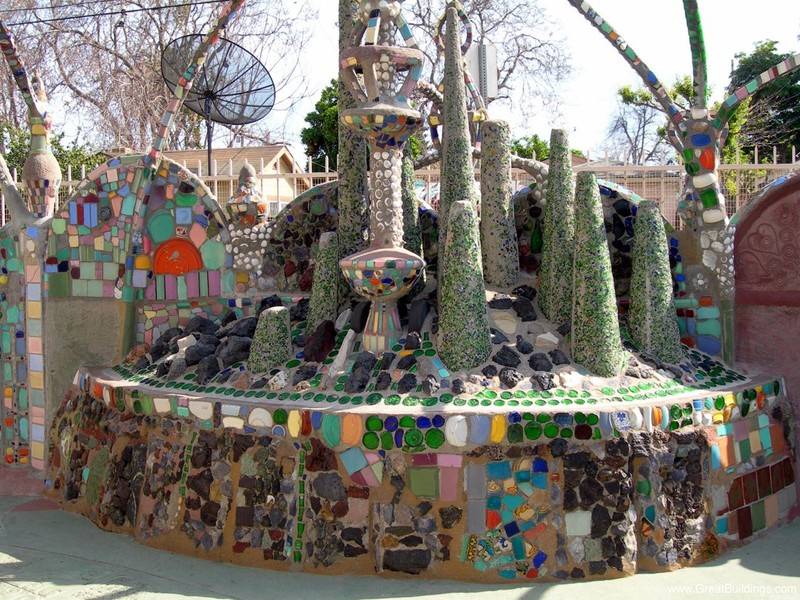 The towers as they appear today (www.greatbuildings.com)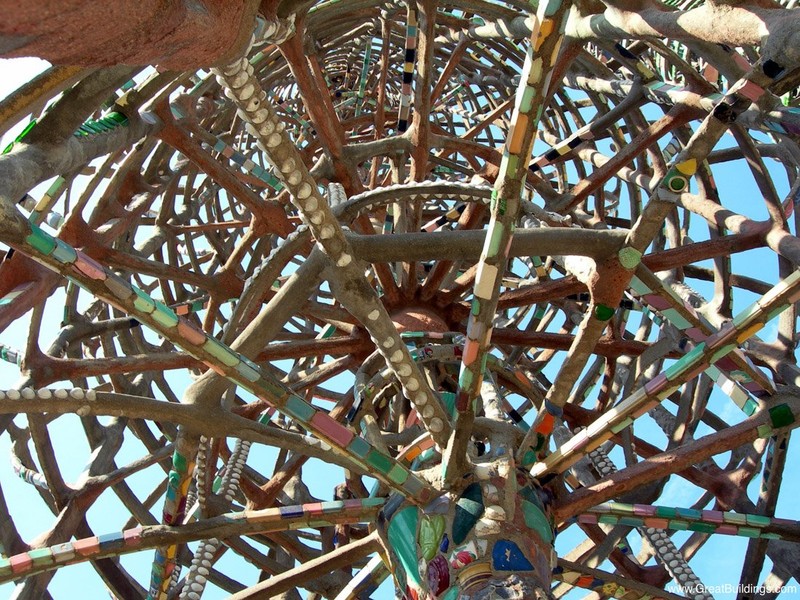 Backstory and Context
Sabato Rodia Watts, also known as Don Simon, was born in Ribottoli, Italy in 1879. In the mid-1890s he moved to the USA, following his brother who was employed as a coal miner in Pennsylvania. Sabato moved west, and found employment at a quarry, logging camp, and at a railroad construction site. He lived in Long Beach until 1920, when he moved to Watts with his wife Carmen. He built the sculptures in the back yard of his residential plot, using very simple methods and tools. Much of the construction was carried out in the evenings after he returned from work. Using a window-washer's harness he would ascend the ever-growing towers, two of which reached a height of 100 feet, and would work until late at night.
The sculptures are made of a variety of materials. Each tower is basically composed of steel pipes, wire mesh, and mortar. He also constructed arches, domes, bird baths, benches, and a palisade between the towers. Everything is decorated in a brilliant mosaic of colourful tile, porcelain, broken glass, sea shells, and even some 19th-century chinoiserie ceramic. He even built an "ark", composed almost entirely of sea shells and containing a baptismal font in the shape of a ship's capstan.
In 1955 Sabato left Watts to join his family in Martinez, and ten years later he passed away, aged 85. Unfortunately, Mr. Rodia's home on the plot burned down in 1956 due to arson. The Committee for Simon Rodia's Towers in Watts formed after they acquired ownership of the site in 1959. Their goal was to ensure the preservation of Sabato's work for the enjoyment of future generations, which they attended to successfully until the state assumed responsibility for its upkeep in 1978.
The Watts Towers Arts Center can be found beside the towers, where a series of events happen throughout the year, including the annual Watts Towers Jazz Festival and Day of the Drum Festival.
Sources
Giudice, Luisa D. (ed.). Sabato Rodia's Towers in Watts: Art, Migrations, Development. New York: Fordham University Press, 2014. Goldstone, Bud and Goldstone, Arloa. The Los Angeles Watts Towers. New York: Thames & Hudson, Ltd.,1997. "History." Watts Towers. Accessed February 20, 2016. http://www.wattstowers.us. Hooks, Rosie L. "Watts Towers Arts Center." Watts Towers. http://www.wattstowers.org/#!about2/c135e. "Rodia's Watts Towers." Victorian Secrets. Accessed February 20, 2016. http://www.victoriansecrets.net/watts.htm.
Additional Information