The Pennsylvania State Hospital for Crippled Children in Elizabethtown
Introduction
In 1925 Governor Gifford Pinchot established The Pennsylvania State Hospital for Crippled Children in Elizabethtown for "care, vocational training, and treatment of indigent children who are afflicted with surgical tuberculosis and allied conditions. By 1962 decline of tuberculosis and polio changed the surgical emphasis to correction of congenital deformities and spinal injuries. In 1974 The Penn State Orthopaedic Residency Program began with conferences for surgeons. Presently the annual Elizabethtown Pediatric Orthopaedic Lecture at Hershey Medical Center continues this educational mission; named to "honor the legacy of an institution that provided care for thousands of patients and training for hundreds of orthopaedic surgeons."
Images
The north entrance of the Etown Children's Hospital (cir. 1940s)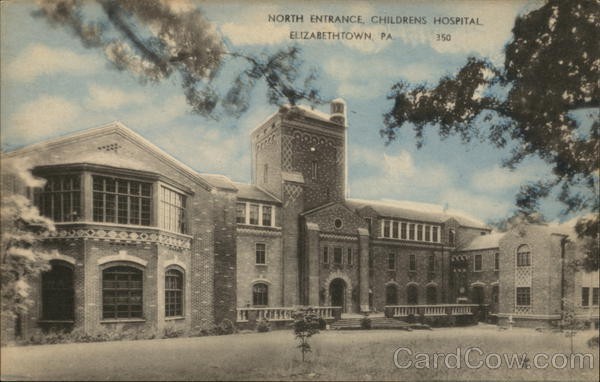 Nurse's station at Etown Children's Hospital (cir. 1940s)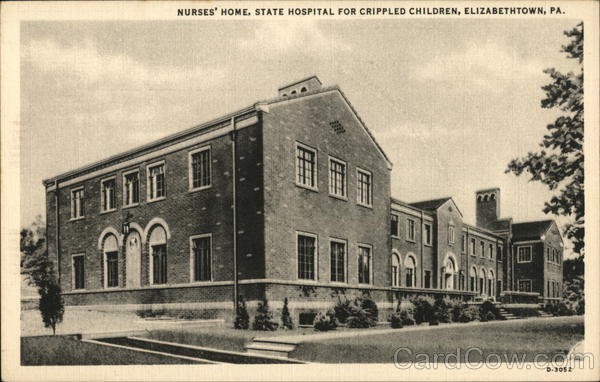 Backstory and Context
The classical revival complex was designed by Thomas, Martin, and Kirkpatrick Architects and built in 1929. In 1933, a nurse's residence was added because by law nurses could not marry and were required to live on campus. In 1941, two additional wings were built by the Works Progress Administration. Three additional buildings were constructed in 1949. The auditorium, classrooms, and library were constructed in 1965. The first patients were admitted in 1930 to "get a longer lease on life through a $1 million medical research center with special emphasis on the fight to eradicate diabetes and infantile paralysis."
The Milton S. Hershey Medical Center of Pennsylvania State University took over the hospital in 1972. The facility was re-named Elizabethtown Hospital for Children and Youth operating as a rehabilitation center with an emphasis on occupational therapy determining the patient's physical, mental, and emotional needs and abilities. The average length of stay for the children in the hospital was fifteen to nineteen months and sometimes years. As late as the 1960s, the average hospital stay for a patient was still a year and the hospital had more than 3,000 visits annually by out-patients. Patient rehabilitation included on campus apartment housing for children and adults transitioning to living at home. The original policy of ending treatment for children when they reached twenty-one was amended to provide continuation of treatment of current or former patients as adults.
During the height of polio epidemics in the 1940s, the brace shop handled 6,000 different on site operations including brace making, shoe corrections, and corset construction. By the 1980s, the brace shop earned national recognition for the custom construction of complex braces, prosthetics, and adaptive seating producing custom seats and chair inserts improving patients' posture. In 1991, the campus became the Training Academy for the Pennsylvania Department of Corrections. The academy trains prison employees working for the state and county. Inmates from the State Correctional Institution at Camp Hill provide daily maintenance and food service labor and participate in vocational training. The hospital provided comprehensive care on 265 acres with its own farm, dairy, and truck garden. Presently some of the acreage is farmed for the training academy by neighboring farmers. Known as "Academy Woods" sizeable populations of deer herd inhabit the property
In 1990, the clinical programs at the hospital were moved to new quarters on the Hershey Medical Campus and the original hospital was closed. In 1991, Pennsylvania Department of Corrections purchased the property and converted it into a training area for prison employees working for the state and employees working for the county.