Tellico Blockhouse
Introduction
Constructed as a fort by American settlers in 1794, Tellico Blockhouse was garrisoned by US troops until 1807. This site is most significant as the location where several treaties between the Cherokee and the United States were signed. These treaties included many promises to the Cherokee in exchange for their willingness to acquiesce to the land claims of the United States over millions of acres in Georgia and Tennessee. The site includes a recreation of the small garrison and includes interpretive signs related to the relations between the early settlers and the United States Government with the Cherokee Nation.
Images
Visitors can tour a recreation of the Tellico Blockhouse and learn about each of the treaties signed at this location through interpretive signs on site.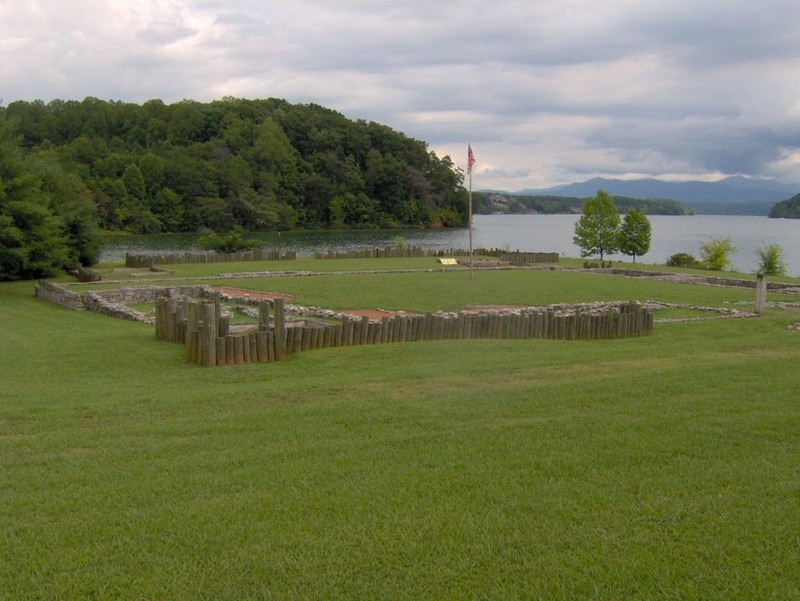 Backstory and Context
Tellico Blockhouse was built in 1794 on request of Territorial Governor William Blount. Though only being used for thirteen years, the fort saw many important interactions with the Cherokee Nation. The blockhouse served as a trading post with the Cherokee, facilitating the exchange of furs, animal hides, cotton and other commodities. This was also the site of numerous meetings and treaties, including the First Treaty of Tellico in which the Cherokee ceded their claim on land in exchange for money and a promise that the federal government would forever recognize the tribe's legal right to exist and their territorial sovereignty. The treaty was signed by commissioners Return J. Meigs, Daniel Smith, and various Cherokee chiefs in October of 1805.

The second and third Treaty of Tellico, signed in 1797 and 1805, likewise included the acquisition of Cherokee land in exchange for money and certain promises. The third treaty acquired lands between the Cumberland and Duck rivers with the northern boundary of Fort Nash and southern boundary of the Tennessee River.

Sources
Yates, Nicole. "Tellico Blockhouse." East Tennessee River Valley Geotourism MapGuide. http://www.tennesseerivervalleygeotourism.org/content/tellico-blockhouse/tenBEA68C69B839C7C4D Cherokee Nation. "Treaty of Tellico." http://www.cherokee.org/AboutTheNation/History/Facts/TreatyofTellico.aspx
Additional Information