Wrigley Field Los Angeles
Introduction
Wrigley Field was a ballpark located in Los Angeles, CA. The new park opened in September of 1925 and hosted games for the Los Angeles Angels. The Los Angeles Angels were a minor league baseball team at that time. Wrigley Field was named after William Wrigley Jr. who purchased the Angels in 1921. The field sat on ten acres of land between San Pedro Street and Avalon Boulevard, close to Huntington Park Los Angeles. The site is now home to the Gilbert Lindsay Recreation Center.
Images
Wrigley Field, Los Angeles.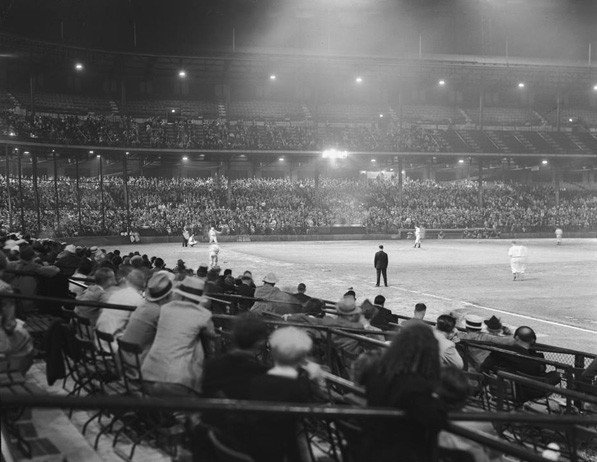 Wrigley Field, Los Angeles.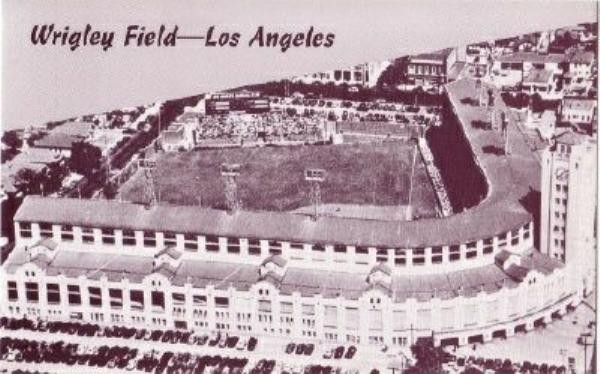 Home run at Wrigley Field.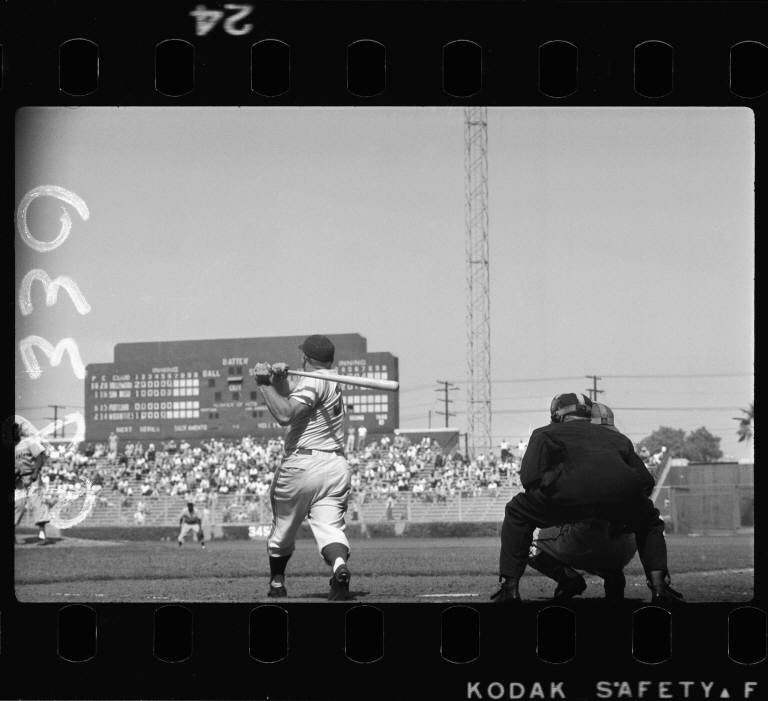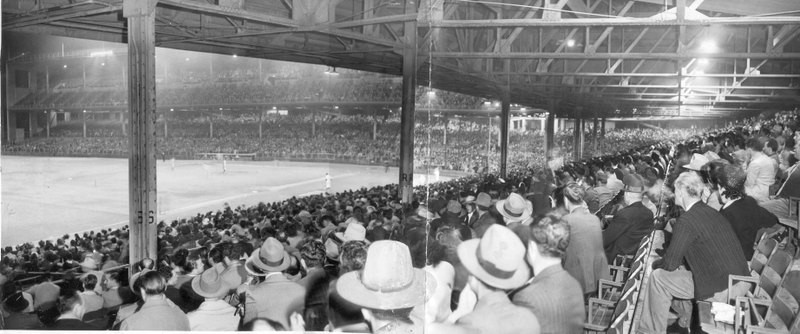 Two boys play during demolition of Wrigley Field in 1969.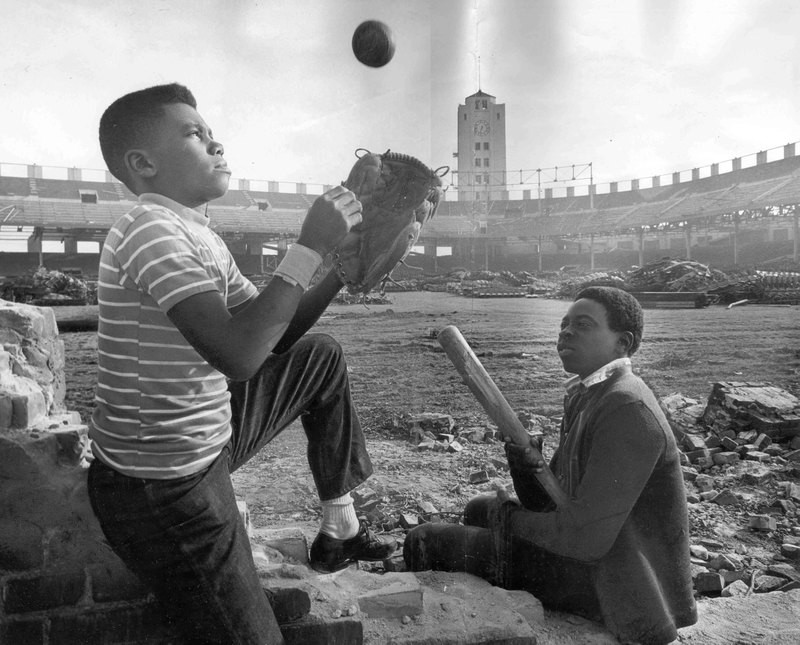 Backstory and Context
Wrigley Field of Chicago Illinois is not the first ballpark in the United States to bear that name. Wrigley Field of Los Angeles California became the first ballpark named"Wrigley" in 1925. After purchasing minor league baseball team The Los Angeles Angels, chewing gum magnate William Wrigley Jr. built his namesake ballpark on 10 acres of land in Los Angeles, CA. William Wrigley Jr. also owned the Chicago Cubs which he acquired in 1921. The Cubs farm team became The Los Angeles Angels upon their purchase. It was not until 1927 that Wrigley's ballpark in Chicago, then named Cubs Park, was renamed Wrigley Field, making it the second ballpark in the country to bear that name.1
The million dollar ballpark was constructed using Spanish style architecture for its exterior. The park included a twelve story office building with a clock tower on top. The parks seating capacity was 21,000 and included two decks behind home plate to each foul line. The bleachers were located in right field. During the time Wrigley Field was open the ballpark hosted several teams. From 1925 to 1957 the park hosted minor league baseball team The Los Angeles Angels of the Pacific Coast League. From 1926 to 1935 and in 1938 The Hollywood Stars played at the park. The Hollywood Stars were another minor league baseball team also a part of the Pacific Coast League. For only one season in 1961 the Los Angeles California Angels, now a major league team, played at Wrigley Field. 2

Though Los Angeles residents and Angels fans were happy to have a new home for their team, not everyone was thrilled with the new ballpark. "One of the biggest woes associated with Wrigley Field was that it had been built in a residential area. Homes near the stadium were constantly being pelted with balls sailing over the walls. In 1960, when the newly established American League Angels were looking for a permanent home in Los Angeles, Wrigley Field was considered an option, but an option shunned by many for this reason, among others. A 1960 LA Times article points out that at the time there was "a white house on 41st Street back of those left field bricks which over the years has been bombarded day and night by [many] sluggers" and "homers rained on this home like buzz bombs in the war-time blitz" (Dyer) (William-Ross Laist)."3
After the Angels left the stadium in 1961, leaving the park without a team, Wrigley Field became the location of many Hollywood movies and television shows. Notable movies include; "Babe Comes Home" starring Babe Ruth, "The Pride of the Yankees" staring Gary Cooper about Yankees legend Lou Gehrig, and "Armored Car Robbery". Television shows include; "Mannix", "The Munsters", and "The Twilight Zone". By 1966 it became obvious that no other team was going to call Wrigley Field home so the decision was made to demolish the ballpark. Gilbert Lindsay Recreation Center now exists on this site and the current ball field here hosts Wrigley Little League. Unfortunately the current park is rather unkempt and can be dangerous due to the many gangs who roam the area.4,5
Sources
1. "Wrigley Field (Los Angeles)." Wikipedia. Accessed April 1, 2015. http://en.wikipedia.org/wiki/Wrigley_Field_(Los_Angeles) 2. "List of baseball parks in Los Angeles." Wikipedia. Accessed April 1, 2015. http://en.wikipedia.org/wiki/List_of_baseball_parks_in_Los_Angeles 3. Ross, Lindsay. "LAistory: Baseball's First Wrigley Field Was in LA." June 21, 2008. http://laist.com/2008/06/21/laistory_baseba.php. 4. "Wrigley Field (Los Angeles)." 5. Ross, Lindsay.
Additional Information