Statue of Earvin "Magic" Johnson
Introduction
This statue of Earvin "Magic" Johnson Jr. was dedicated in 2004 and honors one of most influential athletes of the modern era. Drafted first in the 1979 NBA draft, he joined the Los Angeles Lakers, the team he would play for from 1979 to 1991. At 6 foot 9 inches, he was a formidable point guard from the first game of his professional career. Although he and the Lakers went on to win many NBA championships during his career, perhaps he is best known for the way he retired, ending his career unexpectedly in 1991 after he learned that he had contracted HIV, the virus that leads to AIDS.
Images
Magic Johnson at the unveiling of his statue located in front of the Staples Center.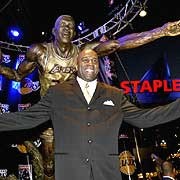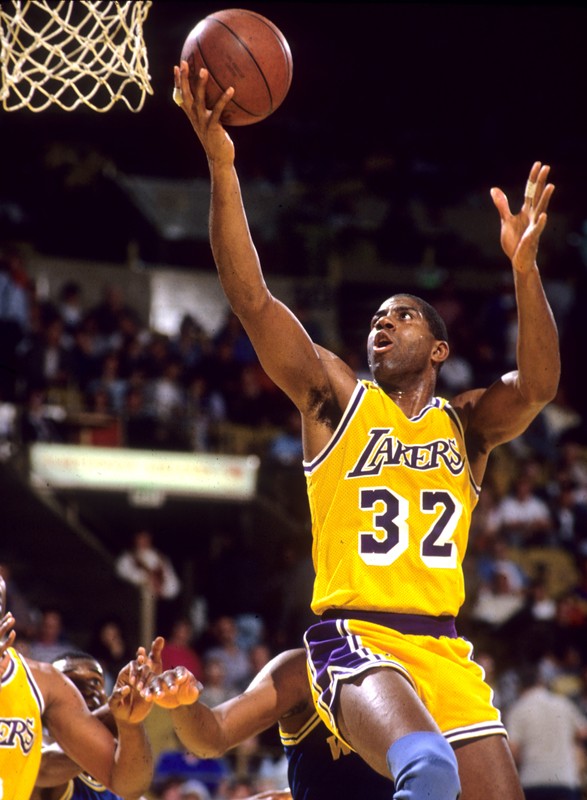 Backstory and Context
Magic Johnson started his basketball-playing career in high school in Michigan. He was one of the best players in high school basketball at the time and was recruited by many major schools. He decided to go to Michigan State and there his national career took off. The rivalry between Magic Johnson and Larry Byrd started in the National Championship game in the College Basketball Tournament and continued for more than a decade in the NBA.
As a professional, he played with some of the best basketball players of all time to include the Lakers' center, Kareem Abdul-Jabbar. Those two were the most dominant duo in the history of the NBA and in Magic's first year, the Lakers won the NBA championship, while he became the first rookie to ever win the M.V.P. award. Magic and the Lakers played in nine NBA championship series between 1980 and 1991, winning five of them.

In 2004 the Magic Johnson statue was unveiled. It was created to commemorate the love the fans and the organization had for Magic. It was also put up to commemorate everything that he did for that organization. He was stunned when he saw the statue and said that it wasn't just him who deserved it, but the whole team. Though Magic Johnson's playing career was cut short, he made the most out of it and is now a member of the NBA Hall of Fame.

Sources
"Magic Johnson Biography." Biography. Accessed April 1, 2015. http://www.biography.com/people/magic-johnson-9356150#aids.

Nadel, John. "Statue of Magic Johnson unveiled at Staples Center." USA Today. February 11, 2004. http://usatoday30.usatoday.com/sports/basketball/nba/lakers/2004-02-11-magic-statue_x.htm.