Staples Center
Introduction
The Staples Center is a historic arena that is home to four professional sports teams: The Los Angeles Lakers, The Los Angeles Sparks, The Los Angeles Clippers, and The Los Angeles Kings. The Arena opened October 17th, 1999 and has housed many great moments in both sports and cultural history. The Staples Center has been home to everything from Kobe Bryant's 81 point performance against the Toronto Raptors in 2006 to Michael Jackson's memorial service in 2009. The Lakers, Sparks, and Kings continue to bring many championships to LA while playing in the Staples Center, and the four teams continue to make history (Both good and bad) every year. However the Lakers recently finished the 2015-2016 Season with the most losses in the Staples Center's history in one season with 65 losses in an 82 game season. The Staples Center is however still one of the most win associated stadiums in sports.
Images
The Staples Center. Source: aegworldwide.com
View inside the arena. Source: basketball.ballparks.com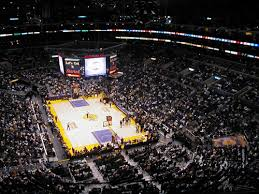 Backstory and Context
The Los Angeles Lakers are regarded as the most historic of the four professional sports franchises currently home to the Staples Center. The Staples Center has housed 5 NBA titles from the Lakers, and many historic moments. One such moment was Kobe Bryant's 81 point game against the Toronto Raptors which is second only to Wilt Chamberlain's 100 point game for highest scoring game by an individual in NBA history. The Staples Center hosted many great Lakers in the likes of Shaquille O'Neal, Kobe Bryant, Derrek Fisher, Rick Fox, Devan George, Robert Horry and NBA greats who finished their careers in LA such as Karl Malone and Steve Nash. So while the Lakers may not always be in future championship games, the have still been one of the NBA's most historic teams and they call the Staples Center home.
The LA Sparks and LA Kings have also had a history of winning. The LA Sparks have won 2 WNBA championships and have been a resident of the Staples ever since it opened. The LA Kings have won 2 Stanley Cups while playing in the Staples center. The only team of the four LA teams to not win a championship in the Staples Center is the LA Clippers.
Other events of historic value that have occurred in the Staples Center reach from politics to pop culture. In the 2000 presidential races the Staples Center hosted the Democratic National Convention. The conclusion of the convention was that Al Gore received the Democratic nomination for that year's election. As far as music and pop culture, Michael Jackson's memorial service was held at the Staples Center.
Sources
"The Greatest Moments in STAPLES Center History." Discover Los Angeles. Accessed May 29, 2016. http://www.discoverlosangeles.com/blog/greatest-moments-staples-center-history. "About Staples Center | STAPLES Center." About Staples Center | STAPLES Center. Accessed May 29, 2016. https://www.staplescenter.com/about/about-staples-center.
Additional Information