Prudence Crandall House
Introduction
Prudence Crandall House and Museum commemorates the life of abolitionist Prudence Crandall and the school for African American girls which she ran from 1832 until 1834 when it was closed by mob violence. For her brave actions at this home and school, Prudence Crandall is Connecticut's official state heroine. The home was the site of a girls school run by Prudence Crandall during 1832–1834 that first had all-white students, then Crandall admitted one Black girl, which made the school into what is believed to be the first integrated school in the United States. That led to immediate protest and withdrawal of the white girl students. The school was then was closed and reopened as an all-Black school, first with three then eventually 24 students, mostly boarding students from out-of-state. The school was challenged locally and in court rulings up to the state supreme court level. The case became a "cause celebre" nation-wide, and was subject of William Lloyd Garrison's Liberator and other newspaper coverage. The Connecticut legislature passed a law, the "Black Law" in 1833, which prohibited Blacks from out-of-state to receive education unless the school's town specifically allowed it. Undaunted, Crandall proceeded. She was arrested and put in jail over one night in August 1833. Later, after receiving a court ruling in favor of the school, a mob attacked the school with clubs and iron bars, breaking 90 windows on September 9, 1834. Crandall closed the school the next day.
Images
The Prudence Crandall House was built in 1805. Its namesake, Prudence Crandall, was a well-known abolitionist and teacher who ran a school for African Americans.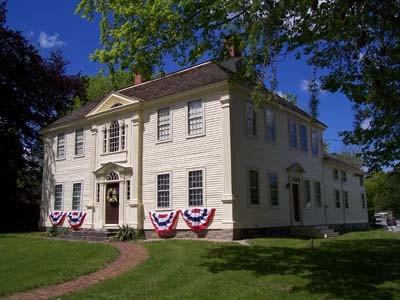 Backstory and Context
Prudence Crandall (1803-1890) opened an academy on the Canterbury Green in 1831 to educate daughters of wealthy local families. The school was extremely successful until the following fall when she admitted Sarah Harris, a 20-year-old Black woman. Sarah had hoped to become a teacher with the help of the education the academy could provide. Reflecting the attitudes of the times, Sarah's admittance to the academy led parents to withdraw their daughters.

Miss Crandall made contacts throughout the northeast's free Black communities to attract young Black women students. They came from as far away as Boston, New York City, and Philadelphia. The State responded by passing the "Black Law" which made it illegal for Miss Crandall to operate her school. Miss Crandall was arrested, spent a night in jail, and faced three court trials. The case was dismissed in July of 1834. Two months later a mob attacked the school, forcing Miss Crandall to close. The courage shown by Miss Crandall, our State's official heroine, features prominently in civil rights history. The "Black Law" was repealed in 1838.

The museum includes period rooms, changing exhibits, a small research library (available by appointment for in-house study), and a gift shop. The museum's first floor is fully accessible.

Sources
Miller, Dr. Page. "Crandall, Prudence, House." National Park Service - National Register of Historic Places Nomination Form. October 22, 1970. https://npgallery.nps.gov/GetAsset/98c24b8e-19c9-4a1d-9aba-eb3568dd372b.

"Prudence Crandall Museum, Canterbury." State of Connecticut. Accessed February 14,
2015. http://www.ct.gov/cct/cwp/view.asp?a=2127&q=302260.
Additional Information