Angels Flight
Introduction
Angels Flight, located on Bunker Hill in downtown Los Angeles, enjoys significance for its role as an incline railway and its place within the city's broader transportation, culture, and environmental histories. Because of Bunker Hill's steep eastern slope in the downtown area, a railroad was built to transport people (mainly wealthy) to and from the commercial center. Dubbed "the shortest railway in the world," Angles Flight opened in 1901 as a narrow gauge funicular railway that stretched 298 feet (climbing 96 feet) and supported two rail cars that ran in opposite directions on a shared cable. The entrance archway and the station house are unique structures designed in the Beaux-Arts style. The railway closed in 1969 and then re-opened in 1996, one-half block south of the original location, stretching 300 feet on a thirty-three percent grade. Since 2001, accidents (including injuries and one death) and resultant closures have plagued the historic train, yet it remains popular.
Images
Angels Flight railway was first built in 1901 and operated until 1969. It was rebuilt a block away in 1996.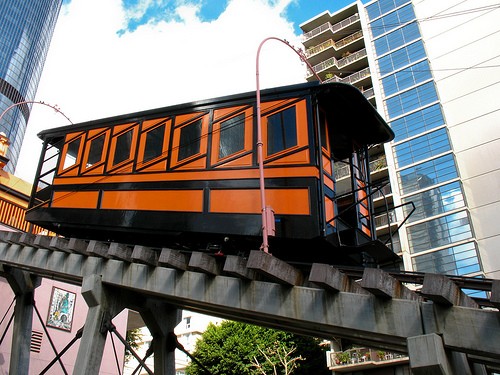 An interior view of one of the railway cars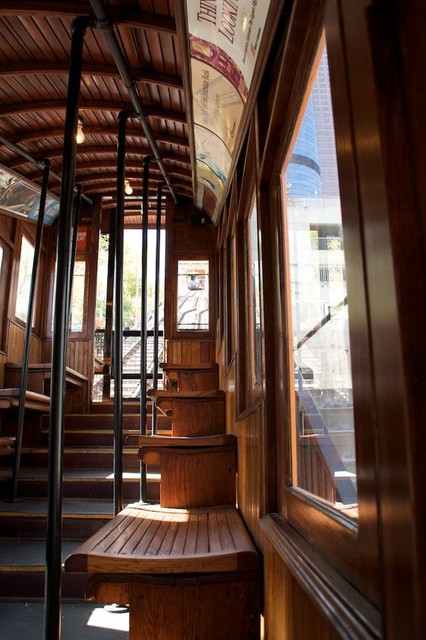 1905 photo of Angels Flight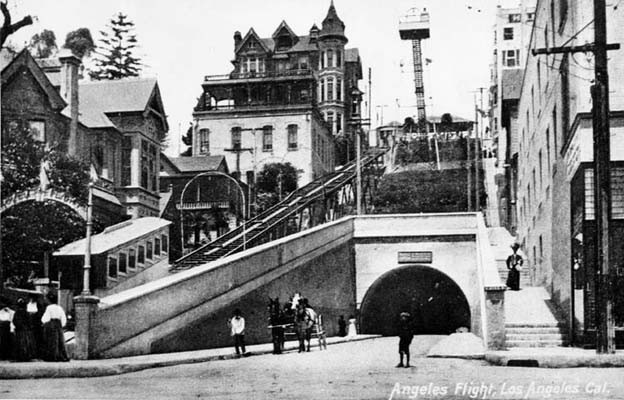 1960 photo of Angels Flight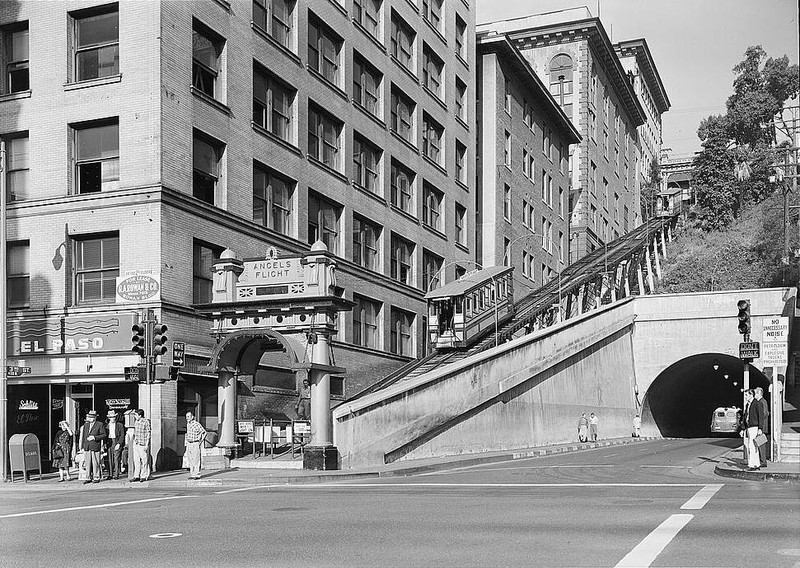 2017 photo of Angels Flight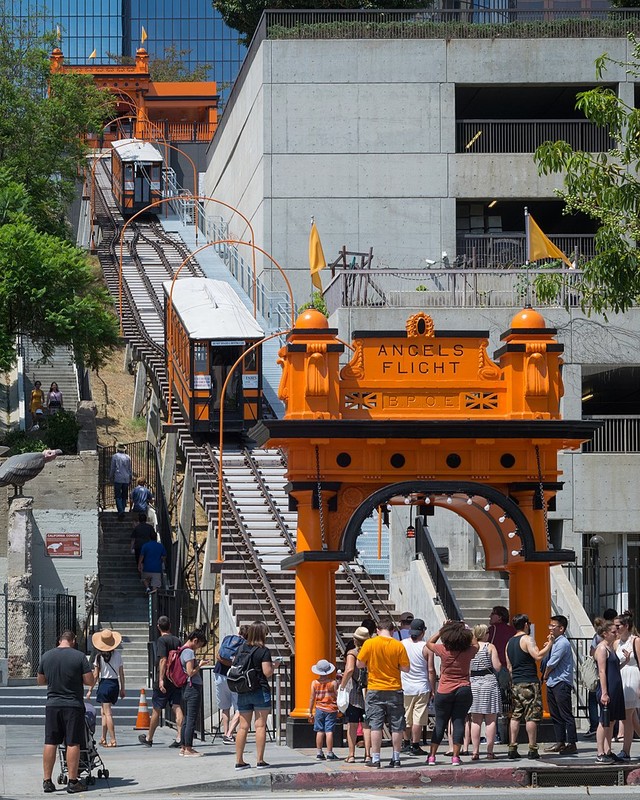 Backstory and Context
The nation's first known incline railway was constructed in 1762 in Niagara, near the U.S. - Canada border, designed to haul goods up and down the Niagara escarpment. However, the vast majority of incline railways arose during the late nineteenth century into the first decade of the twentieth century, aided by technological advances credited to Andrew Smith Halladie. He adapted a mining technique of hauling coal cars by large cables by employing a steam engine to power passenger vehicles.
In cities with mountainous and riverside topographies, such as Pittsburgh, Cincinnati, and Los Angeles, incline trains became necessary as populations expanded beyond flat plains into hilly and mountainous areas, notably the wealthy as they chose to build homes removed from population centers. In L.A., Colonel J. W. Eddy, a Civil War hero, a friend of Abraham Lincoln, a former Illinois state senator, and engineer moved west to California and founded Olive Heights, later known as Bunker Hill. He imagined it as an island of privilege isolated from the shops and commerce below. Eventually, Victorian mansions and luxury hotels dotted the hilltop landscape. However, they sat removed from the burgeoning business district below because of the topography. The area was not accessible from its eastern edge and could only be reached by steeply graded streets and steps; Olive Heights residents took lengthy trips via horse and buggy to the commercial center. So, Colonel J. W. Eddy saw the need to connect the area directly to the commercial center via an incline train. When the train opened for business in 1901, the long, arduous commutes turned into a mere few minutes of travel. 
The historic railway existed among many that operated in Southern California and cities with hilly or riverside terrains. Most incline trains consisted of two tracks with two counterbalanced rail cars moving up and down parallel tracks, much like a dumbwaiter; the load of each car is balanced by the load of the second car. However, Angels Flight differed as it utilized a three-rail system with a turn-out area in the middle of the incline, which allowed the new cars to pass each other. The "Olivet" car ran along the north rail and the "Sinai" car ran along the south rail; the cars only enjoyed four inches of space between them as they passed by each other.  
Angel Flight traffic peaked in the 1920s with as many as 12,000 daily passengers. However, By World War II, however, with the rise of the automobile, ridership plummeted to an average of 3,000 passengers daily. Throughout the nation during the twentieth century, streetcars and incline trains waned in popularity. In addition to the arrival of the automobile age, cities decentralized and developed mass-transit railways like the New York Subway and Chicago's "El" Train. Angels Flight claimed to have transported more than 100 million passengers in its first fifty years, but Angels Flight finally discontinued its service in 1969, and it was subsequently dismantled.
After sitting in storage for twenty-seven years, a re-birth of Angels Flight transpired in the 1990s when it was rebuilt one-half block south of the original location; the first modern ride transpired in 1996. However, a serious accident occurred on the new tracks in 2001, resulting in one death and seven injuries. After years of investigations and newly developed safety measures were put into place, Angels Flight re-opened again in 2010, with nearly 60,000 passengers using the train within the first month of its opening. But, another one-month closure took place in the summer of 2011 when the California Public Utilities Commission determined that the train's fifteen-year-old wheels needed replacing. Two years later, in 2013, yet another accident occurred when one car derailed. Although no one suffered any injuries, firefighters had to rescue the passengers. The National Transportation Safety Board investigated that the accident resulted from an intentional bypass of the safety system with Angels Flight management knowledge, but they also discovered a design flaw in the wheels, both of which again resulted in a lengthy closure. The train opened again in 2017 and remains open as of 2022. 
Sources
Anhie. Angels Flight, Atlas Obscura. Accessed May 15th 2021. https://www.atlasobscura.com/places/angels-flight.
Baker, Craig and Sandra Hughes. "Angels Flight." The Historical Marker Database. HMdb.org. October 15, 2021. https://www.hmdb.org/m.asp?m=160015.
Dawson, Jim. Los Angeles's Angels Flight. San Francisco: Arcadia Publishing, 2008.
Gordon, Larry. "Maiden Voyage: Historic Angels Flight Railway Reopens to Public With Plenty of Revelry and a Wisp of Nostalgia." Los Angeles Times. February 25, 1996. https://www.latimes.com/archives/la-xpm-1996-02-25-me-39843-story.html.
"History of Angels Flight." Angels Flight Railway. Accessed June 22, 2016. https://angelsflight.org/history.
McAvoy, Christy Johnson. "Registration Form: Angels Flight Railway." National Register of Historic Places. nps.gov. 2000. https://npgallery.nps.gov/GetAsset/85e2786a-1240-4b3e-8e84-7c92ea2c4558.
National Transportation Safety Board Railroad Accident Brief: Angels Flight Railway Derailment Accident No.: DCA13FR011. June 23, 2014. https://www.ntsb.gov/investigations/AccidentReports/Reports/RAB1402.pd
Image Sources
By Alossix - Rich Alossi, CC BY 3.0, https://commons.wikimedia.org/w/index.php?curid=6967918

By MarieVelde at English Wikipedia, CC BY 3.0, https://commons.wikimedia.org/w/index.php?curid=16213990

By Originally uploaded by w:en:User:Jengod. - (Photo courtesy LAPL Photo Database) - Originaly uploaded on English Wikipedia., Public Domain, https://commons.wikimedia.org/w/index.php?curid=18846

By Jack Boucher - This image is available from the United States Library of Congress's Prints and Photographs divisionunder the digital ID hhh.ca0209/photos.011992p.This tag does not indicate the copyright status of the attached work. A normal copyright tag is still required. See Commons:Licensing for more information., Public Domain, https://commons.wikimedia.org/w/index.php?curid=16214015

By Difference engine - Own work, CC BY-SA 4.0, https://commons.wikimedia.org/w/index.php?curid=62269433

Additional Information