Angels Flight
Introduction
Angels Flight is a historic inclined railway in downtown Los Angeles, California. Originally built in 1901 in the Bunker Hill neighborhood, it extends just 298 feet and has been dubbed the "shortest railway in the world." The entrance archway and the station house are unique structures designed in the Beaux-Arts style. The railway was built to connect what is now the Bunker Hill neighborhood to the business district below. It was listed on the National Register of Historic Places in 2000.
Images
Angels Flight railway was first built in 1901 and operated until 1969. It was rebuilt a block away in 1996.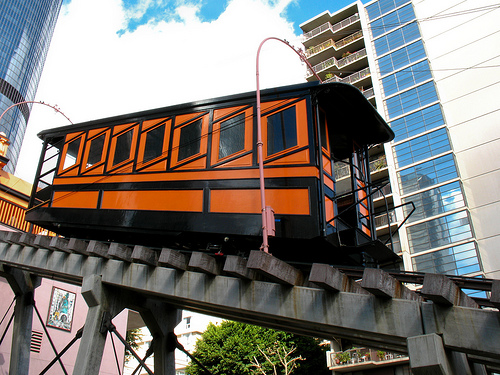 An Angels Flight car on the tracks with some of the surrounding area in the background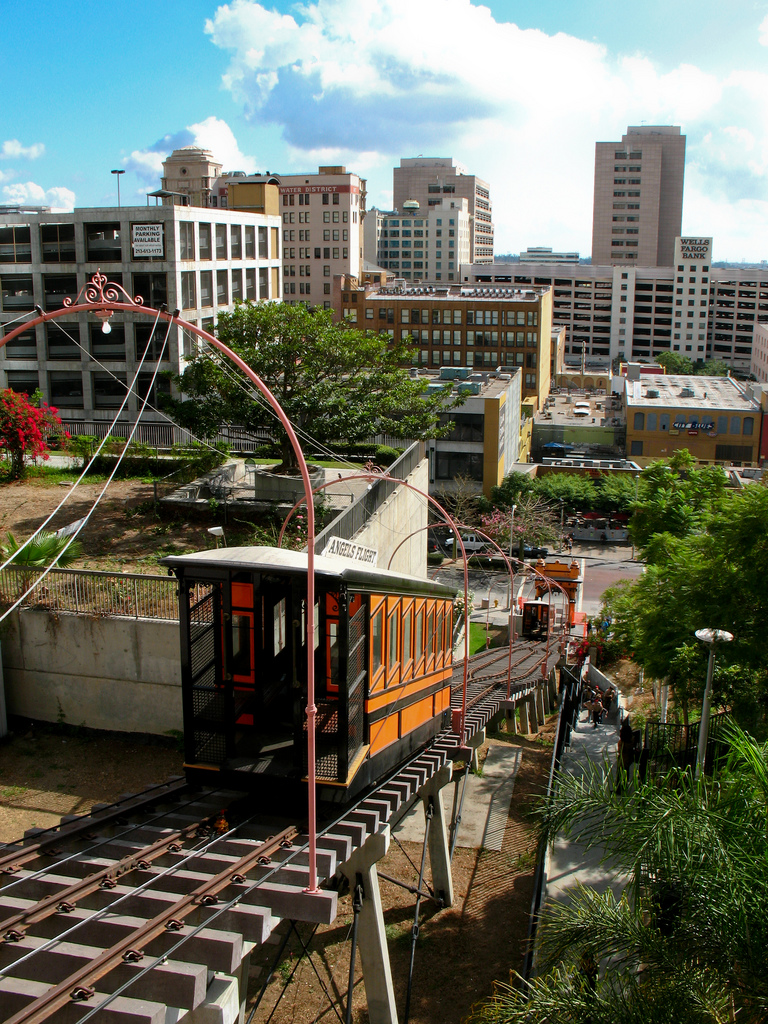 An interior view of one of the railway cars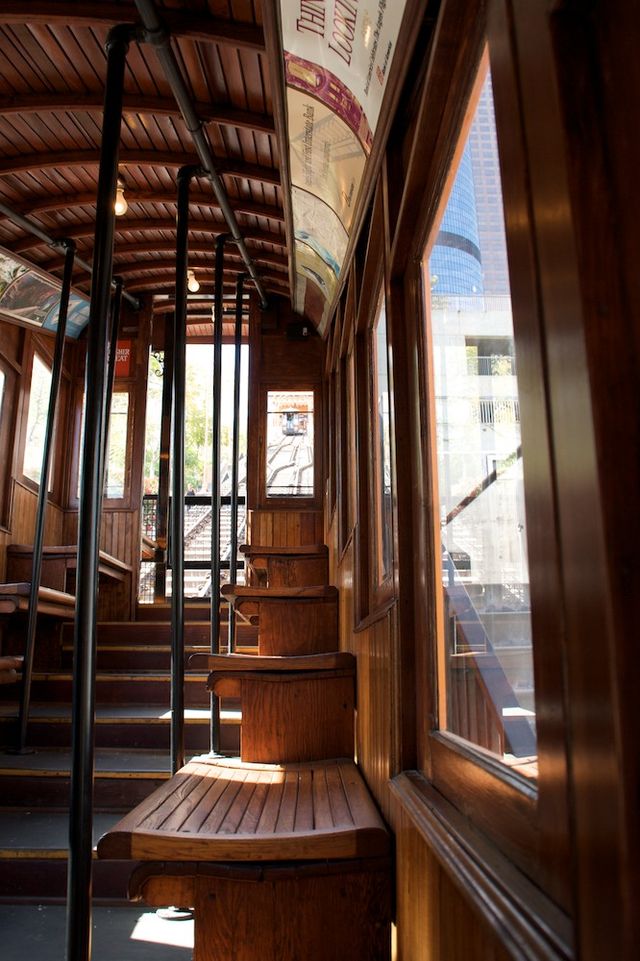 Backstory and Context
Civil War veteran Col. J.W. Eddy (1832-1914), who had worked in the railroad business out west for a number of years, helped finance Angels Flight construction. This funicular railway is believed to be the shortest railway in the world. For its first 68 years, it had a good safety record. The only incident in this period was in the 1940s when a sailor, who was walking up along the tracks, was crushed to death by one of the two cars. 
In a controversial move in 1968, the city decided to redevelop the neighborhood from a somewhat neglected and working class area into a higher end neighborhood. As a result, Angels Flight was dismantled in 1969. Luckily, it was kept in storage in anticipation of a possible future rebuilding and restoration. This is exactly what happened but it was reconstructed one block south to its current location in 1996. The counterbalanced cars are named Olivet and Sinai.
The National Register of Historic Places recognized the railway in 2000. The following year, a serious accident on the railroad killed one passenger and injured several others. The railroad closed for nine years, not reopening until March 2010. Another accident -- a minor derailment -- led to another closure in 2013, and the line was closed until Labor Day 2017.
Sources
Anhie. Angels Flight, Atlas Obscura. Accessed May 15th 2021. https://www.atlasobscura.com/places/angels-flight.
"History of Angels Flight." Angels Flight Railway. Accessed June 22, 2016. https://angelsflight.org/history.
McAvoy, Christy. "Angels Flight Railway." National Park Service - National Register of Historic Places Nomination Form. October 13, 2000. http://focus.nps.gov/GetAsset?assetID=85e2786a-1240-4b3e-8e84-7c92ea2c4558.
Additional Information